57,000 Acres Saved
Recent Revolutionary War Victories Mark a New Trust Milestone
Four and a half new acres of Revolutionary War battlefield land preserved forever has helped the Trust meet a new victory milestone: 57,000 acres of battlefield saved.
Today, working with our partners at the South Carolina Battleground Trust, we're announcing victory on four more acres at Eutaw Springs, S.C., land that witnessed significant fighting September 8, 1781, between Continental Maj. Gen. Nathanael Greene's army and Lt. Col. Alexander Stewart's British force. A witness tree from the time of the battle still stands sentinel on the land we've just saved. We're also announcing victory on more than a half-acre of land in North Carolina, where the Battle of Guilford Courthouse was fought, a battle many claim was "the largest and most hotly contested action" in the American Revolution's southern theater.
Line of Attack
On March 15, 1781, British General Charles Lord Cornwallis's army of 2,300 men engaged a larger force under Maj. Gen. Nathanael Greene at Guilford Courthouse, near present-day Greensboro, N.C. Adopting a tactic utilized by Daniel Morgan at the Battle of Cowpens, Greene formed his roughly 4,500 men into three lines. The first line was held by North Carolina militia, the second line by militia from Virginia. Continental Regulars composed Greene's third and most formidable line. The concept, known as a defense in depth, was for the first two lines to exhaust the enemy's advance and inflict as many casualties as possible in the hopes of delivering a decisive blow at the third line.
Today we've saved more than a half-acre of land in the middle of the British advance in the battle, only about two or three hundred feet from where the British engaged Greene's first line.
With the land's purchase, Guilford Courthouse National Military Park aims to better tell a holistic story of the Battle of Guilford Courthouse.
Witness to War
Later that year, on August 23, 1781, Maj. Gen. Greene led his army out of their camp in the High Hills of the Santee. His objective: The British army, led by Lt. Col. Alexander Stewart. Stewart fell back to Eutaw Springs on August 27 to await the Continentals, and elements of his force camped on the four acres of ground we've now saved.
Fighting erupted between Greene's vanguard and British dragoons a little over three miles west of the site on the morning of September 8. Greene, with his militia and then his Continentals successfully pressed Stewart back through his camp. Lt. Col. Isaac Allen's New Jersey Volunteers along with Major Charles Stewart's 63rd Regiment of Foot withdrew to this site and engaged Colonel Richard Campbell's Virginia Continentals. Campbell's Virginians, attacking from west to east across this ground, drove Allen and Stewart from their position, but not without casualty. Colonel Campbell was killed, likely on the land we've now saved.
Stewart counterattacked driving back the Virginians. With both sides exhausted, Greene withdrew. The British camped one more night on this spot and likely interred their own and Greene's dead here.
Folks, this is hallowed ground!
Eutaw Springs is also a designated site on The Liberty Trail. Developed through a partnership between the American Battlefield Trust and the South Carolina Battleground Trust, the Liberty Trail connects battlefields across South Carolina and tells the captivating and inspiring stories of this transformative chapter of American history.
With these victories, we've reached the milestone of 57,000 acres of battlefield land saved in 25 states. Excitingly, 1,410 acres of that is Revolutionary War battlefield, bringing us closer to our goal of 2,500 acres of Revolutionary War battlefield saved for the upcoming 250th anniversary of America's founding conflict.
Explore Your Victories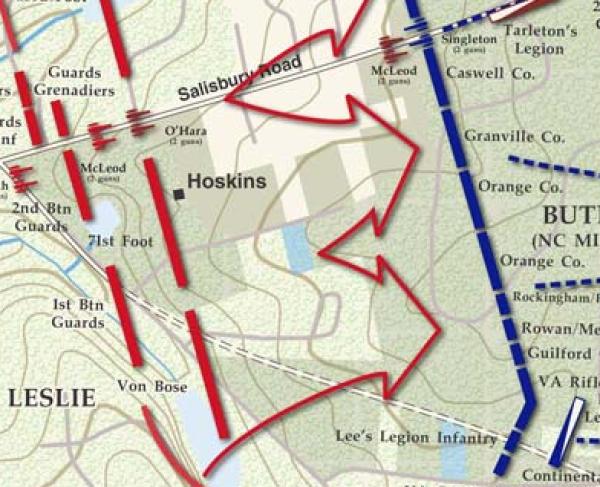 BATTLE MAPS | The American Battlefield Trust's maps of The Battle of Guilford Courthouse, North Carolina on March 15, 1781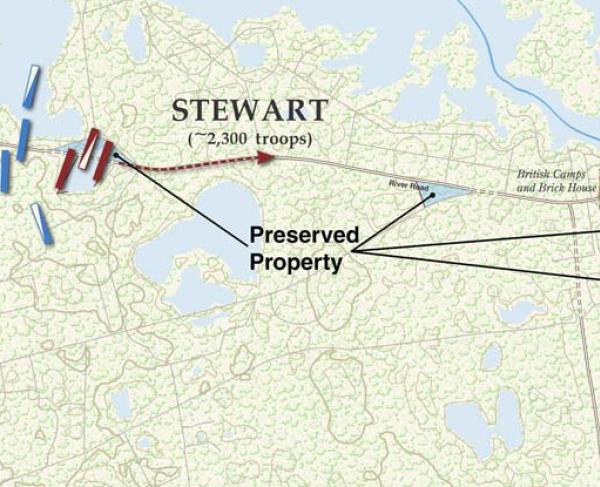 BATTLE MAP | The American Battlefield Trust's map of the Revolutionary War Battle of Eutaw Springs, South Carolina on September 8, 1781 (Phase One)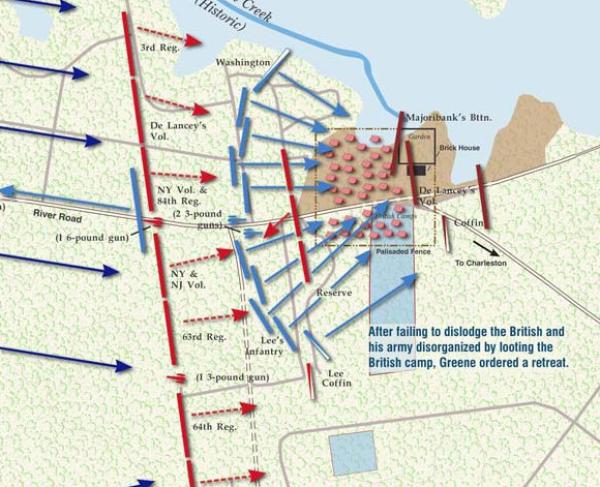 BATTLE MAP | The American Battlefield Trust's map of the Revolutionary War Battle of Eutaw Springs, South Carolina on September 8, 1781 (Phases Two