News
David N. Duncan Named New President of the American Battlefield Trust
As Chief Development Officer, Duncan has spent two decades shaping the Trust's growth and success
(Washington, D.C.) — The American Battlefield Trust is pleased to announce that longtime chief development officer David N. Duncan has been named the organization's new president, effective October 1, 2020. The appointment comes after an eight-month search conducted by a leading national firm, which concluded with a unanimous vote by the organization's Board of Trustees. Duncan has spent more than two decades overseeing the Trust's membership and development efforts, ideally positioning him to lead the organization.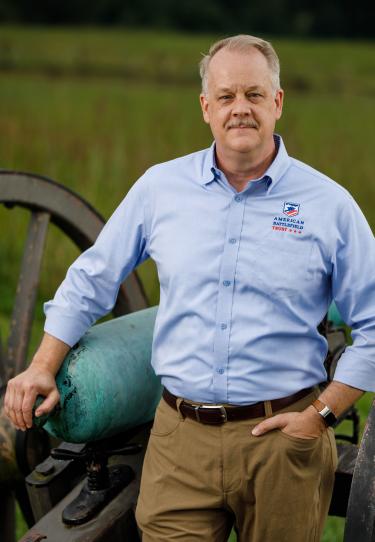 "As I take up this challenge and look to the future, I am energized and optimistic — even in the midst of a worldwide pandemic — because I truly believe that we are accomplishing work that is vital to the future of our country," said Duncan. "As we approach the nation's Semiquincentennial in 2026, we have an unprecedented opportunity to combine historic preservation, modern technology, compelling educational content, and groundbreaking media delivery platforms to engage vast audiences in learning about our nation's history."  
"The selection of a new president is the most important decision a board can make, and we are fully confident in our choice," said Chairman of the Board of Trustees Thomas H. Lauer. "David Duncan was instrumental in the evolution of the Trust from its earliest days and in many of the signal accomplishments of the last 20 years. We look forward to his leadership at a pivotal moment when the importance of telling the American story through its battlefields is greater than ever before. Our mission remains the same, to inspire Americans by preserving these special places and telling the stories of those who fought there".
Duncan's appointment as president comes following the retirement of James Lighthizer, the beloved figure who has led the Trust since late 1999 and was responsible for its growth from a modest organization into the nation's foremost historic land preservation group and a leading voice for history education. A former county executive and Maryland Secretary of Transportation, Lighthizer remains firmly committed to the organization, accepting a lifetime appointment to the Board of Trustees as president emeritus.
"There is no one at the Trust who has worked more closely with me than David," said Lighthizer. "Thanks to countless of substantive discussions between us about strategy, management, mission, fundraising, personnel, advocacy, culture and philosophy, and all the rest, he already has a deep knowledge of the functions of all departments, as well as the support of his colleagues. I have no doubt he will hit the ground running, and not miss a beat."
A native Virginian, David Duncan is a graduate of James Madison University. As the son of a respected and admired social studies teacher, his passion for history was cultivated from an early age, although he initially pursued a career in copywriting, serving as creative director at a small direct marketing agency that raised money for nonprofit and political causes. As the loss of historic landscapes made headlines, particularly in Virginia, during the mid-1990s, he joined the young Civil War Trust as a dues-paying member. Duncan had unsuccessfully offered his professional services to the organization on a pro-bono basis before Lighthizer was appointed president upon a merger between two related conservation groups. To ensure that his next offer made it to the new CEO's desk, Duncan sent it via certified mail, requiring Lighthizer's personal signature. Four interviews later, Duncan followed his passions and began overseeing all fundraising, membership and development functions.
Since joining the Trust, Duncan and his team have raised nearly $240 million in private donations, overseeing two major capital campaigns. These funds have directly led to the protection of just under 45,000 acres of hallowed ground, including iconic-but-threatened battlefield landscapes like Seminary Ridge and Lee's Headquarters at Gettysburg, the Slaughter Pen Farm at Fredericksburg, and Maxwell's Field at Princeton, where General George Washington personally led a charge that turned the tide of the Revolutionary War.
The American Battlefield Trust is dedicated to preserving America's hallowed battlegrounds and educating the public about what happened there and why it matters today. The nonprofit, nonpartisan organization has protected nearly 53,000 acres associated with the Revolutionary War, War of 1812, and Civil War. Learn more at www.battlefields.org.
###