Introducing My Successor: Letter from Jim Lighthizer, September 1, 2020
Dear Friend of Preservation,
I hope this letter finds you and your family well. I write to you today with some very exciting news: After conducting an eight-month nationwide executive search utilizing the services of an outside independent firm to find my successor, the Board of Trustees has unanimously voted to elect David Duncan, currently the Trust's Chief Development Officer, as our new president, effective October 1, 2020. Please let me tell you why I believe this is the best possible news for our organization.
David has worked side by side with me for the past 20 years, as we have both dedicated two decades of our professional lives to this organization and to this cause. David has played a key role in many, if not most, of the organization's successes over the years, with he and his teams raising nearly $240 million from the private sector, which has led to the preservation of more than 53,000 acres of hallowed ground. There is no one else who has worked more closely with me since March of 2000, with literally thousands of substantive discussions between us about tactics, strategy, management, mission, fundraising, board relations, personnel, advocacy, organizational structure, culture and philosophy, and dozens of other relevant topics. David already has a deep knowledge of the functions of all departments, as well as the support of his colleagues, so there is no doubt he will hit the ground running, and the organization will not miss a beat. 
As he is taking the reins of the organization in the middle of global pandemic and a time of deep economic uncertainty, he faces significant challenges. But again, if you know him from our events, or from the thousands of personal handwritten notes he has penned on thank-you letters over the years, I think you will agree there are few — if any — more prepared to step into this role at this time. His relentlessly positive attitude and deep passion for this cause, along with the help and support of dedicated members like you, will help ensure our success going forward.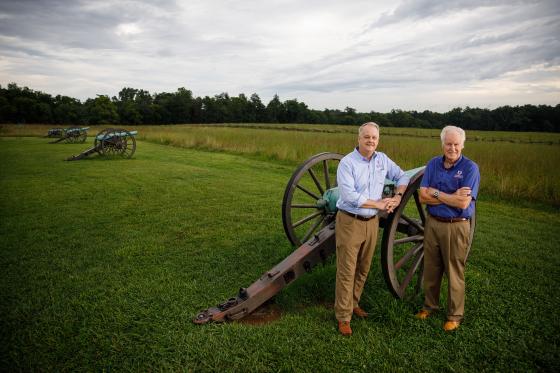 David believes that we are accomplishing work that is vital to the country, and through his unique combination of experience, knowledge, and skills, he understands the depth of the challenges and opportunities we face. He also understands fully how important you and your fellow members have been in making the Trust the premier historic preservation organization in America. You will be hearing more about David's vision for the organization in the coming days, but I want you to know that I support the Board's decision 100 percent, and I know he is ready to build on the success that we have already achieved. He is passionate about preservation, and as the son, husband, father, and brother of teachers, he is just as passionate about education. 
As for me, I am gratified to be able to tell you that I will remain involved in the organization, first as an on-call advisor to David as he transitions into his new role over the next six months, and also as a member of the Board of Trustees with the title of President Emeritus, working on special projects from time to time. As I have said before, my health is fine, but I will be 75 years old next spring, and this is a natural time for me to transition into retirement. I am grateful beyond words for the support and encouragement I have received from members like you over the years, and I am more proud of what we have accomplished together for the good of our country than anything else I have done in my life. Now, as we all must do, it is time for me to pass on the baton, and I do so with a very glad heart.
Please join me in congratulating David as he assumes this new role, and please do me the honor of supporting him as you have supported me. Our work to preserve, educate, and inspire is so important for the future of our nation — we need you now more than ever.  Thank you.
In grateful appreciation,
Jim Lighthizer
President (until September 30)
P.S. For additional resources on this transition, please visit our website at www.battlefields.org/transition and thank you again for your dedication, generosity, and commitment to the American Battlefield Trust.