News
American Battlefield Trust Continues Legacy of Heritage Land Conservation, Education Programming
Nonprofit organization records 2 millionth gift toward protection of historic battlefield land
(Washington, D.C.) — The American Battlefield Trust, the nation's premier battlefield preservation organization, has marked another year of leadership in the fields of historic land conservation and place-based education. Whether saving endangered battlefield land or launching the most successful video series in the group's three-decade history, 2019 was a year of significant progress for the Trust — its 21st consecutive year saving more than 1,000 acres. With the help of generous donors, alongside strategic partnerships with government officials and nonprofit groups across the country, the Trust protected more than 1,176 of battlefield land in 10 states in 2019, preserving in perpetuity properties deeply rooted in American history, while welcoming more than 10 million visitors eager to learn about this nation's past to its website www.battlefields.org and its YouTube channel. Attesting to the tremendous loyalty exhibited by Trust members, the organization recorded its two-millionth donor gift on behalf of battlefield preservation during December.
"Even after 20 years at the helm of this incredible organization, I remain in awe of the remarkable support given by our members for the protection of America's historic landscapes. Although this is the last full calendar year I will spend as its leader, all of the pieces remain in place for the Trust to continue setting aside these national treasures for the benefit of generations yet to come," said president James Lighthizer, who announced in November that a search had begun to identify his successor.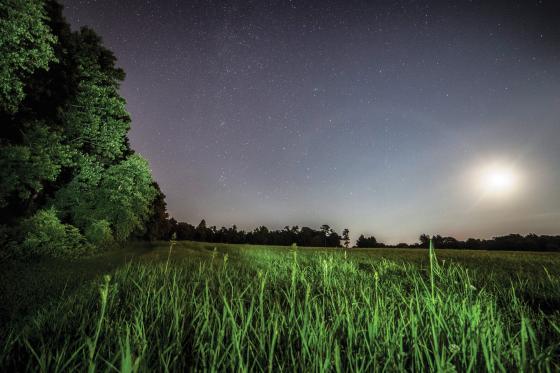 Working closely with landowners and preservation partners, the Trust completed 24 transactions at 17 battlefield sites, including: Bentonville, N.C.; Bristoe Station, Va.; Champion Hill, Miss.; Cold Harbor, Va.;  Fort Blakely, Ala.; Franklin, Tenn.; Gettysburg, Pa.; Hanging Rock, S.C.; Newtown, N.Y.; Peebles Farm, Va.; Rappahannock Station, Va.; Sailor's Creek, Va.; Saratoga, N.Y.; Second Manassas, Va.; Shiloh, Tenn.; South Mountain, Md.; and Wilson's Creek, Mo. Meanwhile, meaningful progress was made toward dozens of other transactions that will be completed in the months to come.
Of particular note was the acquisition of 50 acres at Cold Harbor, Va., that had once been slated to become a massive sportsplex with six soccer and lacrosse fields, acres of parking lots and night illumination that towered over the battlefield. However, the Trust was able to negotiate a purchase agreement with Hanover County and raise the necessary $1 million for the land's preservation.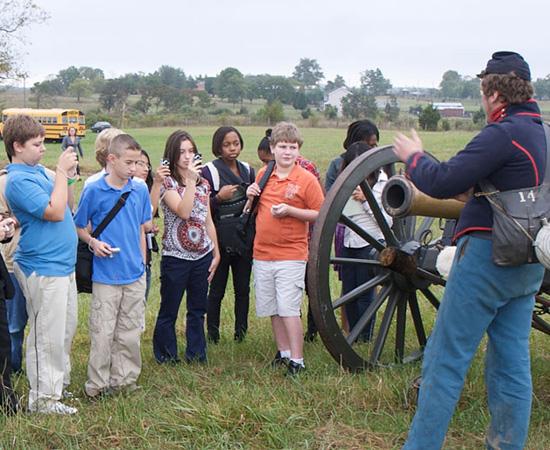 Acreage saved is an important benchmark in battlefield preservation; however, the Trust is also fully committed to advancing history education programs designed for both traditional classrooms and lifelong learners engaging from home. By the close of the 2018–2019 school year, our Field Trip Fund had sent more than 30,000 young people on class trips to historic sites. Meanwhile, nearly 200 professional educators joined us in Raleigh, N.C., for the 19th annual National Teacher Institute, a free continuing education weekend where teachers participate in workshops and other sessions designed to help them integrate the latest techniques in bringing the past to life for students.
Meanwhile, in October, the Trust launched 1864: A Virtually Reality Experience, which has already achieved more views than any other video in its catalog of more than 500 titles, as nearly 650,000 users have flocked to this immersive experience of Civil War combat. The organization also launched its inaugural Youth Leadership Team, a group of 10 dynamic high school students working alongside the Trust to promote historic preservation and history education in their own communities. In addition to holding advocacy meetings with their elected officials, each participant is pursuing a project designed to increase engagement on the local level.
Demonstrating its commitment to deepening ties between members of the modern military with their historic forebearers, the Trust launched a stirring series of videos entitled Brothers in Valor, which highlighted the parallels between Civil War Medal of Honor recipients and contemporary honorees. Thanks to a July initiative, some 3,000 active and veteran servicemen or women took advantage of free memberships to the organization. The Trust also partnered with the National Park Service and American Veterans Archaeological Recovery to host a program at Saratoga National Historical Park that allows vets to participate in excavations on an American battlefield, a project profiled in the wither issue of our membership magazine Hallowed Ground.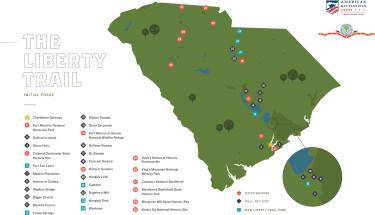 October saw the launch of The Liberty Trail, a joint heritage tourism and preservation initiative alongside the South Carolina Battleground Preservation Trust that seeks to promote the Palmetto State's leading role in the founding of the United States, during a Columbia event hosted by Governor Henry McMaster.  Ultimately, the effort will link 70 sites across the state with a new driving tour that functions as a one-of-a-kind educational and heritage tourism resource. As part of the effort, some 2,500 acres of battlefield land will be preserved, and five new parks will be created.
The past year was also a significant one for federal legislation on behalf of battlefield protection. In March, the John D. Dingell, Jr. Conservation, Management and Recreation Act was signed into law, expanding park boundaries at Shiloh National Military Park and Kennesaw Mountain National Battlefield Park, and establishing two Civil War-related national monuments in Kentucky — Camp Nelson National Monument and Mill Springs Battlefield National Monument. In December, the Preserving America's Battlefields Act reauthorized the federal Battlefield Land Acquisition Grants Program through FY 2028 at $18 million annually, while also creating similar matching grant streams will be made available to assist in the restoration and interpretation of protected battlefield landscapes; up to $1 million will be available in each category annually. A truly bipartisan bill, it acquired 101 co-sponsors — 51 Democrats and 50 Republicans — in the House of Representatives and seventeen cosponsors in the Senate.
The Trust's preservation work in 2019 would not have been possible without the dedication of numerous partners, including: the American Battlefield Protection Program; National Park Service; Adams County, Pa.; Battle of Franklin Trust, Inc.; Cal-Maine Foods, Inc.; Chemung County, N.Y.; The Conservation Fund; Fauquier County, Va.; Franklin's Charge, Inc.; Friends of Shiloh; Frederick County, Md.; Hanover County, Va.; the HTR Foundation; Katawba Valley Land Trust, Inc.; Lancaster County, S.C.; Land Conservancy of Adams County; Maryland Environmental Trust; Maryland State Highway Administration; Mississippi Department of Archives and History; National Park Partners; Natural Resource Conservation Service; North Carolina Department of Natural & Cultural Resources; Prince William County, Va.; the Pritzker Foundation; Save Historic Antietam Foundation; South Carolina Battleground Preservation Trust; South Carolina Conservation Bank; State of New York; Tennessee Civil War Sites Preservation Fund; Tennessee Historic Commission; University of South Alabama; U.S. Department of Agriculture; Virginia Battlefield Preservation Fund; Virginia Department of Conservation and Recreation; Virginia Department of Historic Resources; Virginia Land Conservation Fund; Virginia Outdoors Foundation; the Volgenau Foundation; and Wilson's Creek Battlefield Foundation
The American Battlefield Trust is dedicated to preserving America's hallowed battlegrounds and educating the public about what happened there and why it matters today.  The nonprofit, nonpartisan organization has protected more than 52,000 acres associated with the Revolutionary War, War of 1812 and Civil War. Learn more at www.battlefields.org.