News
American Battlefield Trust Announces Members of Inaugural Youth Leadership Team
Ten teens from across the country will spend the next year advocating for historic preservation nationally and in their own communities
Washington, D.C. — The American Battlefield Trust's first-ever Youth Leadership Team (YLT) has begun its year-long advocacy engagement with a whirlwind, three-day trip to Washington, D.C. for orientation and training. The 10 participants will now return to their communities with newfound knowledge, eager to begin preservation and interpretation projects of their own, communicating the importance of battlefield preservation and making a tangible impact.
"By supporting this group of emerging leaders, we hope to create a ripple effect for battlefield preservation, visitation, and history education in our nation," said Trust president James Lighthizer. "They are the face of battlefield preservation for a new generation, empowering other young people to create change within their own schools and communities."
YLT participants were chosen through a competitive application process, beginning last spring. Successful candidates were notified and invited to Washington in early August to meet the staff, learn more about the Trust vision and refine their individual project proposals in consultation with these experts.
"History is such an interesting subject that gets overlooked," said participant Makayla Decker. "It is very important know our history and by being part of this organization, I hope to spark interest in not only the people of my community but also my younger generation."
The group will return to Washington in late September to meet with their elected officials as part of the Trust's first Youth Lobby Day.
"At a time when popular opinion holds that young people are not interested in subjects like history, the testimony of these passionate teens will bear powerful witness to the contrary," said Connor Townsend, the Trust's associate for audience development and the YLT project lead. "They are articulate and eager to share this message with the world."
During the course of the academic year, they will pursue individual projects in their home communities, supported by Trust staff. Among the initiatives being undertaken by YLT members are organizing living history events, raising funds toward land acquisition and establishing clean-up gatherings — plus more 21st-century offerings like a podcast series. During the organization's 2020 Annual Conference next May in Chantilly, Va. they will present their findings and results broader membership. 
"Many teens and adults don't even know that an important Civil War battle occurred in Hart County, Kentucky," said participant Taylor Bishop. "So what I am going to do is try to fix that. In early October I'm going to take at least 30-35 high schoolers and a few 8th grade students to the battlefield at Munfordville, giving them a name of a man that was either killed, wounded or fought in that battle. So that way they get a closer connection to the Civil War."
The full roster of the 2019 Youth Leadership Team includes: Taylor Bishop, 15, of Greensburg, Ky.; Olivia Brinkman, 17, of Patchogue, N.Y.; Makayla Decker, 16, of Dillsburg, Pa.; Jessica Grajeda, 17, of Goodyear, Ariz.; Owen Lanier, 15, of Gloucester, Va.; Scott Lee, 15, of Los Angeles, Calif.; John Mugabe, 16, of Rock Hill, S.C.; Sarah Schwartz, 16, of Fort Myers, Fla.; Hays Turner of Middleburg, Va.; and Karalyn Viszoki , 16, of Monroe Township, N.J.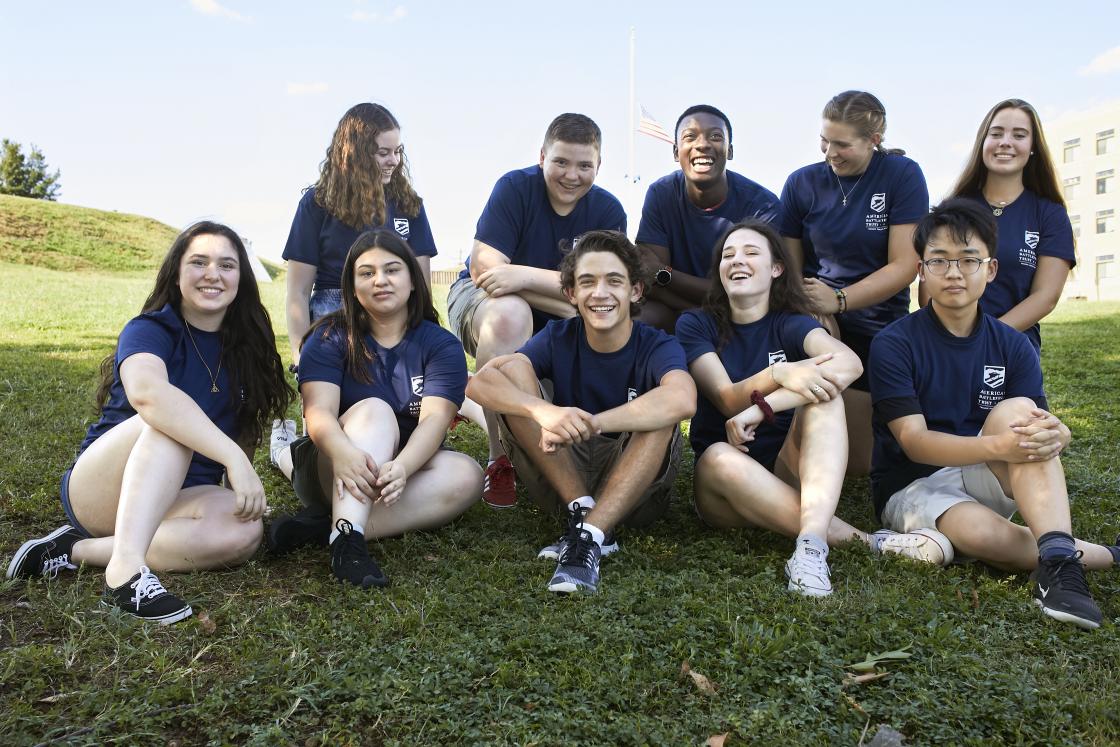 Top Row (left to right): Sarah Schwartz, Owen Lanier, John Mugabe, Makayla Decker, Hays Turner
And bottom row (left to right): Olivia Brinkman, Jessica Grajeda, Taylor Bishop, Karalyn Viszoki, Scott Lee