William Washington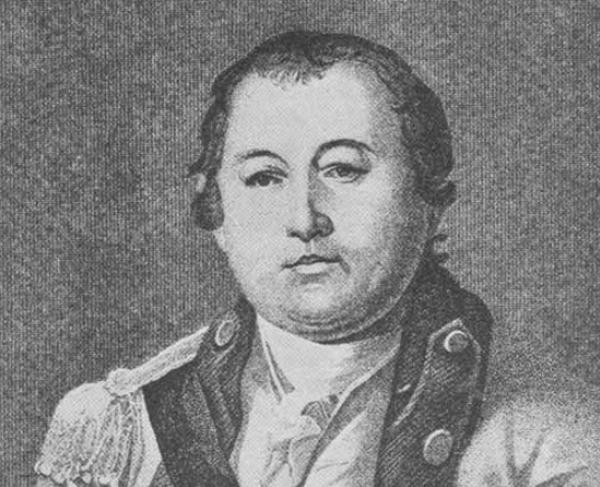 TitleLieutenant Colonel
War & AffiliationRevolutionary War / American
Date of Birth - DeathFebruary 28, 1752 - March 16, 1810
Distant cousin of General George Washington, William Washington was born on February 28, 1752 to Bailey and Catherine Washington in Parish, Virginia. Raised by a Southern planter, Washington adhered to a gentleman's code. He was educated with a religious guiding under the watchful eye of Reverend Mr. Stuart. He learned Greek and studied vast extents of theology with the aim of a career in ministry. But his aim took a turn when he took up arms against the British during the Revolution.
At the beginning of the war, Washington was elected a Captain of the Stafford County Minutemen in September of 1775, which was subsequently integrated within the 3rd Virginia Regiment in early 1776. The 3rd Virginia joined the main Continental Army in New York in summer of 1776. Fighting in the Mid-Atlantic, Captain Washington was present at the Battle of Trenton on December 26, 1776 as he led a victorious charge against Hessian artillery. Injured at Trenton, Washington was promoted from Captain to Major and given a fresh assignment to a newly created 4th Regiment of Continental Light Dragoons that he was to join after recovering.
By late 1779, Washington had risen to Lieutenant Colonel and was in command of the 3rd Regiment of Continental Light Dragoons. While on the move to join American troops in Charlestown, South Carolina in 1780, his forces were blindsided by the British Legion at Monck's Corner in April and bombarded with another surprise at Lenud's Ferry in May.
After revamping his forces in North Carolina, Washington was victorious in the capture of Rugeley's Fort near Camden, South Carolina in December of 1780. Yet his most notable victory was at the Battle of Cowpens on January 17, 1781, where he countered and routed the charge of the enemy cavalry. Washington was 1 of 11 to be awarded a silver medal by Congress for his tremendous service at Cowpens.
By March of 1781 Washington and his light dragoons experienced another bout of action at the Battles of Guilford Court House. Shortly after, they were led into battle at Hobkirk's Hill in April. This series of defeats continued at Eutaw Springs, where the then Colonel Washington was severely wounded in the process of leading a charge. Following his injury he was led into British captivity, which ended his military service in the Revolution. As a captive, Washington spent the rest of the war in Charleston, South Carolina.
While in Charleston, he met his bride, Jane Reily Elliot. Their marriage resulted in Washington's acquisition of Sandy Hill plantation, where he would spend the rest of his days as a lowcountry planter. He was well regarded in his community as he was elected as a representative from 1787-1791, a Senator from 1792-1794, and served in the state assembly from 1802-1804. After serving as a Senator in 1794 he was appointed commander of a brigade of South Carolina militia. In 1798, while tensions were heightened with France, Washington was appointed Brigadier General in the Provisional Army.
After battling an enduring illness, William Washington died on March 16, 1810.