William Moultrie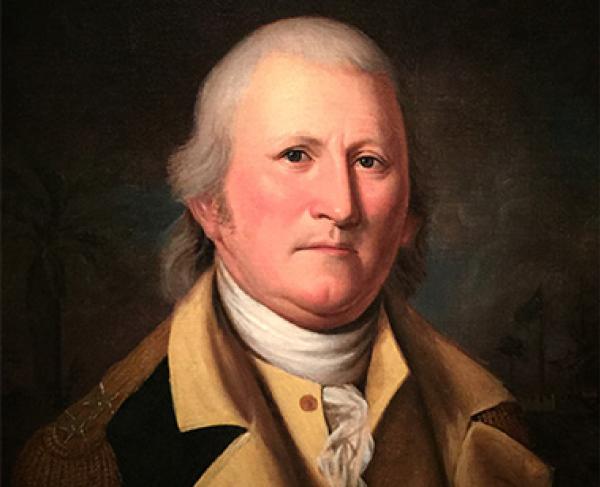 TitleMajor General
War & AffiliationRevolutionary War / Patriot
Date of Birth - DeathNovember 23, 1730 - September 27, 1805
William Moultrie was born in Charleston, South Carolina, on November 23, 1730. His father, John Moultrie, was a prominent physician in South Carolina, exceptionally skilled at obstetrics. Little is known about William Moultrie's early life and education, the only records that exist of his youth are his baptism in December of 1730 and his marriage in 1749. However, despite the lack of information on his youth and education, from Moultrie's later writings and life, it is clear he was very well educated, even if the source is unknown.
In 1749 Moultrie married Damaris Elizabeth de St. Julien, a wealthy descendant of French immigrants whose family owned an eighty-eight hundred-acre plantation. The marriage established Moultrie as an influential member of the community and, because of English laws denying married women's rights to control property, placed him in charge of a great deal of wealth. He used his newfound stature to obtain a one-thousand-and-twenty-acre plantation from his brother-in-law. Though he primarily spent his life before the American Revolution as a farmer, he was active in the government of South Carolina. Moultrie was elected to the South Carolina Commons of House of Assembly in 1752.
In 1758, after a decade of mounting tensions between the Cherokee tribe in western South Carolina and the European colonists, war broke out between the two groups. In 1760 Moultrie was appointed a captain of a South Carolina militia. Moultrie was active in the invasion into Cherokee country. He continued his service in the militia, eventually being appointed colonel in 1774.
As the revolution approached, Moultrie was chosen as a delegate in the First Continental Congress; however, he declined to serve. Instead, Moultrie stayed in South Carolina serving as deputy to both the First and Second South Carolina Provincial Congresses. He was a member of the First South Carolina General Assembly after the adoption of the state constitution. During this time, he was a staunch patriot and supporter of the revolutionary cause.
In 1776 the British mounted an attack on Charleston, the fourth largest port in the colonies. Moultrie defended a small fort constructed of sand and palmetto logs on Sullivan's Island at the entrance to Charleston Harbor. Though General Charles Lee recommended abandoning the fort, arguing it would become a "slaughter pen" if the British attacked, Moultrie decided to stay and stand  his ground. On June 28, 1776, the British attacked Sullivan's Island. Against impossible odds and outnumbered 2,200 British troops to 435 soldiers within the fort, Moultrie successfully prevented land and sea invasions of Charleston. The British retreated to New York and would not return to South Carolina until 1780. After the battle Charles Lee wrote to George Washington that Moultrie deserved highest honors, the Continental Congress responded by promoting Moultrie to the rank of brigadier general.
In 1779 and early 1780, Moultrie and his soldiers acted as a wing of Benjamin Lincoln's southern army. While Lincoln besieged Savannah, Moultrie commanded the defense of Charleston. After being forced to retreat from Savannah, Lincoln joined with Moultrie's forces at Charleston. The British had learned from their mistakes in June of 1776; they easily captured Sullivan's Island, severed the American supply line and besieged the city. Lincoln was forced to surrender all 5,00 of his men, including Moultrie who became a prisoner of war. It was the largest surrender of American troops until the American Civil War.
The British knew two of Moultrie's brothers were loyalists, so they offered him a British colonelcy and command of a regiment in Jamaica for his freedom. However, Moultrie stayed true to his new nation, informing his captors that not even "the fee simple of that valuable island of Jamaica should induce me to part with my integrity." Congress traded Moultrie for British general John Burgoyne in 1782. When he returned to American lines, Congress made him a major general; he was the last person to receive that rank during the war for American independence.
After the war, Moultrie returned to civic life. In 1785 the state legislature elected him the governor of South Carolina. He served a two-year term where he sought to restore trade after the war. South Carolina's Constitution prevented governors from serving two successive terms, so in 1787 he was elected to the South Carolina state senate, during which time he served as a member of the South Carolina convention to ratify the Constitution. Moultrie again served as governor from 1792 to 1794. After his second term as governor ended, Moultrie retired to his large plantation and died eleven years later in 1805.
Moultrie is remembered as a hero of South Carolina. The South Carolina flag today is based on the flag Moultrie designed and flew at the battle of Sullivan's Island, with an added Palmetto tree placed in the center as a tribute to Moultrie. In 1802 he published Memoirs of the Revolution as far as it Related to the States of North and South Carolina, which became one of the best read and cited firsthand accounts of the American Revolution. Moultrie will never be thought of as a founding father like Washington, Adams, or Jefferson; however, he will be remembered as a founding father of the American south.