William Cogswell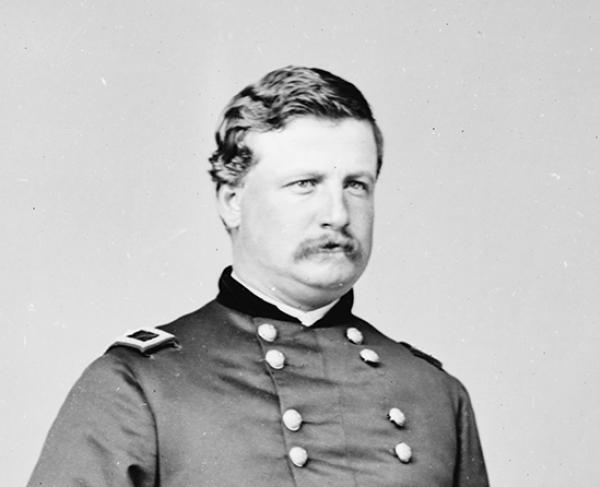 TitleBrigadier General
War & AffiliationCivil War / Union
Date of Birth - DeathAugust 23, 1838 – May 22, 1895
William Cogswell was born on August 23, 1838 in Bradford, Massachusetts. His father was a surgeon and a founder of the state Republican Party. Cogswell clearly got his love of politics from his father, as he would be an active participant in the Party and hold several offices during his lifetime.
Before settling into a career, however, Cogswell decided to seek some adventure. In 1856, he left Dartmouth College soon after enrolling, and spent two years as a sailor on a voyage around the world. On his return in 1858, he entered Harvard Law School, eventually gaining admittance to the bar and opening a law office in Salem, Massachusetts in 1860.
Cogswell served as a private in the Second Corps of Cadets, a Massachusetts militia unit, from 1860 to 1861. At the start of the Civil War, Cogswell recruited an entire company of men in one day. This would become Company C of the 2nd Massachusetts Volunteer Infantry, and Cogswell would serve as their captain.
The regiment suffered heavy losses at the Battle of Cedar Mountain on August 9, 1862, but Cogswell and his company distinguished themselves in covering General Banks' retreat from the Shenandoah Valley after the battle. The regiment was again engaged and again suffered heavy losses during the Battle of Antietam on September 17, 1862, where they saw action in the infamous cornfield.
After the death of the regimental commander, Lieutenant Colonel Wilder Dwight, at Antietam, Cogswell was promoted to lieutenant colonel and took command of the regiment on October 23, 1862. During the Battle of Chancellorsville, on May 1, 1863, the 2nd Massachusetts was positioned with Brigadier General Alpheus Williams' Division near the Orange Plank Road when they were attacked by Confederates under Major Generals Richard Anderson and Lafayette McLaws, and pushed back towards the Chancellor House. During this fight, Cogswell was severely wounded by heavy musket fire from a South Carolina regiment.
Luckily for Cogswell, he remained out of action long enough to miss the Battle of Gettysburg on July 1-3, 1863, when the 2nd Massachusetts lost another regimental commander, Lieutenant Colonel Charles Mudge, in action on Culp's Hill. Cogswell, now promoted to Colonel, returned to the regiment in time for its transfer from the Army of the Potomac to the Army of the Cumberland in September of 1863.
The regiment was stationed for a time in Alabama, fighting minor skirmishes. It was during this time that Cogswell returned to Massachusetts to recruit more men to fill out the regiment, which had now been designated "Veteran Volunteers." In his absence, the 2nd Massachusetts saw action at Resaca and Kennesaw Mountain in Georgia.
Cogswell returned from recruiting and resumed command of the regiment on July 1, 1864, as the men were moving with General Sherman's army toward Atlanta, Georgia. He participated in the Siege of Atlanta and was named post-commandant after the city surrendered on September 2, 1864.
On December 15, 1864, Cogswell was brevetted a brigadier general and assigned to command the 3rd Brigade, 3rd Division of the 20th Corps. He bid an emotional farewell to the 2nd Massachusetts on January 16, 1865 in Savannah, Georgia.
Cogswell's brigade fought in the Battle of Bentonville, North Carolina on March 19-21, 1865, forming part of Major General Henry Slocum's left wing of the Union army. During the battle, Cogswell helped to secure the position held by Brigadier General James Morgan amidst very heavy fighting and fires that had ignited the woods on the battlefield.
Cogswell participated in the Grand Review in Washington, DC as part of General Sherman's Army of the Tennessee on May 24, 1865, and mustered out of the service on July 24, 1865. He then returned to his law practice in Salem, Massachusetts. He also began to pursue a very successful political career, serving three terms as mayor of Salem starting in 1867, three terms as a member of the Massachusetts House of Representatives, and two terms as a State Senator. In 1887, Cogswell was elected as the U.S. Representative from Massachusetts, serving as a Republican in Congress until his death in Washington, DC on May 22, 1895. He is buried in Harmony Grove Cemetery in Salem, Massachusetts.