Henry W. Slocum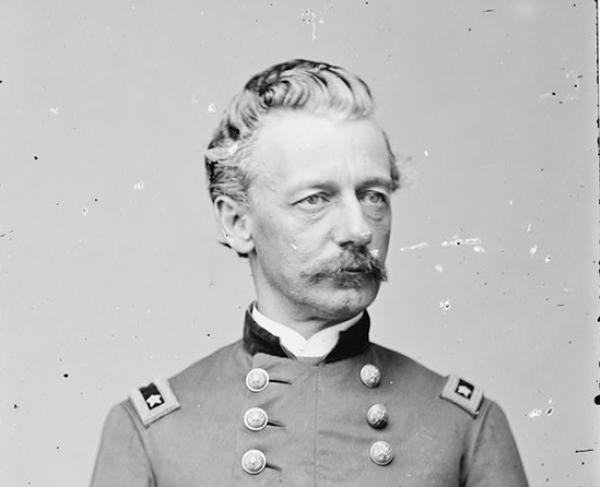 TitleMajor General
War & AffiliationCivil War / Union
Date of Birth - DeathSeptember 24, 1827 – April 14, 1894
Henry Warner Slocum began his military career after graduating from the United States Military Academy in 1852.  He entered into service as a 2nd Lieutenant in the artillery, and was stationed in Florida to fight against the Seminole Indians, as well as Charleston Harbor.  He resigned from the military in 1856, and began to practice law, which he had learned while serving on garrison duty. 
When the Civil War broke out, Slocum was made Colonel on May 21, 1861 of the 27th New York.  He led the regiment under General David Hunter at the First Battle of Manassas.  He was wounded during the battle, and when he recovered, Slocum was promoted to Brigadier General on August 9, 1861, then to Major General on July 25, 1862.  He commanded troops during the Peninsula Campaign, as well as the Seven Days Battles.  During the Battle of Second Manassas, Slocum was essential to covering General John Pope as he and his men retreated from the field.  He led throughout the Maryland Campaign, where he commanded during the Battle of South Mountain, but was held in reserve during the Battle of Antietam.  After the Battle of Antietam, Slocum was appointed to lead the XII corps.  He led the corps into the Battle of Fredericksburg, but was not engaged, and then at the Battle of Chancellorsville, where his corps suffered heavy losses.  Slocum then commanded his division during the Battle of Gettysburg, where he received some criticism for not moving his division quickly enough and being indecisive.  After the Battle of Gettysburg, Slocum and his XII corps were sent into the Western Theatre under the command of General Joseph Hooker.  Slocum had a very strong mistrust of Hooker, and tried to resign from his command.  President Abraham Lincoln refused the resignation, and instead allowed Slocum to be in charge of protecting the Nashville & Chattanooga Railroad.  Slocum was then assigned to the District of Vicksburg, where he served until he was placed in command of the XX Corps after the death of General James B. McPherson near Atlanta.  On September 2, 1864, Slocum and his corps were the first to enter the city of Atlanta after it fell.  Slocum then went on to participate in the Carolina Campaign with General William T. Sherman, where he fought in the battles of Averasborough and Bentonville.  After the surrender of the Confederacy, Slocum commanded the Department of the Mississippi until he resigned on September 28, 1865. 
After the war, Slocum moved back to New York and served three terms in Congress.