Thomas Gage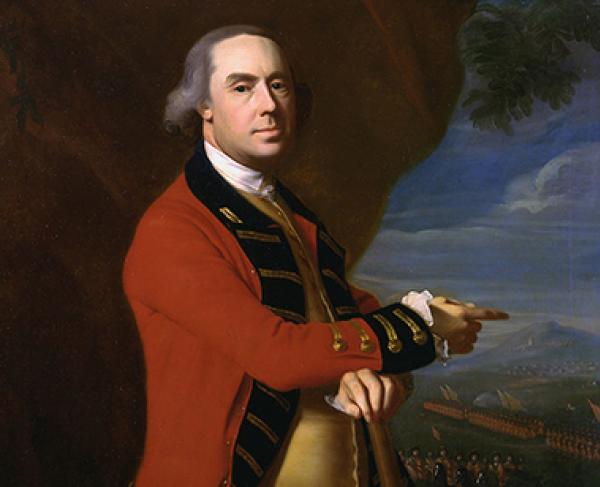 TitleCommander-in-Chief, North America; Lieutenant General
War & AffiliationRevolutionary War / British
Date of Birth - Deathc. 1718 - April 2, 1787
Thomas Gage was born March 10, 1718 or 1719 in Firle, Sussex, England. Born to an aristocratic family, his father was 1st Viscount Gage and his mother was Benedicta Maria Teresa Hall. The Gage family had been seated in Sussex since the 15th century. At about age ten, Thomas began attending the prestigious Westminster School where he met other boys who would become figures in North American politics and military action; John Burgoyne, Richard Howe and George Germain. Thomas left the school in 1736.
Gage's military career began in the 1740s, and he rose through the ranks of the British Army. He saw service in the War of Austrian Succession in 1743, the Second Jacobite Uprising in 1745, and purchased a major's commission in the 55th (later renumbered 44th) Foot Regiment in 1748. While in his service, he met more important figures such as Jeffrey Amherst, who would rise to great heights during the French and Indian War. Gage and his unit left Ireland in 1755 and were sent to North America.
While in North America, Gage and his regiment participated in the ill-fated Braddock Expedition in 1755. The 44th Foot served as the vanguard of the expedition and were the first to come upon French and Native American troops setting up an ambush. This skirmish began the Battle of the Monongahela, in which Braddock was mortally wounded and young George Washington displayed great ability. When several of Gage's officers fell, he took up temporary command of the 44th during the battle. Washington and Gage retained a friendly relationship that soon cooled due to lack of contact and Gage's assertation of British authority in the 1770s.
With the French surrender of Montreal in 1760, Major General Amherst gave now Brigadier General Gage the position of military Governor of Montreal. Gage served well in this role while the treaty was being negotiated in Paris. With the Treaty of Paris signed in 1763, Gage began lobbying for a new position. His wish was granted, although temporarily, as commander-in-chief of North America while Amherst was on leave. Gage left Montreal to take over Amherst's command in New York. In this role, he had to deal with Pontiac's Rebellion and became the permanently commander-in-chief after Amherst decided to stay in England. Most importantly during his administration, tension between Colonists and British rule started to rise. 
Gage began pulling back British troops from the frontier to place them in cities such as New York and Boston. This led to more tension and eventually the Boston Massacre. Gage became a fervent believer that democracy was a threat in North America. Gage returned to England in 1773 and thus missed the Boston Tea Party. Upon his return in 1774, he took over the governor position of Massachusetts, replacing the unpopular Thomas Hutchinson.
In April 1775, Gage received orders from London to take action against the Patriots. This led to Gage giving the orders to seize militia supplies at Concord. The rebel militia rallied and met them at both Lexington and Concord, pushing the British troops back to Boston. Gage continued command through the Battle of Bunker Hill and the Siege of Boston, before being recalled to England and replaced with William Howe.
In the 1780s, Gage's military activities, as well as his health, declined. While at his ancestorial home in Firle, he died on April 2, 1787, and was buried in the family plot there.
More British Figures in North America