James Gilpatrick Blunt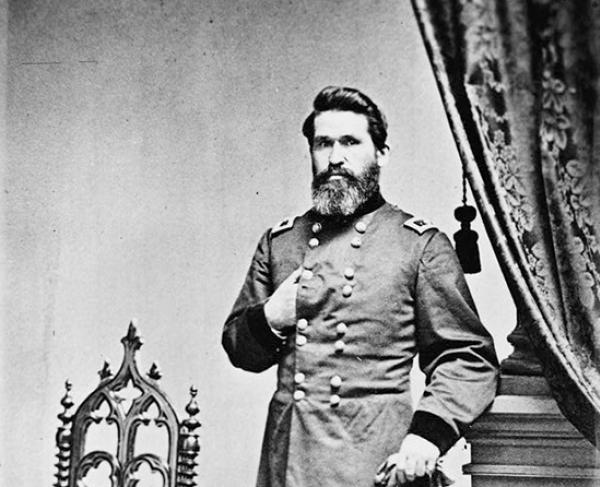 TitleMajor General
War & AffiliationCivil War / Union
Date of Birth - DeathJuly 21, 1826- July 27, 1881
While the life of James Gilpatrick Blunt began in the Northeast, it was in the West that he would achieve his fame as a Union commander.
Blunt was born on July 21, 1826 in Trenton, Maine to a farming family. At age 15, he ran away to sea and served on a merchant vessel. Showing an aptitude for sailing ships, he attained the rank of captain by the age of 20.
By 1845 he was back on land and attending Starling Medical College in Columbus, Ohio. After graduation, he married and set up a medical practice in New Madison, Ohio, and became an active member of the Republican Party.
In 1856, Blunt moved to Anderson County, Kansas, to join his uncle, Dr. Rufus Gilpatrick. The state had just become embroiled in the conflict between pro-slavery and abolitionist factions known as, "Bleeding Kansas." Blunt was adamant about his abolitionist views, and even joined with the famous John Brown in leading a force against the pro-slavery territorial government.
In 1859, Blunt was instrumental in framing the Kansas state constitution and served as a chair on the militia committee.
When the Civil War began in 1861, Blunt was appointed lieutenant colonel of the 2nd Kansas Volunteer Regiment. A year later, he achieved the rank of brigadier general, was appointed the commander of the Department of Kansas, and established the Army of Kansas.
On September 30, 1862, Blunt led his forces, including three regiments of Native Americans, at the First Battle of Newtonia, in Missouri. The Union forces were defeated, but just a month later in October, Blunt was victorious at the Battle of Old Fort Wayne, in Oklahoma. In December, Blunt's division was joined by the division of General Francis J. Herron, and almost immediately, the two divisions saw action against Confederate General Thomas Hindman's forces at the Battle of Prairie Grove in Arkansas. The battle was considered a tactical stalemate, but it succeeded in securing northwest Arkansas for the Union.
Blunt was promoted to major general in March of 1863 and in that same year he established Fort Baxter in Kansas. On July 17, 1863, Blunt won a Union victory at the Battle of Honey Springs, in what is today the state of Oklahoma. This was an important step in the efforts of federal forces to gain control of the Indian Territory. It was also an unusual battle in that Native Americans and African Americans made up the majority of the forces engaged on both sides.
In October of 1863, Blunt was removed from command of the District of the Frontier after a military blunder in which Quantrill's Raiders, a Confederate unit, killed over 80 of Blunt's 100 escorts while he was transferring his command from Fort Scott, Kansas to Fort Smith, Arkansas. Blunt was able to redeem himself in 1864 however, with victories at the Battle of Westport and the Second Battle of Newtonia, both in Missouri.
With the end of the war, Blunt returned to the practice of medicine and settled in Leavenworth, Kansas. True to his restless nature, he then turned to the study of law, and was admitted to the Kansas bar. In 1869, he moved his law practice to Washington, DC. In 1879 he was committed to an asylum due to erratic behavior, where he died two years later. His last resting place is in Kansas, the state where he started on the road to his military career.