Francis J. Herron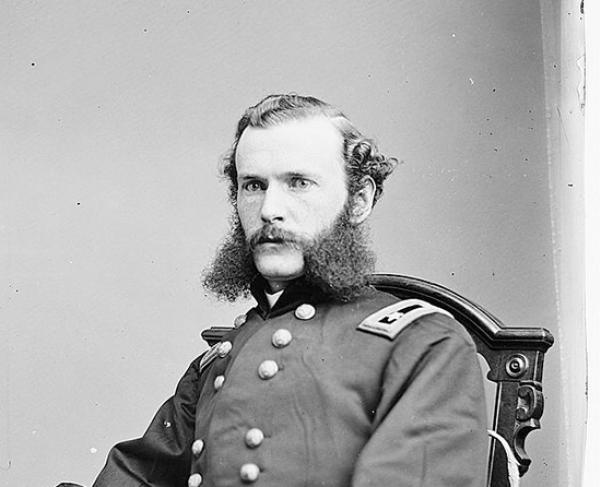 TitleMajor General
War & AffiliationCivil War / Union
Date of Birth - DeathFebruary 17, 1837 – January 8, 1902
The Civil War saw many common men elevated to the status of hero, and Francis Jay Herron was one of these men. Herron would rise from his position of bank clerk before the war, to a Major General and Medal of Honor recipient, and eventually falling from grace after the war to die penniless.
Herron was born in Pennsylvania on February 17, 1837. He briefly attended the Western University of Pennsylvania, but left to become a bank clerk. In 1855, he moved to Dubuque, Iowa, where he opened a bank with his brothers.
In 1859, Herron formed a militia group called the Governor's Grays, and with a possible civil war looming in January of 1861, he offered the services of his unit to President-elect Abraham Lincoln. Although they were turned down, Herron and his men thus had the distinction of being the first troops to volunteer for the Civil War.
In April 1861, the Governor's Grays became part of the 1st Iowa Volunteer Infantry, and Herron was appointed as captain. The regiment saw service in Missouri, fighting with General Nathaniel Lyon's troops in the battles of Boonville and Wilson's Creek.
After his three month enlistment with the 1st Iowa expired, Herron was appointed lieutenant colonel of the 9th Iowa Volunteer Infantry. It was with this regiment that Herron would fight at the Battle of Pea Ridge, Arkansas on March 7 and 8, 1862. During the battle, Herron was wounded and then captured, although he was exchanged shortly afterwards. For his bravery, he was promoted to brigadier general, and would eventually receive the Medal of Honor for "rallying [his men] to repeated acts of daring, until himself disabled and taken prisoner."
Herron was made commander of the 2nd and 3rd Divisions of the Army of the Frontier in Missouri, and in December of 1862, he further distinguished himself by coming to the aid of General James G. Blunt's forces at the Battle of Prairie Grove, Arkansas. Herron and his men made a forced march of over 100 miles in three days to attack Confederate General Thomas C. Hindman's troops and force them into a retreat. For his quick and decisive actions, Herron was promoted to major general, becoming the youngest man to hold that rank at that time in the war.
By June of 1863, the Army of the Frontier was dismantled, and Herron led his division to join General Ulysses S. Grant in the siege of Vicksburg. After the fall of Vicksburg, Herron was one of three generals chosen to accept the formal surrender on July 4, 1863. Grant then sent Herron to Louisiana, where he took part in the siege of Port Hudson and the start of the Red River Campaign. Due to ill health, he was not able to continue with the expedition.
In October of 1863, Herron returned to command the XIII Corps in the Department of the Gulf of Texas, providing aid to Mexican President Benito Juarez to prevent the French troops of Emperor Maximilian from establishing a presence along the Rio Grande. During the last months of the war, Herron returned to Louisiana to command the Northern Division and aided in the capture of Mobile, Alabama. In May of 1865, he negotiated the surrender of Confederate forces in the Trans-Mississippi District.
Herron resigned his commission in June 1865 and took up permanent residence in Louisiana, where he served as tax collector of New Orleans and U.S. marshal. After being removed as Secretary of State in 1873 due to a falling out with the governor, Herron moved to New York City, where he returned to his original profession as a banker.
Unfortunately, Herron was not to see the success in his later life that he enjoyed during the war, and when he died on January 8, 1902, he was destitute and living in a tenement building. He was buried in Queens, New York.