Henry Knox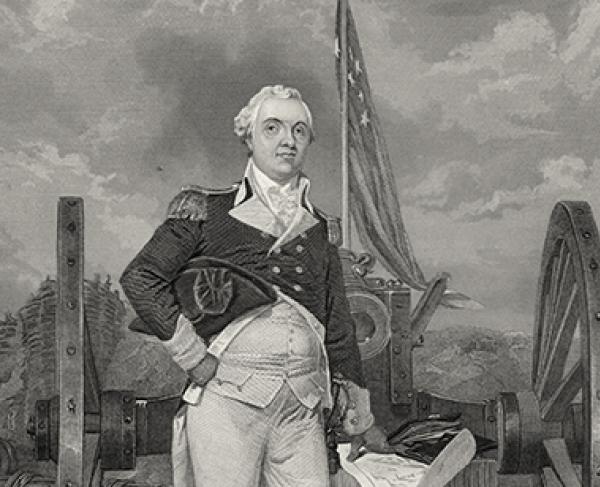 TitleMajor General, Chief of Artillery
War & AffiliationRevolutionary War / Patriot
Date of Birth - DeathJuly 25, 1750 - October 25, 1806
Henry Knox was born July 25, 1750, to William and Mary Campbell Knox in Boston. The seventh of ten children, his parents had immigrated to Massachusetts Colony from Northern Ireland. Henry's father, a shipmaster trading with the West Indies, died quite young at the age of fifty. 
When his father passed away, Henry gave up school and found a job as a clerk in a Boston bookstore to provide for his family. He loved books, read constantly, and later opened a store of his own. History and military science—particularly artillery—interested Henry, and he gained book knowledge which would influence his role in the American Revolution. Before the war started, Henry married Lucy Flucker in June 1774, despite her father's disapproval and her brother's enlistment in the British army.
Influenced by Boston's protests and revolution fever, Knox joined a local militia group called the Boston Grenadier Corps. In 1775, he served in the Siege of Boston. When General Washington arrived to take command in July of that year, Knox's command of artillery impressed the new commander. Though only about twenty five years old, Knox received a commission as a colonel who oversaw artillery and tasked with bringing cannons from the recently captured Fort Ticonderoga in New York state to Boston in the middle of winter. He and his men successfully brought sixty tons of cannon packed on sleds pulled by oxen over 300 miles of snow, ice covered rivers, and mountains to the Boston camps without losing a single cannon.
Knox's noble train of artillery soon found placements on Dorchester Heights, forcing the British to evacuate Boston and flee to Halifax, Canada via sea. Knox remained the highest-ranking artillery officer under General Washington, who refused to give anyone a command higher than Knox. His leadership shown during the New York and New Jersey campaigns of 1776-77 when he oversaw the logistics for recrossing the Delaware River to surprise the Hessians at Trenton and another victory at Princeton a week later. Knox received a promotion to brigadier general for these feats.
General Knox served throughout the war for the Continental Army, including fighting during the Philadelphia Campaign, established an artillery school, presiding as member of the court martial that convicted John Andre, and directing artillery at the Siege of Yorktown. Washington recommended promotion for his actions during the siege, and in March 1782, Knox became the army's youngest major general. With the peace negotiations going on in 1782-83, the Continental Army began demobilization. When the last British troops left New York City in November 1783, Knox rode at the head of forces that took over the city and attended Washington's farewell address to his officers at Fraunces Tavern. As Washington completed his speech, Knox was the first officer to come up and embrace Washington with a hug and tears. With Washington's resignation, Knox held the post of senior officer in the army.
On March 8, 1785, Knox took over the Secretary of War position in the Confederation government, succeeding Benjamin Lincoln. When the new government formed in 1789, Knox became the 1st United States Secretary of War, a position he held through 1794.
On October 25, 1806, Henry Knox died at his home after a chicken bone lodged in his throat, causing a fatal infection. He was buried on his estate in Thomaston, Maine (then a part of Massachusetts) with full military honors.
You May Also be Interested in