Lucy Flucker Knox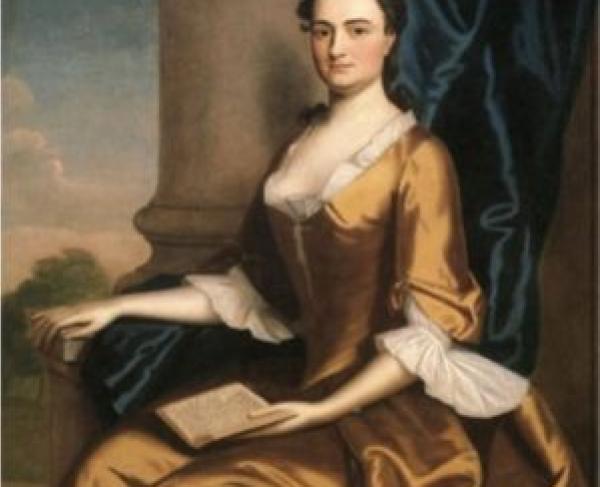 TitleCivilian
War & AffiliationRevolutionary War / American
Date of Birth - DeathAugust 2, 1756 – June 20, 1824
The 18th-century, in Western society particularly, brought with it greater flexibility in choosing a romantic partner. A shift from past practices that viewed marriages as opportunities to solidify family ties or consolidate fortunes, these "love matches" were not always a guarantee for a smooth and easy marriage. Lucy Flucker was only 16 years old when she met her future husband, Henry Knox. When the pair wed, their lives became intertwined in a cause bigger than both of them — something that pushed the boundaries of their relationship. Lucy's experience during the American Revolution, however silent to popular history, speaks volumes of the life of early American women tangled in the violence of the war.
Lucy hailed from the Flucker family, a wealthy Massachusetts family with deep loyalty to King George III. The family patriarch was Thomas Flucker, Secretary of Massachusetts, and Lucy's mother was Hannah Waldo, the daughter of a wealthy merchant. The land her family owned and held trading rights to eventually became Maine. Lucy grew up in New England wealth and extravagance with her younger sister, Hannah, and her older brother, Thomas (both named after their parents).
However, Lucy's unique story begins the moment she met her future husband. While out-and-about in Boston, Lucy noticed a uniformed man mounted on horseback riding around Boston Common. She was immediately enchanted by him and soon learned his name: Henry Knox. Lucy discovered Henry ran a small bookshop across from Williams Court in Cornhill, a popular location for British officers. An avid reader herself, Lucy frequented the bookshop. Henry also became quite enamored with her. The two conversed, became better acquainted and fell madly in love in this small little bookshop in Boston in 1772.
The pair wished to get married, but Lucy's parents refused to give their blessing. As a rich New England family, they wanted Lucy to marry someone with the same financial position and political views. Lucy had many eligible suitors, but none compared to Knox in her mind. However, her parents forbade the two from ever speaking. Secretly, for two years, Henry and Lucy flirted and wrote letters to each other. Henry called her "the animating object of My Life" and noted that "I am always talking inwardly to her."
In June 1774, the pair married secretly despite Lucy's parents' wishes. Lucy knew she would not live a life of wealth, but she adored Henry and insisted that was all she needed. Upon discovery of their marriage, Lucy's parents disowned her.
War simmered on the horizon in 1775. British General Thomas Gage controlled Boston, keeping the city under lock-and-key. Newlyweds, Lucy and Henry Knox had to make a choice: stay in Boston and become loyal subjects to King George III or leave Boston and join the American cause. The British officers in Boston wanted Henry to join them, but he refused. Fearful of her husband's safety, Lucy sewed a sword into his cape. The couple escaped Boston on horseback, joining the Continental Army encampment in Cambridge. The camp scene soon became familiar to Lucy as a Patriot and officer's wife. 
"I cannot at this time tell where you are nor form any judgment where you are going – we hear both Armys are in motion, but what thier rout is, we cannot hear. nor have we yet been able to conjecture – what a situation, for us who are at such a distance – how much more we suffer for you than you for yourselves – all my hopes are that it will not, cannot last . . ." – Lucy to Henry, May 1777
During the winter of 1775-1776, Henry Knox and his men marched to Fort Ticonderoga and gathered necessary artillery and other supplies. They built special sleds to haul them over the frozen rivers and snow-covered Berkshire Mountains of Western Massachusetts. It was an arduous and heroic task which Knox completed with great alacrity. Once the artillery arrived, it was aimed at the British and ultimately turned the tide in New England, forcing the Crown forces to evacuate Boston.In that same time span,Lucy Knox gave birth to her first child, a daughter. Her first months as a mother were spent in isolation, far away from her husband — a newly promoted officer and hero in the Continental Army. Thus, she reached out to her family and, after some reconciliation, she remained in close contact with them.
"oh my Sister, how horrid is this war, Brother against Brother – and the parent against the child – who were the first promoters of it I know not but god knows – and I fear they will feel the weight of his vengence – tis pity the little time we have to spend in this world – we cannot injoy ourselves and our friends – but must be devising means to destroy each other – the art of killing has become a perfect science." – Lucy to her sister, April 1777
Lucy occasionally joined Henry in the military camps. Typically, this was for a short period during the winter or early spring. During the actual campaigns, most officers' wives were sent back to the more distant homefront. Lucy, when not with her husband, rented lodgings in taverns or stayed at friends' homes. Her letters reveal her desire to have Henry beside her and her fears for his safety. "I wrote you a line by the last post just to let you know I was alive, which [illegible] was all I could then say with propriety for I then had serious thoughts that I never should see you again."
Sometimes, Lucy wrote her frustrations to Henry, reminding him that he had a home and should be the "commander in chief of [his] own house." But she recognized that Henry played a necessary role in the Continental Army, especially after General George Washington came to visit Henry at the rampart he had designed in Roxbury. After this visit, a friendship grew between Washington and Henry Knox, who went on to serve as chief of artillery.
Though on her own much of the time, Lucy felt a sense of independence and controlled both her household and movements.  Her independence was also demonstrated in the wartime moments she spent beside her officer husband, despite him pleading with her not to make the long treks. Henry sometimes feared she or their children would be used against him, especially with his high rank in the Continental Army.
"don't be angry with me my Love – I am not jealous of you affection – I love you with a love as true and sacred as ever entered the human heart – but from a diffidence of my own merit I sometimes fear you will Love me less – after being so long from me – if you should may my life end before I know it – that I may die thinking you wholly mine – Adieu my love, LK"  – Lucy to Henry, August 1777
In May 1778, Lucy joined Henry at Valley Forge, where he had spent the previous winter with General George Washington. Lucy quickly became friends with Martha Washington and helped to host lively parties. When their husbands were away attending to military duties, Lucy and Martha became quite close. Both came from wealthy families and spent most of their time together sewing, mending, and talking. When Washington came under criticism, Lucy and her husband actively shone a positive light on the future president.
The majority of the American Revolution's military actions came to an end in October 1781 with the Battle of Yorktown. With the American victory, Lucy's life changed and became more settled. Henry took charge of the military fort at West Point and disbanded the army after Yorktown. Then, the couple returned to a house on Boston Common, where Lucy had first seen her daring husband.
Somehow — the exact details are unclear — Lucy and Henry inherited her family's estate. Some claim that the family left it to her after finally giving their blessing. Others argue that it was because Lucy was the only non-Tory in her family remaining in post-Revolution America. Henry scouted newly acquired territory in Maine and decided the sweeping landscape in Thomaston to be the perfect spot to build his wife a proper home. They lived there peacefully, for a short time, in a temporary house. In 1785, the newly formed Confederation Congress named Henry the new Secretary of War, forcing Henry to rent a house in New York. Annoyed, Lucy packed herself and the children up to move to the bustling city.
For 10 years, the Knox family lived in the city, fulfilling civic duties. In 1795, they moved back to Montpelier, a massive 19-room mansion on the St. George River. During their marriage, Henry and Lucy had 13 children, though only three survived to adulthood.
Henry Knox died in 1806, but Lucy continued to live at the massive mansion for another 18 years. An incident occurred on June 19, 1824, that revealed her quickly declining health. While speaking with her daughters, she suddenly started to frantically call for Henry. She passed a day later.
Lucy's story is a reminder that it took more than military might to produce a new nation. Thousands of women stood for they felt was right, just as Lucy did with her husband and his role in Continental Army. Lucy may have been lost in history for only a moment, but her story serves as a guiding light to the fact that resistance and independence doesn't always equate to bloodshed.
To read her letters and documents, go to Gilder Lehrman Institute of American History.