Charles Pinckney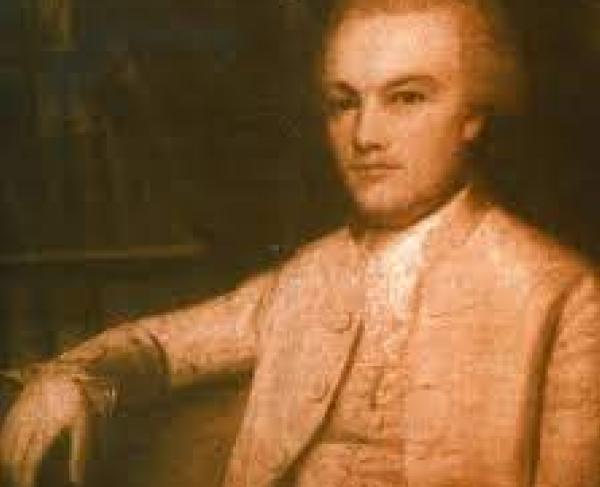 TitleOfficer, Senator, Governor, Delegate
War & AffiliationRevolutionary War / American
Date of Birth - DeathOctober 26, 1757 - October 29, 1824
Charles Pinckney was born in Charleston, South Carolina on October 26, 1757. His father bore the same name and was a wealthy lawyer and planter. His mother was Frances Brewton, the daughter of a goldsmith. The Pinckney's were a well-known and influential low-country family. Charles went on to become a planter, Founding Father, signer of the United States Constitution, Governor of South Carolina, and Senator.
Charles received his education by being tutored in Charleston by David Oliphant, who served in the Common House of Assembly with Charles' father. He excelled under Oliphant, particularly in the sciences of government, philosophy, history, Latin, Greek, French, and Spanish. The family had planned for Charles to leave North America in 1773 to study law in England. However, due to the growing unrest, his parents decided he would stay home and instead study law at his father's office. This proved to be a wise decision as the American Revolution began two years later. Despite the war, Charles continued his law education, which was completed in 1779 when he was 21 years old.
The same year his education was complete, Charles started his career in public service as he was elected to South Carolina's General Assembly. He also received a lieutenant's commission in the Charleston Militia. He served at Savannah and the fall of Charleston, where he was taken prisoner in May 1780 and released the next year. His father was also taken prisoner but reluctantly gave an oath to the Crown, thus saving the family's property from being confiscated. Charles Jr. would be released in Philadelphia and stayed in the north until the war's end, returning to South Carolina in 1783.
Shortly after his return home, Pinckney was selected as a South Carolina representative to the Fifth Continental Congress (1784-87). He was one of the youngest to attend, but that did not hinder his ability to see that the Articles of Confederation were not working well as a system of government. After a lengthy debate, it was agreed that a convention would be held in Philadelphia, which came to be known as the Constitutional Convention of 1787. Charles was one of the four delegates from South Carolina in attendance.
One of his contributions to the Constitution can be seen in Clause 3 of Article 6. The separation of church and state. Another dark contribution of Pinckney (and all of South Carolina) was that he stood firm that if an anti-slavery clause was added to the document, South Carolina would reject the document forthwith. Pinckney even went as far as presenting his own draft of the Constitution, but the document was unfortunately lost. Since then, it has been the center of controversy. Scholars today can attribute nearly 28 clauses to Pinckney's ideas.
The year 1788 was eventful for Charles. He represented the state's convention to ratify the Constitution. That same year, he married Mary Eleanor Laurens, the daughter of wealthy Charleston merchant and president of the Second Continental Congress Henry Laurens. The combination of the two family's wealth aided Charles well in his public service career and lifestyle. They would have three children.
In the following two decades, Charles served in various public service roles: four non-consecutive terms as South Carolina's governor, three terms in the General Assembly, and a term in the United States Senate. After supporting Thomas Jefferson in the Presidential election of 1800, he offered Charles the post as representative of the United States in Spain. He agreed and served abroad from 1801 to 1805, helping smooth relations with Spain, as well as working to transfer Louisiana from France in 1803.
Upon his return to South Carolina, Charles was in the state's General Assembly and then his fourth and final term as governor. Again, he returned to the General Assembly after his term, serving until 1813, when he retired briefly until convinced to run for the Charleston district seat in the Sixteenth Congress, which he served from 1819-1821. During this Congress, the Missouri Compromise was passed, which he opposed. Being a slave owner himself, Pinckney stated that only slavery could divide the Union.
Upon completion of his term, Charles fully retired from public life. He spent the remaining years writing about his travels and political life. He died on October 29, 1824, in Charleston at 67.