South Mountain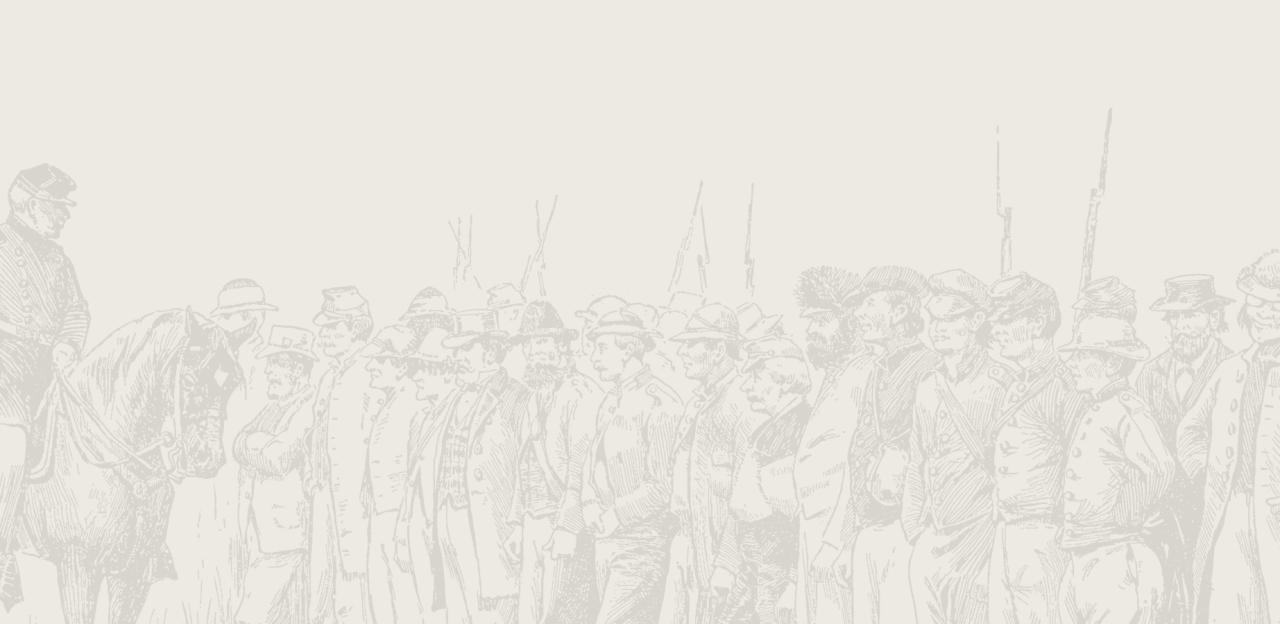 The Battle of South Mountain
Crampton's, Turner's, and Fox's Gap
Victory at Second Manassas in the summer of 1862 emboldened Robert E. Lee to attempt a warwinning movement north. His new campaign would relieve war-torn Virginia, draw new recruits to his army, and win a decisive victory on Northern soil to earn European recognition of the Confederacy. On September 4, Lee and his Army of Northern Virginia crossed the Potomac River unopposed and entered Maryland for the first time.
To remove the threat of Union troops to his communication and supply routes, Lee divided his invasion force on September 9 and sent Lieut. Gen. "Stonewall" Jackson to seize the Federal garrisons at Harpers Ferry and Martinsburg. Lieut. Gen. James Longstreet's wing continued into western Maryland and threatened the Pennsylvania border. However, Lee's opponent, Maj. Gen. George B. McClellan, was given a mislaid copy of Lee's Special Order #191 on September 13 that revealed the Confederate plans and objectives. Aware that a portion of Lee's army was now vulnerable to attack, McClellan advanced toward the South Mountain range that separated the two armies.
A single 5,000-man Confederate division under D.H. Hill protected Fox's and Turner's Gaps, two vital passes just over a mile apart. Early on September 14, Gen. Jacob D. Cox's Kanawha Division of the Union IX Corps launched an attack against Samuel Garland's brigade at Fox's Gap. Cox's 3,000 Ohioans overran Garland's North Carolinians, driving the Southerners from behind a stone wall and mortally wounding Garland. With Fox's Gap now clear, Cox awaited reinforcements to further his gains but help was slow to arrive. Complicating Union command problems, the usually aggressive IX Corps head, Gen. Jesse L. Reno, was killed in almost the same spot as Garland had been earlier. Heavy fighting swirled around the farm cabin of Daniel Wise as reinforcements from both sides arrived, yet as darkness fell the Confederate line held the western edge of the gap.
At Turner's Gap, Maj. Gen. Joseph Hooker's I Corps arrived on the steep mountainside near Frostown. Divisions under George G. Meade and John P. Hatch made relentless charges on the northern edge of the gap. The brunt of the Federal onslaught fell upon the 1,200 men of Brig. Gen. Robert Rodes' brigade, whose regiments suffered severe casualties. The well-directed attack of Meade's Pennsylvania Reserves' pressed Rodes' flank while Hatch's troops advanced in support. After a brutal firefight along a cornfield fence, Hatch broke through the Rebel line. Only the timely arrival of reinforcements from Longstreet prevented the Confederate line from collapsing. On the Union left, an attack up the National Road by Gen. John Gibbon's "Black Hat Brigade" pushed back other Rebel defenders. As the sun set over South Mountain, the exhausted Confederates still maintained control of Turner's Gap.
While both sides funneled troops into Fox's and Turner's Gaps to the north, excessive caution plagued Maj. Gen. William B. Franklin's Federal VI Corps. Roughly one thousand Confederates held Crampton's Gap just west of Burkittsville, yet Franklin was convinced the Rebels were in strong enough force to delay the advance of his 12,000-man corps. Maj. Gen. Henry W. Slocum, however, felt differently. At around 4 p.m., Slocum's division charged headlong up the slope and into Crampton's Gap, dislodging the outnumbered Confederates from the protection of a stone fence. The arrival of four regiments under Gen. Howell Cobb did little to stem the Union tide. A second attack drove the remaining Confederates down the western slope of South Mountain, leaving the VI Corps in possession of Crampton's Gap. But with daylight fading and Confederate reinforcements forming in the distance, Franklin halted his column.
By dusk, with Crampton's Gap lost and holding only a tenuous grip on Fox's and Turner's Gaps, Lee ordered his outnumbered forces to withdraw from South Mountain. Though Lee abandoned the mountain gaps before daylight on September 15, the bloody, day-long struggle bought the Confederate army valuable time to consolidate—and ready itself for the coming battle along Antietam Creek. McClellan had lost his best chance of destroying Lee's army in detail.