Brian Keeley Photography
At dawn's first light on August 16, 1780, Patriot Major General Horatio Gates and British Lieutenant General Lord Charles Cornwallis commenced an artillery duel under the high canopy of a virgin longleaf pine forest. Battle-hardened veteran British troops were matched against inexperienced North Carolina and Virginia militia, sending the Patriot left into a panicked headlong flight. The British, although outnumbered two to one, had won a complete victory and Cornwallis was inspired to optimistically leave South Carolina for North Carolina and, ultimately, defeat at Yorktown, Va.
Today, the longleaf forests of the Southeast, are suffering the same fate as the Patriot army in Camden, have been all but vanquished. A mere 3 percent of the 90 million acres of the once-vast longleaf ecosystem remains. Although a colossal Patriot defeat, the Battle of Camden was a critical battle of the Southern Campaigns of the American Revolution, but for years it was lost to public interest, just like the battlefield terrain was again obscured and lost from view by thick woods, the result of decades of commercial timber operations. In April 2016, the Historic Camden Foundation became steward of the 476-acrebattlefield core, with the mission of reigniting public awareness of this significant Revolutionary War battlefield.
Rather than embarking on a traditional battlefield restoration and interpretation program, Historic Camden included two additional elements: natural resources and recreation. The Camden Battlefield and Longleaf Pine Preserve was created. 
A multigenerational plan now exists to reforest 420 acres to longleaf pine. In the meantime, 200 acres of thinned mixed pine forest create the appearance of a 1780 longleaf savannah — albeit with younger trees — that visitors can enjoy immediately. Staging the removal of non-longleaf pines drives revenue that will be reinvested into the planting of longleaf. Reserving the majority of timber profits for 15 years of anticipated expenses — for both natural resources and historical interpretation — allows planted longleaf to mature to produce sustainable income from pine straw and forest products to provide future self-generated revenue. By adding a recreational dimension, forest firebreaks/interpretive history paths become walking paths for easy public access. Designated acreage for a permanent primitive Scout camp adds more recreational value and has produced dividends of troop and Eagle Scout service projects. Naturalist enthusiasts of all stripes have a new recreational venue unlike any tract of land in the area.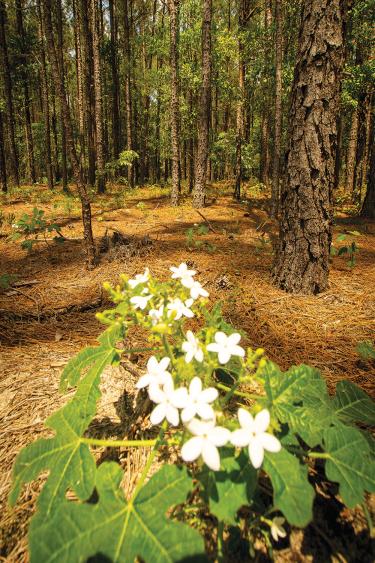 Today's supporters of the battlefield preserve include history, natural resources and recreational fans and, critically, financial donors. With the diversity of parallel interests, the battlefield preserve has developed a multitude of partners interested in collaborative efforts. The preserve now has a strong relationship with Clemson University — including undergraduate and graduate class/field trip participation — and the Longleaf Alliance, as well as other natural resources organizations. Scouting activities are a direct outreach to young people and their parents. Historic Camden's longstanding bond with Revolutionary War reenactors has achieved a new high, with planned reenactments on the actual battleground. Providing an additional eight miles of recreational trails in a county that cherishes such access is mutually beneficial. Because of the forward movement in Historic Camden's efforts, the American Battlefield Trust just acquired an additional 294.4 acres of adjacent battlefield land that will be transferred to the preserve in due course. This timbered property will allow replication of our winning approach of combining history, natural resources and recreation.
Perhaps most significantly, with the implementation of this plan, the terrain is again visible. Visitors actually see the battlefield as it was then, when they visit now for a deeper understanding of this hallowed ground.  
Related Battles
Battle Facts
South Carolina | August 16, 1780
Result: British Victory
Estimated Casualties
2,224