H. Charles McBarron
Saved: 31 Acres at Hanging Rock and Guilford Courthouse
The Victory  
Last year, we asked you to help preserve two important pieces of Revolutionary War history in the Carolinas. Now, all thanks to you, we can declare victory at Hanging Rock and Guilford Courthouse!  
Because of your dedication, you have added 30 acres to the 141 you have already saved at Hanging Rock, South Carolina. At Guilford Courthouse, North Carolina, you have saved a half-acre of land that is part of our ongoing effort to tell the story of the battle by saving and restoring parcels of land, acre-by-acre. 
What's more, your efforts made use of an impressive $5.20-to-$1 match, turning $91,250 into $475,000-worth of Revolutionary history. Each and every one of us is immensely grateful for your support.  
The History
Though less well-known than many of the Revolution's campaigns in the north, the British Southern Campaign was critical to the fate of the future of our nation – and these two battles, one in each Carolina, were both critical to that campaign's eventual outcome.  
Of the Battle of Hanging Rock, noted 19th-century historian Lyman Draper later wrote that "[Charles] Cornwallis was heard to say that no battle fell heavier on the British, considering the numbers engaged, the Battle of Bunker Hill excepted." 
Located on the road between Camden, South Carolina, and Charlotte, North Carolina, Hanging Rock served as one of a series of strongholds intended to maintain the British position in South Carolina. At daybreak on August 6, 1780, Patriot troops launched a surprise attack on British forces there. After three long hours, the battle ended with the victorious Americans plundering the camp while the British watched helplessly. The battle served to demoralize the British, whose forces sustained four times as many casualties as the Patriots.  
The Battle of Guilford Courthouse was fought on March 15, 1781. After a stinging defeat earlier that year at the Battle of Cowpens, where his 3,300-man army was reduced to 2,550, British General Charles Lord Cornwallis spent two months driving his men in pursuit of Nathanael Greene's army. Cornwallis and his notorious cavalry commander Banastre Tarleton marched hundreds of miles over wretched roads, often in horrible weather, but they could never quite catch their Patriot foe. Guilford Courthouse is the place where Greene, whose main objective was to keep his army in the field and avoid disaster, finally turned to face Cornwallis.  
It's also the place where, after one of the bloodiest battles of the Revolutionary War, Cornwallis decided to abandon the Carolinas. Despite having only 1,900 British Regulars to face 4,400 Americans, the British had managed to drive back three successive American defensive lines – yet their Pyrrhic victory at Guilford Courthouse came at too high a cost. With his force reduced 27 percent by this single battle, Cornwallis turned his attention to Virginia, beginning the last leg of his journey toward eventual surrender at Yorktown. 
The Impact
Some of the American Revolution's most important battles were fought in the farms, forests, swamps, cities, towns, and mountains of the Carolinas. Yet few Americans know about this crucial history, and fewer still have experiences these hallowed places firsthand.  
By saving land in the Carolinas, you preserve forever this remarkable chapter in our nation's history. You also secure another victory for the Liberty Trail at Hanging Rock, adding to the landmark initiative that will unite preservation and interpretation throughout the state.   
Now, all because of your generous support, Americans will be able to learn about the transformative events of the Revolutionary War's Southern Campaign on the very land where they happened. Thanks to you, future generations will be able to connect to our nation's history in the best outdoor classrooms around. 
Your Victory
31
ACRES SAVED
Donation Match
$5.20-to-$1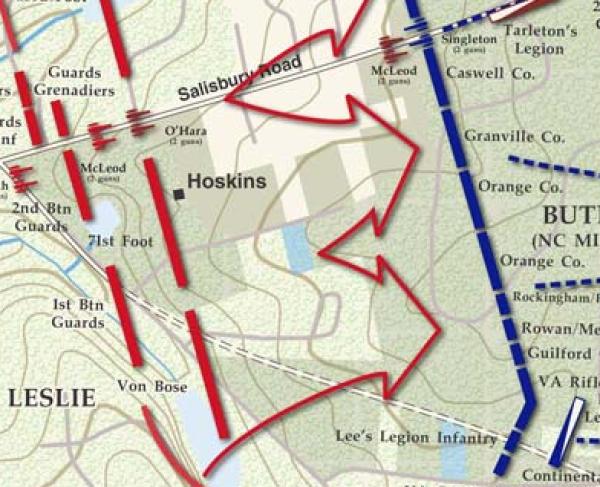 BATTLE MAPS | The American Battlefield Trust's maps of The Battle of Guilford Courthouse, North Carolina on March 15, 1781