Moments in Time: Wilson's Creek - Part II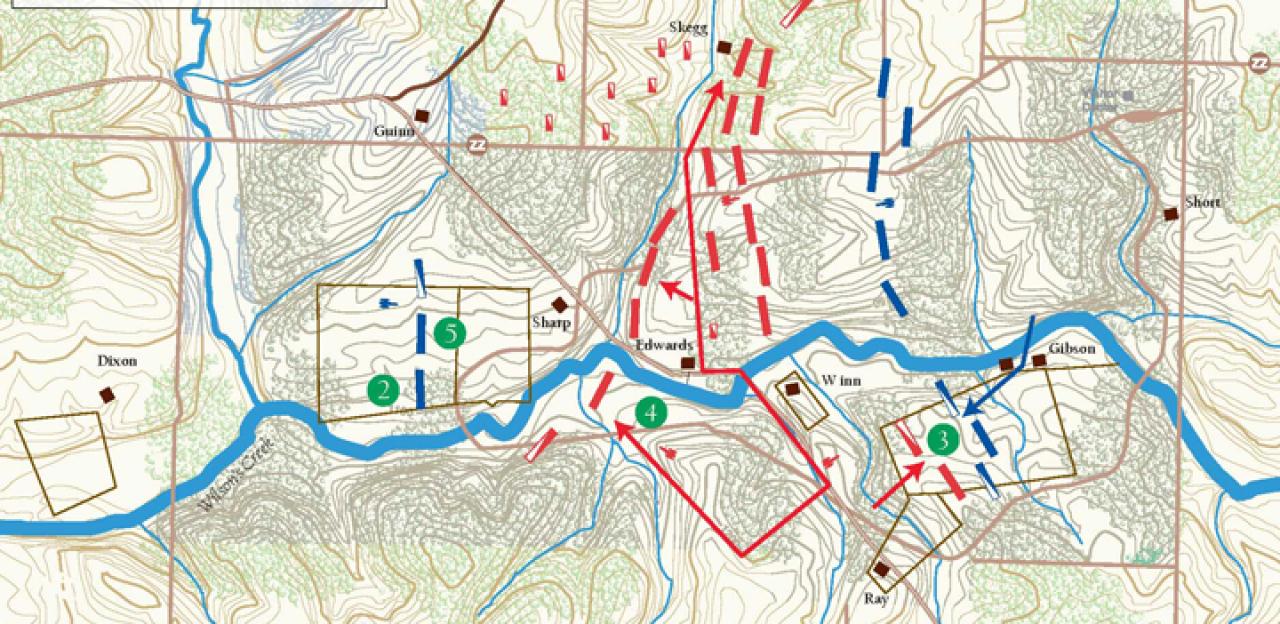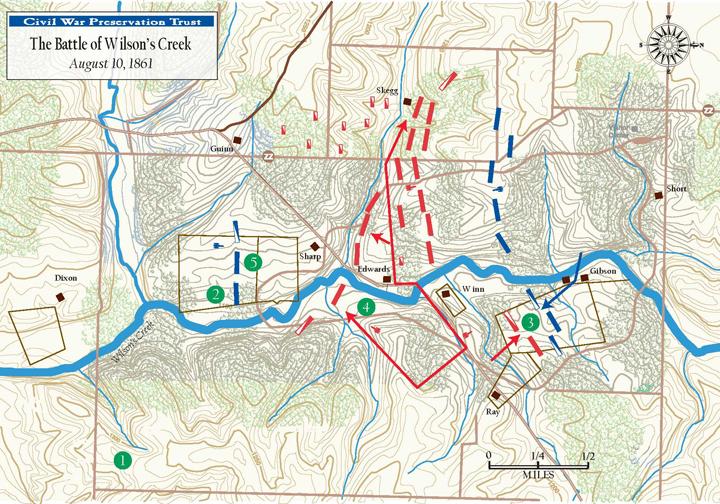 August 10th, 1861, 6 A.M. to 8 A.M.
Cresting Oak Hill brought Lyon's men out of the acoustic shadow.  Sigel heard the booming sound of a fresh engagement clearly from his post roughly two miles southeast of Lyon's batteries.  He promptly brought out his men and prepared to descend on the Confederate rear. 
1. "The shots passed over their heads, creating a stampede but doing little, if any, damage to life or limb.  In vain I...urged the artillerymen to depress the guns.  Either from inability to understand English or, in the excitement thinking it was only necessary to load and fire, they kept banging away until the whole camp was deserted."
Sigel was a native German speaker and a number of his men were German immigrants.  Despite their reluctance to properly aim at the Confederates his gunners inflicted much psychological damage on the enemy soldiers who had just rolled out of their bedsacks.  The men camping in Sharp's cornfield were soon universally scrambling away from the Union soldiers fording Wilson's Creek. 
2. "Captain Hale!  Where must we go?  We are sick!"
Two Texas cavalrymen had developed a reputation as loudmouths and saber-rattlers in the days leading up to the battle.  They quailed as soon as cannonballs started bouncing wildly through the cornfield.  Captain Hale was not pleased, and told them to "go to hell, you damned cowards.  You were the only two fighting men I had until now we are in a battle, and you're both sick.  I don't care where you go." 
3. "When the smoke cleared away a little we could see the enemy plainly.  They stood as firm as ever, but their ranks were thinned and their dead lay thick...but they still stood in their places, while the blood running down their faces gave them a ghastly but fierce and determined look."
William Watson of the 3rd Louisiana was tasked with defending a Confederate battery on the east side of Wilson's Creek.  When a Union force crossed the water to threaten the guns, Watson and his comrades went out to meet them.  The two lines pushed each other back and forth across John Ray's fields before the Union men withdrew to the other side of the creek.
4. "Come, my brave lads, I have a battery for you to charge, and the day is ours!"
General McCulloch arrived in the southern sector and rallied a group of shaken men along a small creek known as Skegg's branch.  Peering through the dense jungle, they saw Sigel's men ransacking their camp.  McCulloch promptly shook the Confederates out into battle line and set out to retake the lost ground. 
5. "Color-bearer, advance with your colors and wave them--wave them three times."

Seeing McCulloch's men moving towards his line, Sigel was unsure if he was seeing friend or foe.  If Lyon's attack had been successful then the soldiers advancing on him might very well be the left flank of the northern portion of the Union army.  Not wanting to shoot Union men by mistake, Sigel thought he could signal them beforehand.
Moments in Time at Wilson's Creek: Introduction | Part I | Part II | Part IV
Related Battles
Battle Facts
Greene and Christian County, MO | August 10, 1861
Result: Confederate Victory
Estimated Casualties
2,330