An Interview With Air Force Veteran, Michael Barycki
A story of service and history

Recently, the Trust had the opportunity to interview Air Force veteran Michael Barycki and learn about his experience in service, his interest in American military history, and his veteran-owned business, Civil War Tees.
We are honored to share Mike's story, and we hope that he can inspire our many veteran members to take part in the Trust's new oral history program. Your experiences, in your words, deserve to be preserved for future generations. If you are interested in sharing your military story, we encourage you to explore Battlefields.org/ShareYourStory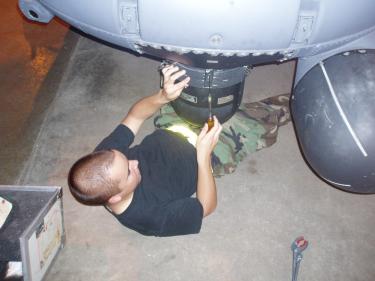 Can you describe your service history?
Michael Barycki: I enlisted in the Air Force back in 2004 as a communication/navigation systems aircraft maintainer.  My basic training was at Lackland Air Force Base in San Antonio, Texas, and I conducted my technical training at Keesler (Biloxi, Miss.), Sheppard (Wichita Falls, Texas), and Nellis (Las Vegas, Nev). Our role was to be able to inspect, repair, and replace avionics systems in essentially any aircraft that wasn't a fighter. The technical training lasted several months and focused intensely on electronic principles, mathematics, and troubleshooting situations on various aircraft.
I received orders for Kadena Air Force Base in Okinawa, Japan — so my training at Nellis was catered to my assigned aircraft, the HH-60 Pave Hawk helicopter. In Okinawa, my maintenance unit worked together with the 33rd Rescue Squadron, tasked with search and rescue operations in the Pacific.  I found the work very demanding and challenging, yet incredibly satisfying.  There was something very fulfilling about getting an aircraft back in the skies, knowing that you helped solve a problem and it was now available to possibly save someone's life.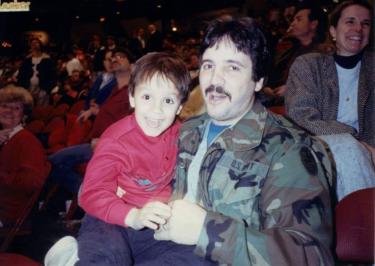 What sparked your interest in American history?
MB: My love for American history came directly from my father. There was no shortage of books in the house, and picture-heavy series such as Time Life's The Civil War helped a visual learner like myself dive into the past at a young age. There was a small Revolutionary War battlefield not far from our South Jersey home, and now there is the Red Bank Battlefield Park in the town of National Park, N.J. My parents let me do summer camps there and I found it almost surreal to be able to walk on the same grounds that those men fought over way back in 1777. My father brought our family to Gettysburg for the first time when he felt my brother and I were old enough to appreciate it, and he instilled in both of us a sense of fascination and respect for what happened there. This was a place where others gave their lives for what they believed in, and it was important that we remembered that.
Why are you drawn to military history?
MB: My interest in military history also came from my father. He was a veteran of both the Navy — as a corpsman during the Vietnam War — and the Army — as a nurse when I was growing up. While both of my grandfathers passed before I turned six, I knew that they both were in World War II, and learning about that subject always made me feel closer to them. For me, learning about military history meant learning about my family, and understanding the difficulties they went through and the sacrifices they made.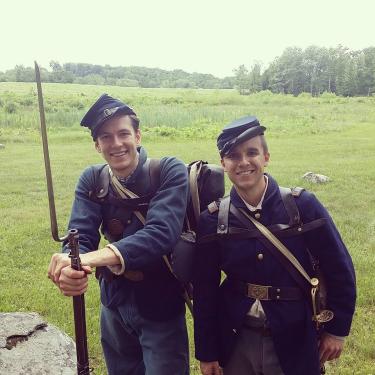 When I turned 16, I was finally able to get into Civil War reenacting, and I have been active in living history since. This gave me an opportunity to not just learn the stories of those that served in the 1860s, but to be able to portray them myself while offering a visual history to the public. It is the most enjoyable thing I have done in my life, and I am blessed to have been able to accrue more than 400 hours of volunteer work on the battlefield at Gettysburg. The opportunity to sleep on the field, and hopefully inspire youth and families to connect with history on that hallowed ground, is something I look forward to every year. I am currently in England using my GI Bill to finish my postgraduate degree, and I am looking forward to returning home full time to find a history-related career, such as with the National Park Service or perhaps even teaching.
As a veteran, do you feel a connection with the service members of our nation's past?
MB: There are certain aspects of my own service that I can directly relate to those before me. Feelings like a sense of pride for what I was doing, a love for my country, and a longing for home while away are some examples of that. If I am honest with myself, however, I do not feel I am worthy of being placed in the same category as many of them. When I read first-hand accounts of what they endured, through their diaries or official reports, I wonder if I could have ever gone through those situations myself. I do not believe it is a lack of character to admit that there are many others who did more, and gave more, than I did — and it is that understanding that drives me to learn their stories and keep their memories alive.
What do you feel when you visit an American battlefield?
MB: Battlefields generate a feeling for me that is perhaps difficult to define, as it is a feeling of balancing opposites. I find them beautiful, yet terrifying. The quiet calm nature of these grounds can only be possible because of the horrible nature of what occurred there. I am incredibly happy and joyful while walking around a battlefield, yet there is a sense of sorrow that is present with the thoughts of those that never got to consciously leave the soil I am standing on. I think this mix of emotions and understandings is an essential part in loving and respecting the battlefield. These were ordinary people asked to do extraordinary things. I've always tried to pass that on to those that come out with me, and I firmly believe that teaching the human element of war is just as important as the tactical side.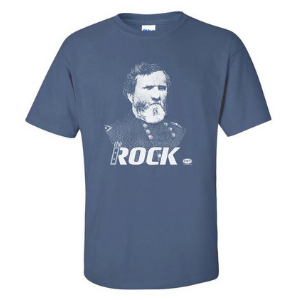 What inspired you to create your business Civil War Tees?
MB: Civil War Tees was a way to share my creativity and love of history with others. I never really wore any "history" shirts because I frankly couldn't find anything that blended into a modern setting. I wanted to make something that you could wear in a restaurant or social setting just as easily as on the battlefield. Another inspiration was to tell stories with these shirts, and open up conversation and dialogue. We avoided some of the bigger names, such as a Lee or Grant, and instead focused on designs that would have those around you ask "What does that mean?" Shirts about songs, such as Jine the Cavalry or Goober Peas, echo the importance of lyrics and music during the war, and the Lincoln election and Wide Awake's shirts are a nod to the unique political turmoil of the 1860s. We also have a few humorous ones that I think any fan of studying the Civil War, and especially Gettysburg, would appreciate. They all have a modern look, and my business partner Brian has done an incredible job with the artwork on them.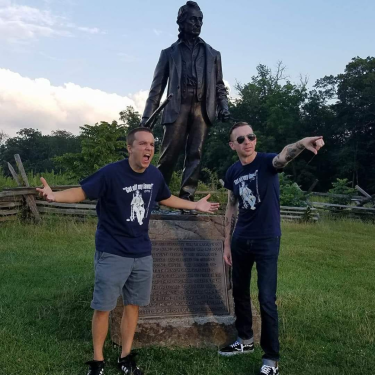 What inspired you to give a portion of your profits to battlefield preservation?
MB: Battlefields are my happiest of happy places, and without organizations like the Trust, we will continue to lose parts of these important grounds. I remember the year after we went to Gettysburg for the first time, we went down to see Fredericksburg and Chancellorsville/Wilderness. I was devastated when I saw the stone wall at Fredericksburg, and how little of that battleground had been preserved. I was spoiled by Gettysburg, and the reality set in that we had already lost so many of these important pieces of property. To me, there is no greater cause than to acquire and preserve these grounds for future generations. While I am not a man of wealth, I knew that I could at least do a bit of my part by donating from each sale. We have even donated all the profits from certain design launches, such as the "Get off my lawn" John Burns July 1st shirt. I was very happy to work with John Heckman, aka The Tattooed Historian, on this project, and it was refreshing to see how many people bought those shirts to help chip in.
Our battlefields provide so much more than just a place where "things happened." These lands serve as a home for nature, a place for exercise or just to relax, and an opportunity to carry on the stories and sacrifices of those who came before us to Americans that have not even been born yet. What the Trust is doing is not only admirable, but it is essential.  Showing the veterans of my father's Vietnam unit around Gettysburg, as their reunion, was one of the greatest and most meaningful moments of my life.  The appreciation these veterans had for what happened there was truly moving.  Moments like these could not happen without battlefields.
Is there anything you would like to convey to other veterans or active duty service members with an interest in American and military history?
MB: I would encourage veterans to connect with the human element of what these soldiers went through. If you look at the most popular songs heard in a Civil War camp, they weren't the typical "ra-ra" songs that were used to stir up patriotism; they were sad songs about war, home, and missed loved ones.  Read the lyrics for All Quiet Along the Potomac, When this Cruel War is Over (Weeping Sad and Lonely), and Lorena. Also, give a listen to Bobby Horton's renditions of these, as he is a fantastic historical musician. I think this aspect of the Civil War is often overlooked when compared to the strategic and tactical aspect, but I believe many veterans could relate to the emotions behind these songs, and therefore build an even better understanding and appreciation for those before them.
Veterans and active duty service members have a unique perspective to offer historical education. I would encourage them to get involved, be it in living history, or just volunteer at local historical sites. Their lived experiences can only help to provide others with a proper context and understanding of those that served before them, and to those that do wish to respond to that call, I applaud their desire to help keep the stories of our history alive. The onus is on all of us to preserve our history, and military members can still serve their country in that way, long after they receive their DD 214.