Hugh Mercer's Fredericksburg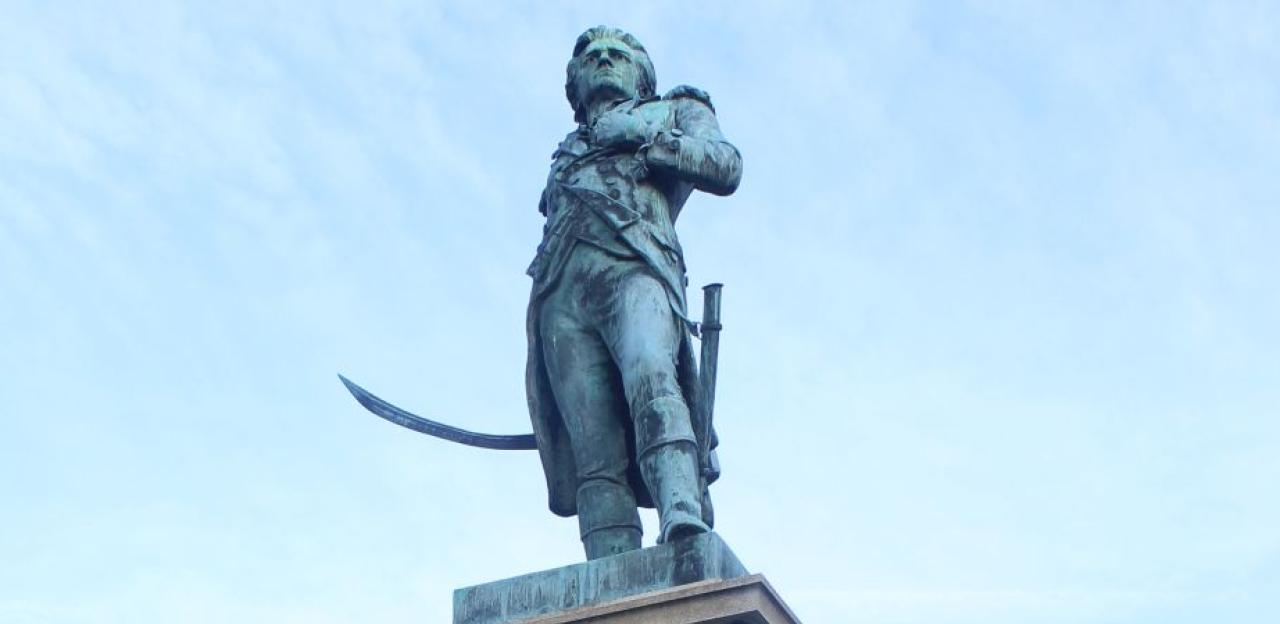 American and British soldiers stood toe-to-toe on frozen fields near Princeton, New Jersey, trading volleys of musket fire so devastating that, as one witness recalled, "the smoke from the discharge of the two lines mingled as it rose, and went up in one beautiful cloud." Moments later, the red mass of British officers and men lurched forward as one in a well-timed bayonet charge that set the American line to flight. In the midst of the melee, an American officer was unhorsed and surrounded by British soldiers demanding that the rebel surrender. "I am no rebel," responded General Hugh Mercer, as he defiantly swatted at the British troops with his sword. Enraged, the redcoats pierced the general with as many as seven bayonet thrusts. Mortally wounded, Hugh Mercer died nine days later, on January 12, 1777.
Most American's know little about General Hugh Mercer, and those that are familiar with this American hero are more familiar with his death than with his life. Few recognize that he was a doctor, respected business man, a general officer, and a patriot.
Hugh Mercer was born in 1726 to Ann Monro and William Mercer, in Aberdeenshire, Scotland. After studying medicine at the University of Aberdeen, he joined the rebellion of Charles Edward Stuart, better known as "Bonnie Prince Charlie," as a surgeon. When the Jacobite Rebellion was crushed at the Battle of Culloden in 1746, Mercer, like others on the losing side,became a fugitive in his own country, and fled to the American colonies.
Mercer initially settled in Pennsylvania (modern day Mercersburg, Pa., is named for him). As a surgeon, he ministered to the wounded following the failed attempt to take the French Fort Dusquene, soon enlisting in the British army. During the Seven Years' War, he was a captain in the same force that had been his enemy only a decade earlier.
The war brought Mercer into contact with two men, both Virginians, who would have a lasting impact on his life: George Washington and George Weedon. In part because of these relationships, Mercer relocated from Pennsylvania to Fredericksburg, Va., in 1760.
Founded in 1727, Fredericksburg was a bustling port town nestled on the banks of the Rappahannock River. The town had been named for Frederick, the loathed son of King George II and the streets, named for members of the royal family, further reflect the influence of the House of Hanover.
Many well-known personalities made their way to Fredericksburg in the late 19th century. George Washington spent his youth at what locals called the Ferry Farm on the opposite bank of the Rappahanock River. His sister Betty and her husband Fielding Lewis built Kenmore, a grand mansion situated on what was then the edge of town. His mother, Mary Washington, spent the last 17 years of her life in a home George purchased for her on Charles Street. After the Revolutionary War, James Monroe hung his shingle nearby when he opened his first law practice. The "Father of the American Navy," John Paul Jones lived in a home along Caroline Street.
Hugh Mercer quickly made a life for himself in Fredericksburg, setting up shop as a physician. Initially he partnered with Dr. Ewen Clements, but later went into practice with Dr. John Julian, with whom he leased a building at the northeast corner of Amelia and Caroline Streets in Fredericksburg for "the practice of Physick and Surgery." Today, the Hugh Mercer Apothecary Shop in downtown Fredericksburg
is a representation of this office, although it is not located in the original building, which burned in Fredericksburg's great fire of 1807.
Mercer married Isabella Gordon, the daughter of prominent tavern owner John Gordon. John had died in 1750, but left substantial land and business holdings to his wife and daughters. Isabella's sister, Catherine, married George Weedon — which meant that George and Hugh were not only close friends, but brothers-in-law. The marriage of Hugh and Isabella produced five children, two of whom were named in honor of George Weedon — sons George Weedon Mercer and Hugh Tennent Weedon Mercer.
By the mid-1770s, Hugh Mercer was one of the largest landowners in the Fredericksburg area. He owned three lots totaling five and a half acres in the town of Fredericksburg, plus two homes and a stable. He purchased the 600-acre Ferry Farm, George's boyhood home, from the Washington family. Mercer also owned over 11,000 acres along the Ohio River and nearly 1,000 acres in Pennsylvania.
Mercer was also active in the religious and social community. He was a member of St. George's Episcopal Church and joined Masonic Lodge Number Four, one of the oldest lodges in the United States. Other members of the lodge included George Washington, George Weedon, and Washington's brother-in-law Fielding Lewis. Mercer was also known to frequent George Weedon's Tavern.
Like so many in Virginia, Mercer and Weedon were swept up in the revolution overtaking the colonies, leaving together for the 3rd Virginia Regiment in January 1776. Mercer was appointed colonel with Weedon as his second-in-command. After the war, Weedon returned to Fredericksburg and one of the most majestic homes along the Rappahannock River. "The Sentry Box" was two stories high, 20 feet wide, 51 feet long and, in Weedon's words"secluded on the Hill and where I call a plesent [sic] place."
Given their close relationship, George Weedon helped to oversee Mercer's estate and took in Hugh's widow, Isabella, and their five children. He raised Mercer children as if they were his own, seeing to their education and ensuring that they had the finest cloths and necessitates. Hugh Tennent Weedon Mercer recalled his uncle's lavish Christmas party that celebrated the holiday and Washington's victory over the Hessians at Trenton.
Although long dead, Hugh Mercer's memory lives on in Fredericksburg today through his namesake street and elementary school, the apothecary shop museum and an imposing bronze monument.