Bentonville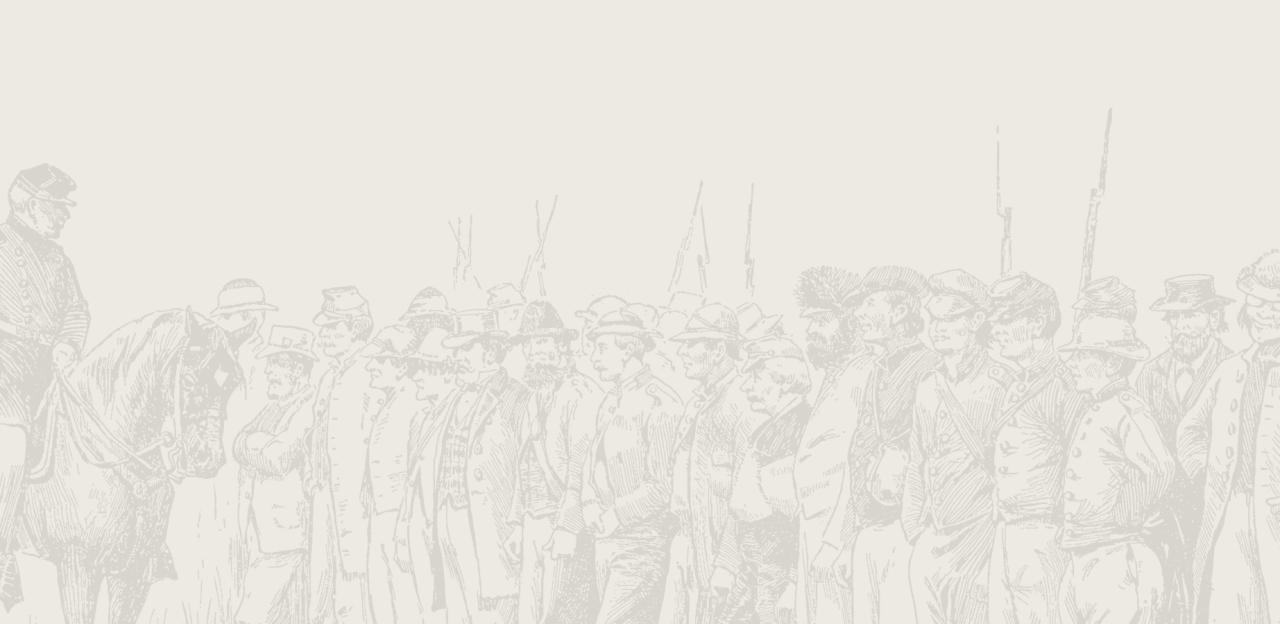 The Battle of Bentonville
Following his March to the Sea, Union Maj. Gen. William T. Sherman drove northward into the Carolinas, splitting his force into two groups. Maj. Gen. Henry W. Slocum commanded the left wing, while Maj. Gen. Oliver O. Howard commanded the right. The plan was to march through the Carolinas, destroying railroads and disrupting supply lines before joining Lt. Gen. Ulysses S. Grant's army near Richmond. On March 16, Slocum's wing was slowed by Lt. Gen. William Hardee's corps at Averasboro, North Carolina, where after a day of heavy fighting the Confederates were forced to withdraw. On March 19, as the respective wings approached Goldsboro, Slocum's wing encountered the entrenched Confederates of the remainder of Gen. Joseph E. Johnston's army, who had concentrated at Bentonville with the hope of slowing the Union advance.
Convinced that he faced only a small Confederate cavalry force, Slocum launched a probing attack which was quickly driven back. In the late afternoon, the Confederate trap was sprung, and a division of rebel infantry under Maj. Gen. Robert Hoke attacked, driving back Slocum's men and overrunning the Union XIV Corps field hospital. However, James D. Morgan's Union division held out against the onslaught, and eventually Union reinforcements arrived to support the counterattack. The Confederates reached their high-water mark at the Morris Farm, where Union forces formed a defensive line. After several Confederate attacks failed to dislodge the Union defenders, the weary rebels pulled back to their original lines. Nightfall brought the first day's fighting to a close in a tactical draw.
The next day, Howard's right wing arrived to reinforce Slocum, which put the Confederates at a numerical disadvantage. Sherman expected Johnston to retreat and was inclined to let him do so. Although Johnston began evacuating his wounded, he refused to give up his tenuous position, guarding his only route of escape across Mill Creek. Outnumbered, his only hope for success was to entice Sherman into attacking his entrenched position, something Sherman was unlikely to do. A few sporadic skirmishes occurred throughout the day on March 20, but no major action ensued.
The next day, Johnston remained in position and skirmishing resumed. Heavy fighting erupted south of the Goldsboro Road in an area later called the "Bull Pen" between Union Brig. Gen. James D. Morgan's men and Robert Hoke's Confederates. Under a heavy rainfall, Union Maj. Gen. Joseph A. Mower led a "little reconnaissance" toward the Mill Creek Bridge. When Mower discovered the weakness of the Confederate left flank, that little reconnaissance became a full-scale attack against the small force holding the bridge. A Confederate counterattack, combined with Sherman's order for Mower to withdraw, ended the advance, allowing Johnston's army to retain control of their only means of supply and retreat. Had the Federals managed to gain control of this bridge, they might have had the chance to end the campaign earlier or even capture Johnston's army entirely.
Instead, the Confederates pulled back across the bridge that evening, effectively ending the battle. Union forces pursued them at first light but were halted by a severe skirmish at Hannah's Creek. After regrouping at Goldsboro, Sherman pursued Johnston's army toward Raleigh. On April 18, Johnston signed an armistice with Sherman at the Bennett House, and on April 26, formally surrendered his army.
Related Battles
Battle Facts
Harnett County and Cumberland County, NC | March 16, 1865
Result: Inconclusive
Estimated Casualties
1,547
Battle Facts
Lenoir County, NC | March 7, 1865
Result: Union Victory
Estimated Casualties
2,601