The Battle of Perryville: Then & Now
An Interview with Historian Ken Noe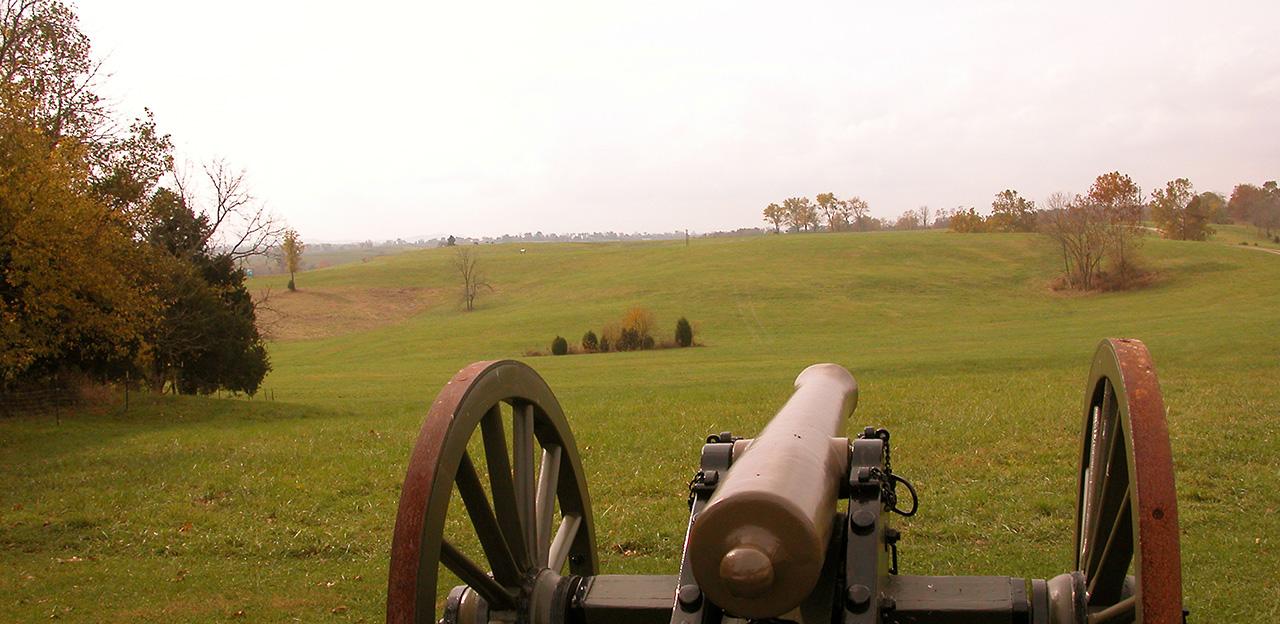 #cf { position:relative; height:auto; width:100%; margin:0 auto; padding-top: 10px; padding-bottom:10px; } #cf img { position:absolute; left:0; display: inline-block; width: 100%; height: auto; -webkit-transition: opacity 1s ease-in-out; -moz-transition: opacity 1s ease-in-out; -o-transition: opacity 1s ease-in-out; transition: opacity 1s ease-in-out; } #cf img.top:hover { opacity:0;} }
In 2012, Professor Kenneth Noe spoke with the Civil War Trust to share his insights on the Battle of Perryville and the state of the battlefield.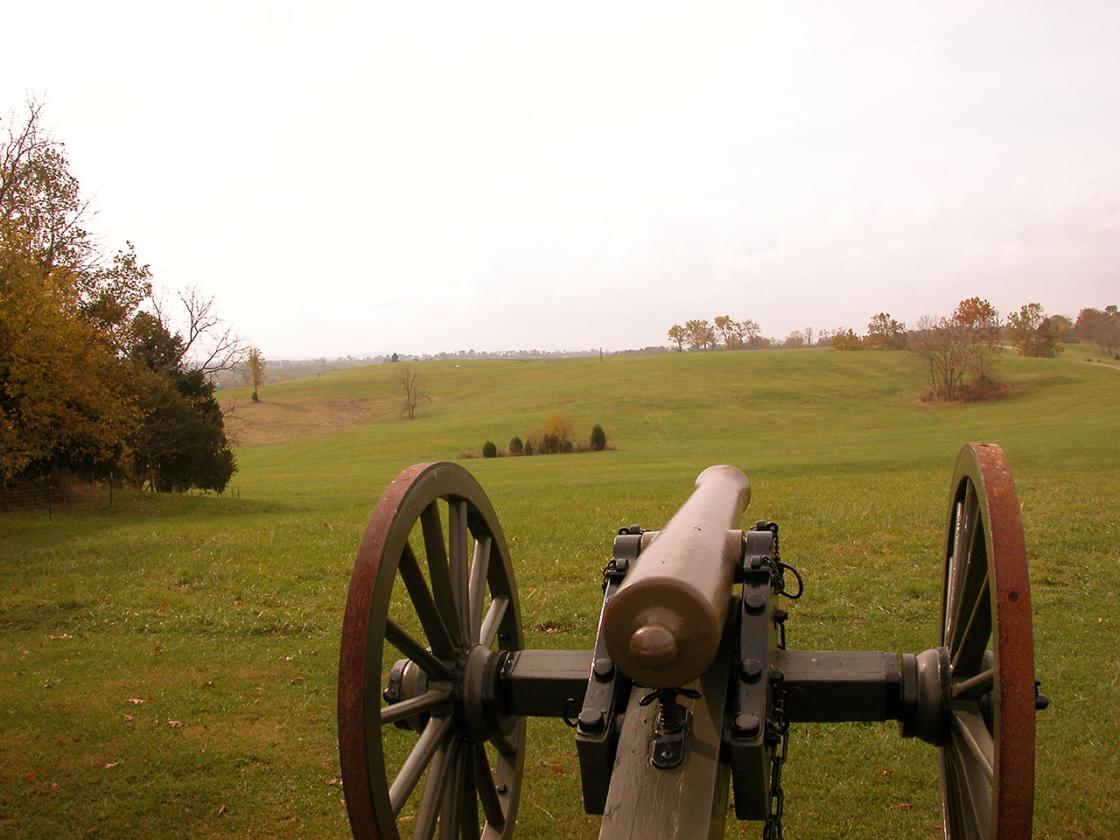 Civil War Trust: The Battle of Perryville (October 8, 1862) is commonly considered the culmination of Gen. Braxton Bragg's Kentucky Campaign. What was Bragg attempting to achieve in Kentucky at this time?
Kenneth Noe: That's a good question!  Originally after taking command, Bragg simply wanted to find a way to reverse declining Confederate fortunes in the west.  With Henry Halleck halted at Corinth, Bragg seized on the notion of moving his Army of the Mississippi from Tupelo to Chattanooga, Tennessee, where he could confront Don Carlos Buell's Army of the Ohio while protecting Edmund Kirby Smith's smaller force.  Halleck had dispatched Buell to seize Chattanooga's vital railroad junction while he waited out the South's notorious fevers.  Ultimately Bragg hoped to drive the Union Army out of Tennessee and possibly even Kentucky. 
Once in Chattanooga, Bragg initially wanted to fight Buell there in Tennessee.  Political pressure to bring Kentucky into the Confederacy was rampant in Richmond, however, and Bragg heard promise after promise that Kentuckians would enlist in the Confederate army en masse if liberated.  When Kirby Smith reneged on his part of the plan, skated past Cumberland Gap instead of seizing it, and marched into Kentucky, Bragg decided he had no choice but to follow. 
Buell followed suit on a parallel path.  From that point on, Bragg's goal was to unite the two Confederate armies, raise new troops in Kentucky and hold the state.  When the promised men did not come forward, Bragg left his army in order to officially install a Confederate state government in Frankfort and institute a draft.  That is what he was doing when Buell's army marched out of Louisville and came after him.
The Confederate invasion of Kentucky featured two independent commands – one under Bragg and another under Maj. Gen. Edmund Kirby Smith. What impact did this two-command structure have on the Kentucky Campaign?
KN: Bragg's inability to control Kirby Smith—a situation created both by Richmond's departmental system and Jefferson Davis's fondness for Kirby Smith—seriously undermined the Confederate effort in Kentucky.  I went into this project admiring Kirby Smith and frankly came out all but loathing the man.  His chief goals were to maintain independent command while becoming the heroic liberator of Kentucky, going so far as to refer to himself as "Moses."  Accordingly he made agreements with Bragg only to break them, undermined Bragg in letters to Davis, exaggerated Federal strength at Cumberland Gap in order to justify his independent march into Kentucky, went in the opposite direction when Bragg asked him to move toward his army once he entered Kentucky, and ducked Bragg's requests for supplies.  And there was nothing Bragg could do about it until the two armies united.  Ultimately, Kirby Smith was not at Perryville when Bragg needed him, and that sealed the failure of the campaign.
What made the town of Perryville and the surrounding region so important during this campaign?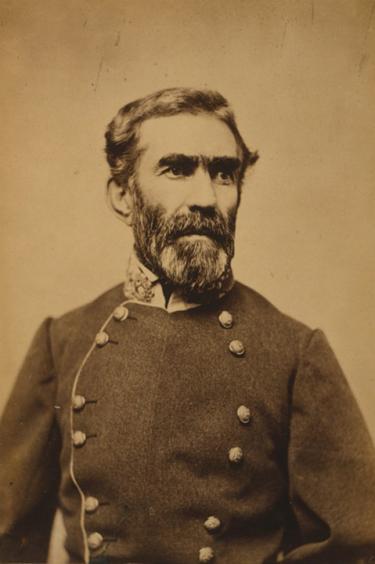 KN: Convinced that most of Buell's army was approaching Frankfort and Lexington while a small contingent threatened the Confederates camped to the south at Bardstown—the opposite was true—Bragg ordered Leonidas Polk to bring the army north. 
Passing through Perryville the first time, few soldiers took note of it, but Bragg's engineers had already marked it for two reasons.  First, like Bastogne in a later war, the town served as the hub of the regional road network that connected Bardstown with Danville, Harrodsburg, and ultimately Lexington.  Although Bragg didn't realize it, those roads were funneling Buell's temporarily divided army straight into Perryville. 
Just as importantly, there was water there.  In the autumn of 1862, the upper south west of the Appalachians and Midwest were locked in the worst drought in memory.  So severe was the drought that when they arrived in Louisville, some of Buell's Hoosiers just kept walking, across the Ohio River toward home.  Indeed both armies had marched north into Kentucky absolutely desperate for water, and as a result the men were both dehydrated and sick due to the microbes they had ingested by drinking anything wet.  Good water was a prize.  On October 7, when Bragg directed Polk to stop at eliminate the pursuing Federal threat, he reunited his force in Perryville, taking tactical advantage of the hills west of town but also guarding a series of springs as well as the puddles in the bed of the Chaplin River.
Topography seemed to play a highly important role in the Battle of Perryville. How would you describe the landscape of this battlefield?
KN: The rolling Chaplin Hills almost immediately rise west of town.  Those hills provided excellent high ground for an army on the defensive.  On the other hand, they could completely screen Bragg's assault columns until the very last minute.  The history of the battle is full of accounts of the enemy suddenly appearing at close range, seemingly out of nowhere, as well as the shock, confusion, and hard fighting that followed.  Ultimately, the Confederate attack required men to fight up hill all afternoon, over one ridge and then another, no easy task in hot and dry weather, while the Federal defenders effectively use the same hills to their best advantage.
How would you describe the Confederate battle plan at Perryville?
KN: The phrase "seat of the pants" comes to mind.  Remember that Bragg was convinced that most of Buell's army was miles to the north, about to overwhelm Kirby Smith's army.  His original plan was to consolidate the two Confederate armies before fighting, but on October 7 he hastily ordered Leonidas Polk to halt his march, turn, and quickly destroy the Federal force that had approached from Louisville before resuming the march north. 
No one was quite clear about what they thought was happening—Confederate dispatches on October 7 are a model of ineffective communication--but I've concluded that Polk and William J. Hardee believed they faced a division or two.  Facing a more sizable and aggressive force than expected, Polk instead fell back on the morning of October 8 into a poorly designed defensive line west of town and fought off the Union III Corps through the morning. 
When he arrived in Perryville at about 10:30 A. M., a furious Bragg demanded an attack, still unaware that Buell's entire army was arriving in Perryville.  Discovering the flaws in Polk's deployments, and notably a right flank in the air, he shifted troops north for an anticipated flanking assault en echelon.  As more and more Federal troops arrived on their left, however, Polk continued to delay while shifting his men farther and farther north.  The attack finally began at 2 P. M., with Benjamin Franklin Cheatham's division attempting to seize the presumably open Union left while the rest of the Confederate army assaulted the Union line, rolling north to south.  An unlucky reconnaissance, however, doomed Cheatham's men.  They hit a formidable Federal position rather than an open flank and found themselves caught in a crossfire of musketry and artillery.  Improvisation followed for the rest of the day.
Maj. Gen. Benjamin Cheatham's attack against the Federal left confronted a strong Union position on Open Knob and Starkweather's Hill. What made this such a pivotal fight within the overall battle?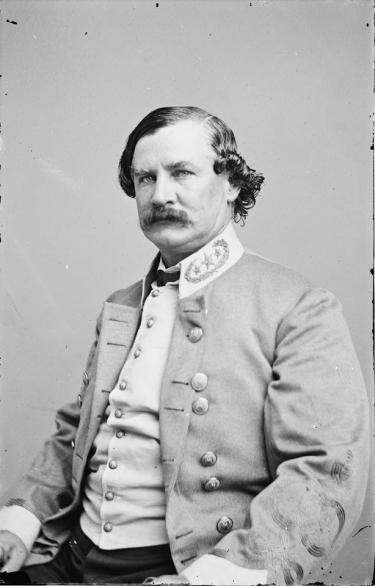 KN: The Open Knob and John Stakweather's position behind it not only commanded the northern sector of the field, but marked the extreme Federal left.  Together they protected the left of Buell's entire army much as Little Round Top secured the Federal line at Gettysburg.  Unfortunately for the Confederates, as I noted earlier, Union troops occupied the knob a few minutes before the Confederate attack commenced, which meant that the planned flank just to the south attack quickly floundered. 
Cheatham's response was to extend his line even farther north, seize the Open Knob, and regain the advantage on the flank.  The topography of the knob, coupled with the bravery of the rookie soldiers who held it, made that a difficult task.  Even when the knob finally fell, the attackers saw from its top a sight that had been hidden: Starkweather's men arrayed along an even more intractable ridge, supported by two batteries and what was left of the force that had been on the Open Knob.  Drive off those men, and Cheatham could seize the Dixville Crossroads and cut off I Corps from the rest of Buell's army. 
The Confederates did eventually gain the ridge after brutal fighting, but what was left of the assault force soon faced the Federal last stand along a stone wall that ran across yet another ridge overlooking the crossroads.  That position, the famous "high water mark of the west," the Confederates could not break.
The Battle of Perryville would be one of Phil Sheridan's first major battles. How would you describe his actions and generalship at this battle?
KN: Sheridan's record at Perryville was mixed.  To be sure, I don't fault him as much as some historians, who condemn him for allowing Confederate troops of Daniel Adams' brigade to pass in front of him on the way to the nexus of fighting at the Squire Bottom house.  One only needs to stand on Peters Hill, where Sheridan was, to realize that he could never have seen Adams go by. 
He also fought aggressively in the morning, and might well have disrupted Confederate planning completely had his superior, III Corps commander Charles Champion Gilbert, allowed him to keep pushing.  But Gilbert did not, as Buell had delayed his planned attack until the next day and wanted his men in their assigned positions.  Accordingly, Gilbert ordered Sheridan to fall back to Peters Hill. 
Sheridan did not like Gilbert anyway—the corps commander was a fawning martinet been only a captain a few weeks before—and so Sheridan sulked and obeyed the letter of his orders the rest of the day, even as his men realized that I Corps on the left was in for the fight of its life.  Worse yet, he misinterpreted the Confederates' designs, mistaking a small assault of three regiments for a major enemy push against his position.  That made him even more reluctant to assist I Corps.  As a result, most of the men in his remained inactive throughout the contest, when they might have offered tremendous assistance to Alexander McCook's corps with a little initiative from their commander
Maj. Gen. Don Carlos Buell had a significant number of soldiers near Perryville, but seemed to slow in committing them to the battle.  Did Buell have a good understanding of the battle and its opportunities?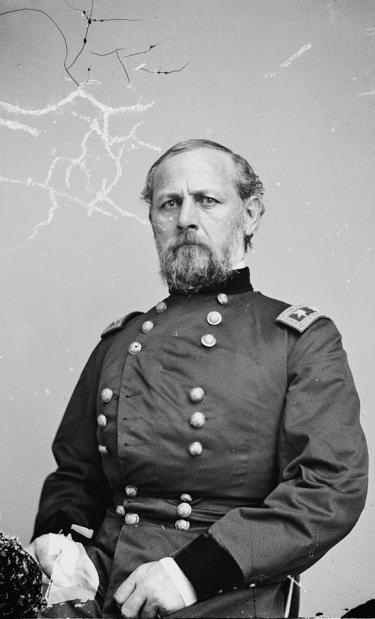 KN: Buell never really understood the Battle of Perryville.  He was wrongly convinced that Bragg was timid and almost certainly retreating as well, but also concerned about how slowly his own army was moving toward Perryville. 
A perfectionist by  nature, he summarily delayed his own planned attack and relaxed on his cot, recovering from a fall from his horse caused by an angry forager who grabbed the general's mount's bridle when Buell confronted him. Meanwhile he ate splendidly and often by all accounts, and drew up what he thought was a recipe for victory on October 9.  He might have acted differently had he heard the afternoon fighting, but here fate played a cruel trick on him.  The atmospheric phenomenon known as "acoustic shadow" masked the sound of small arms fire at headquarters.  Since he could not hear the battle, when aides and subordinates tardily began arriving and describing a major Confederate onslaught, Buell did not fully believe them.  In the end he shifted barely enough units to stem the final Confederate assault, while continuing his planning for a battle the next day.  Indeed that night he dismissed full accounts from Alexander McCook as well as Lovell Rousseau, two generals who had borne the brunt of the fighting, and earned himself the enmity of both men.  His natural hesitation and perfectionism, coupled with his disdain for many of his generals and even a cruel trick of the wind, marked his final undoing.  Buell's inaction cost him his command and brought him up on charges of incompetence and dereliction.  Reading the accounts of the so-called Buell Commission as well as his postwar writings, it's obvious that even then Buell did not fully grasp what had happened at Perryville. 
The Battle of Perryville has been called the "high-water mark of the Confederacy" in the western theater. Why did the Confederate forces retreat from Kentucky after essentially winning a tactical victory at Perryville?   
KN: Only after dark did Bragg realize that he had taken on Buell's entire army at Perryville.  Notably, Joe Wheeler tardily reported that an entire Federal corps lay southwest of town, poised to strike.  Bloodied and outnumbered, facing thousands of fresh Federal troops, he first fell back during the night to his supply depot at Camp Dick Robinson, only to discover that there was little food or forage collected there.  Moreover, Bragg was now furious that Kentuckians had not come forward to fight for the Confederacy, as so many including Kirby Smith had promised him.  That combination of factors convinced Bragg to fall back to Tennessee, where he could rebuild and resupply his army. 
The Battle of Perryville, both in terms of absolute numbers and as a percentage of combatants, was one of the bloodiest battles of the Civil War. What made this battle so lethal to its participants?
KN: Perryville was in many ways a classic soldier's battle.  As I've suggested, both commanding officers misunderstood what was happening, their subordinates added to the confusion with orders and countermanding commands, cavalry was misused, and so the rank-and-file was left to slog it out in a series of desperate charges and defenses over broken and deceiving ground.  Indeed the Chaplin Hills so effectively masked both batteries and approaching troops that much of the fighting took place at unusually close range.  Friendly fire was common.  On Starkweather's Ridge, men fought with bayonets and clubbed muskets, and slipped and fell in the blood.  Then factor in the time factor.  The battle began at two in the afternoon, which meant that the Confederates were desperate to achieve a breakthrough before dark even as Union soldiers hoped to just hang on until night.  That desperation added to the intensity.  The end result was a battle that many Shiloh veterans described as the more severe.  Indeed Sam Watkins famously declared it his worst battle of the war.
In your book you describe the challenges facing the Perryville Battlefield from both a remembrance and preservation point of view.  Why did the Perryville battlefield face such challenges?
KN: In some ways, a cultural "acoustic shadow" far outlived the actual atmospheric event of October 8, 1862.  The battle took place in the western theater, which was ignored to an extent on the east coast even in 1862.  One thing that surprised me while reading their papers was how little Davis and Lincoln discussed the west at that moment.  Perhaps that shouldn't have been surprising, as importantly Perryville occurred just three weeks after Antietam and President Lincoln's issuance of the Preliminary Emancipation Proclamation stole the headlines. And soon those headlines turned to the November Union elections as well as other battles in Mississippi, Tennessee, and Virginia. 
The net effect was for people to brush past about what had happened in Kentucky as they moved on to other issues that autumn and winter.  As a result, within twenty years veterans who had fought there could complain that their efforts had been forgotten.  That shadow clouded later efforts to establish a national site at Perryville, and indeed it took decades for dedicated local groups to even convince the state that it needed to take a hand in preservation.  Even then the park was small, containing only the extreme Confederate right at the north end of the field.  That was the battle of memory that Perryville historians and preservationists had to win. I still remember telling people in the 1990s that I was writing about the Battle of Perryville only to have them tell me that they had never heard of it.  That "acoustic shadow" had lingered.     
How would you describe the state of the Perryville Battlefield today? And what are your favorite places to visit on the battlefield?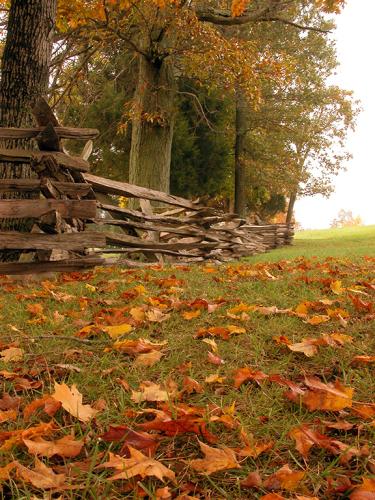 KN: Because of the local families and civic groups who have protected that ground during all of those decades since 1862, Perryville is one of the best preserved battlefields in the nation.  Urban sprawl has never caught up with Perryville; there are no Pizza Huts or souvenir shops standing on hallowed ground.  Moreover, during the last twenty years, and thanks to a combination of public and private initiatives that notably includes the Civil War Preservation Trust, much of the field that had remained in private hands became park property.  As a result, visitors over the last decade have been able to walk the ground and understand the battle in a way that they could only have dreamed about previously.  Whenever I speak to groups around the country, I always encourage people to go there, even if they've been before, because there's so much more to see and understand now. 
I have to admit, though, that when I go back invariably I'm always drawn first to the same spot that first entranced me almost thirty years ago, the Open Knob.  On a quiet day, standing next to the guns up there, I can almost hear George Maney's veteran Confederates moving up the slope as William Terrill's "fresh fish" face their baptism of fire.  I also like to walk up the old Mackville Road, now called Hayes-Mayes Road, from the spot where it crosses Doctor's Creek at the Bottom House all the way up to the Dixville Crossroads, in essence following the Confederate attack there up to where it stalled.  From there I cross the road and follow the new walking trail to the spot overlooking the stone wall at the high water mark.  I never cease to compare it, still private property with its shade trees and grazing livestock, to the marker-festooned high water mark at Gettysburg.  It's such a study in contrast. 
Finally, at the other end of the road, past the Bottom House, is my other new favorite place, the Sleettown site.  On October 8, 1862, Confederates marched down that slope to hit the Federals at the house.  After the war, a town grew up on the site, created and peopled by former Perryville slaves, many of them Union veterans as well.  Sleettown survived until the Great Depression.  One of the great things about preservation at Perryville is that long before Congressional mandates and controversy, the park's management and the Perryville Battlefield Preservation Association quietly were working to tell a fuller story of how the Civil War affected people.  Sleettown does that.
Looking forward, what would you like to see happen at the Perryville Battlefield?
KN: More preservation!  The recent attempt to develop property in the battlefield viewshed, while turned back for the moment, frankly blind-sided me, and jarringly reminded me that the work of battlefield preservation never really is complete.  I think it was easy for me to become complacent, given what groups like the Trust already had done there to preserve hundreds of acres of the ground at Perryville, but clearly that work needs to continue with new urgency.  It's like I told a reporter in 2011, if development can threaten battlefield land at Perryville, where folks have worked so hard and so long to protect that field, battlefield land everywhere is still endangered.
Are you working on any new Civil War related books or projects?
KN: I just finished a new book called Reluctant Rebels: The Confederates Who Joined the Army after 1861.  After finishing Perryville, I found myself drawn more and more to the question of why soldiers fought there and elsewhere.  What motivated them to march up those hills and fight for those batteries?  I ended up looking at it from a new perspective, that of the men who did not enlist in the early months of the conflict.  As a consequence of serving as president of the Alabama Historical Association, I'm also editing a collection of essays on the state during the war and Reconstruction, which will be published as part of our Sesquicentennial observances.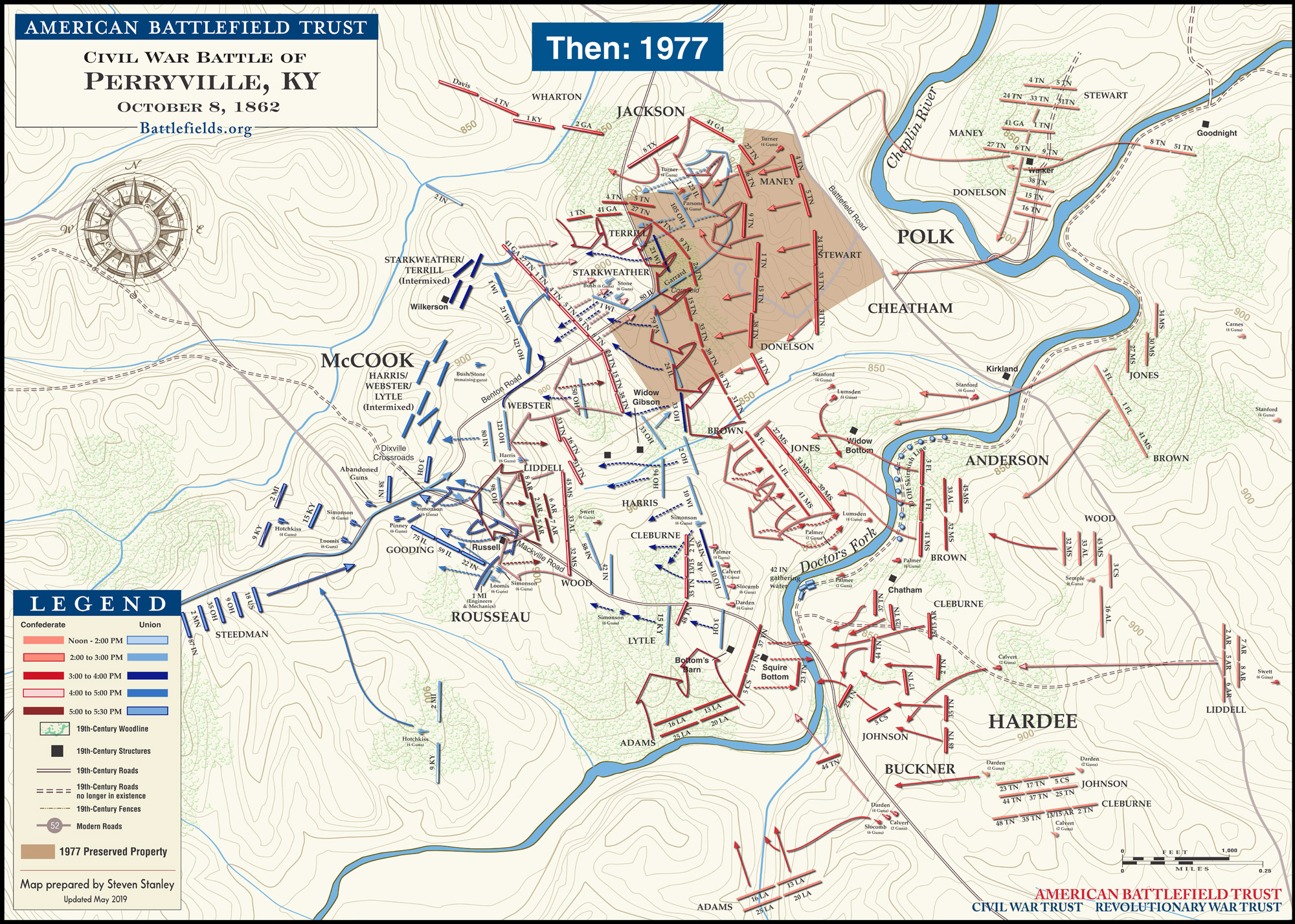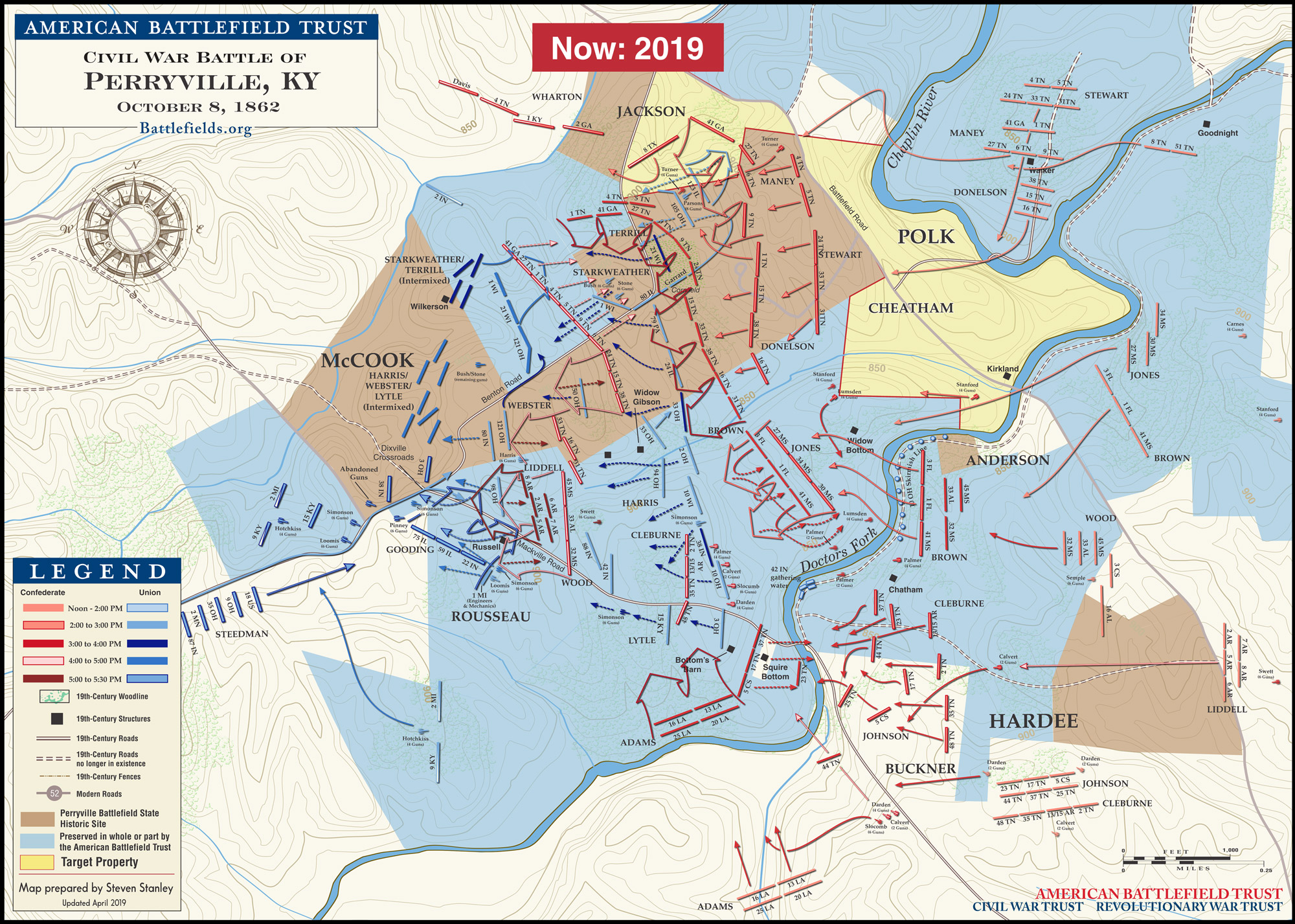 Learn More: The Battle of Perryville
A native of Virginia, Kenneth Noe received his PhD from the University of Illinois and taught at West Georgia College for ten years before coming to Auburn in 2000. His major teaching and research areas are the American Civil War and Appalachian history. He is the author or editor of six books: Reluctant Rebels: The Confederates Who Joined the Army After 1861 (Chapel Hill, 2010); Politics and Culture of the Civil War Era: Essays in Honor of Robert W. Johannsen, co-edited with Daniel J. McDonough (Seligsgrove, Pa., 2006); Perryville: This Grand Havoc of Battle (Lexington, 2002); The Civil War in Appalachia: Collected Essays, co-edited with Shannon H. Wilson (Knoxville, 1997); A Southern Boy in Blue: The Memoir of Marcus Woodcock, 9th Kentucky Infantry (U.S.A.) (Knoxville, 1996); and Southwest Virginia's Railroad: Modernization and the Sectional Crisis (Urbana, 1994; paperback ed., Tuscaloosa, 2003). He also has written many articles and essays, most recently in Civil War History and The Journal of Military History. He is a Pulitzer Prize nominee and the winner of the 2003 Kentucky Governor's Award, the 2002 Peter Seaborg Book Award for Civil War Non-fiction, and the 1997 Tennessee History Book Award, as well as several teaching awards.

Dr. Noe is a frequent speaker on the Civil War Round Table circuit, and a participant in the Organization of American Historians Distinguished Lectureship Program. He was the 2008-2009 president of the Alabama Historical Association.
Related Battles
Battle Facts
Boyle County, KY | October 8, 1862
Result: Union Victory
Estimated Casualties
7,612