News
Tag Along as a Top Historian Explores the Shiloh Battlefield by Car and on Foot for Its 161st Anniversary
Created through the efforts of Civil War veterans in 1894, the Shiloh National Military Park yields a fascinating history that is brought to life in American Battlefield Trust's new virtual tour
Mary Koik, (202) 367-1861 x7231
Colleen Cheslak, (202) 367-1861 x7234
(Shiloh, Tenn.) — To mark the engagement's 161st anniversary, the American Battlefield Trust has debuted a nearly two-hour online video tour of Shiloh National Military Park. Launching in a YouTube Premiere event tonight at 6:00 p.m. EST, the video tour demonstrates how protected battlefield landscapes are the best vessels through which to convey profound stories of the nation's transformative armed conflicts. While not a substitute for an in-person battlefield experience, this technology-filled tool emphasizes the importance of digital products in expanding access to historic landscapes — a concept proven via the battlefield preservation organization's 24 mobile apps and vastly popular YouTube channel, which draws the attention of more than 350,000 subscribers.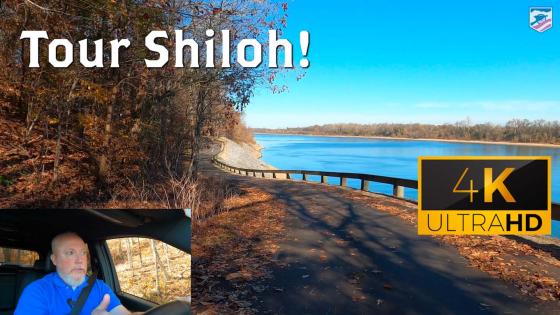 "When the Battle of Shiloh was fought, it was, by a wide margin, the costliest battle in American history up to that point, producing more than 23,000 casualties and removing any remaining doubt that the nature of warfare had changed forever," said Trust President David Duncan. "Bringing the Trust's audience along with us to digitally explore this site of memory and meaning is all part of our mission — to educate the public about what happened there and why it matters."
The Trust's release of the video tour is a much-anticipated follow-up to its Gettysburg video driving tour, which has now amassed more than 800,000 views on YouTube. Created in coordination with the National Park Service, the free tour of the Shiloh Battlefield winds viewers through the second federally created military park in the United States (established in December 1894) and is now available on the Trust's YouTube channel and website.
Armed with GoPro cameras mounted on his vehicle and a mind molded by years of dedicated study, Dr. Timothy B. Smith — a longtime ally of the American Battlefield Trust, former National Park Service ranger at Shiloh and current professor of history at the University of Tennessee (Martin) — guides viewers through the twists and turns of Shiloh National Military Park. Using the same route that visitors would experience as if trekking the battlefield themselves, Smith familiarizes audiences with iconic spots like Pittsburg Landing, Grant's Last Line of Defense, Shiloh Church and the Hornet's Nest, along with a handful of lesser-known locations. Aided by on-screen maps, historical imagery, and out of the car experiences, those watching online can better frame the unfolding of the Battle of Shiloh than they could through reading words on a page. Weaving in and out of small details and big picture ideas, the Shiloh expert demonstrates an enthusiasm for the battlefield's history that results in a magnetic pull of a narrative.
"Shiloh has captured the attention and hearts of millions of visitors, including myself," said Smith. "And its significance has even led the Trust to saving more than 1,400 acres there! So, while video tour viewers have been connected with an array of battlefield highlights, a trip to Shiloh is even more enlightening."
Despite the brand-new video resource providing access to a veteran guide at Shiloh, there is no denying the senses that an in-person visit to the national military park could awaken. On-site tours can also be fine-tuned to meet visitors' interests. For tour options, visitors may choose to seek out the park's self-guided, 12.7-mile auto tour with 22 possible tour stops or ranger-led interpretive programs during the peak season. Professional guides, not affiliated with the National Park Service, can also be sought for-hire to better accommodate individuals and small groups.
To better prepare visitors for a trip to the approximately 6,000-acre park, the American Battlefield Trust offers additional tools like the free Shiloh Battle App® (for iOS and Android devices), a one-day itinerary or an interactive tour map that presents further points of interest. Additional digital resources include the Shiloh Animated Map or 360° Virtual Tours at the Hornet's Nest or Shiloh National Cemetery.
The American Battlefield Trust is dedicated to preserving America's hallowed battlegrounds and educating the public about what happened there and why it matters today. The nonprofit, nonpartisan organization has protected more than 56,000 acres associated with the Revolutionary War, War of 1812 and Civil War across 155 sites in 25 states. Learn more at www.battlefields.org.
###