In Last Message Before Retiring, Trust President James Lighthizer Declares Preservation Victory at Antietam
Faced with a short window of opportunity, Trust members rallied to protect a three-acre West Woods parcel
(Sharpsburg, Md.) – After a remarkable tenure of nearly 21 years, American Battlefield Trust President James Lighthizer used his final communication with members to offer profound thanks for their unwavering support — and to declare victory on an important three-acre portion of the Antietam Battlefield. Lighthizer will be succeeded as president by David N. Duncan. the Trust's longtime chief development officer, on October 1, 2020.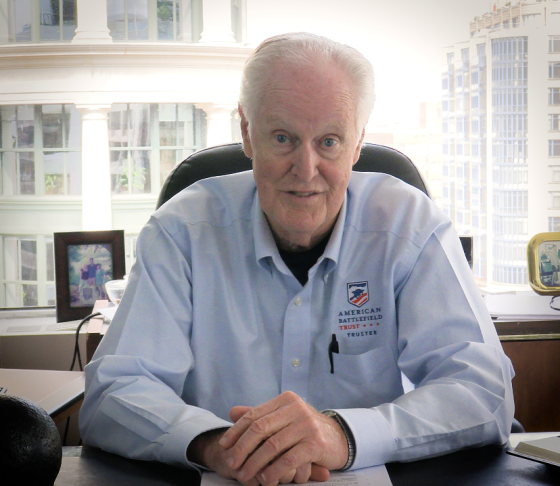 In his message, Lighthizer noted that the occasion was doubly meaningful for him. "I think most of you know that Antietam has a special place in my heart because I started helping to save land there when I was Maryland Secretary of Transportation – years before I came to the Trust. Well, that makes it a particular a joy to offer you this as my very last announcement as President: We did it! Together, we saved the three key acres in Antietam's West Woods I wrote to you about a few weeks ago. Thank you for rising to the occasion and helping us quickly complete this final transaction of my tenure."
The property is located in Antietam's West Woods, one of the most fiercely contested areas of that battlefield. The fighting there on September 17, 1862, is generally considered among the great turning points of the Civil War, a Union victory that allowed President Abraham Lincoln to issue the preliminary Emancipation Proclamation. The Trust publicly launched a national fundraising effort to purchase the $310,000 property on August 17, 2020, noting that it was necessary for the transaction to close by the end of September to meet a seller deadline.
Located within the boundary of Antietam National Battlefield, the site was ineligible for matching grants traditionally used for battlefield preservation by the Trust. In lieu of that funding source, the Trust drew, for the first time, on money previously contributed to the Lighthizer Legacy Fund, created last autumn when the president announced his plans to retire. Gifts to that fund are earmarked specifically for acquisitions at sites hand-chosen by Lighthizer for their personal significance to him: the Antietam Campaign; Gaines' Mill and Cold Harbor, Va.; and The Liberty Trail, a special project to shed light on untold stories of the Revolutionary War in South Carolina.
"Twenty years passed almost in the blink of an eye on this incredible journey we took together, building a legacy that both honors our ancestors and will inspire future generations," Lighthizer wrote in his farewell message. "I hope you know that I was conscious each and every day that not a single one of the 53,000 acres we saved would have been possible without you, the members of this organization."
The American Battlefield Trust is dedicated to preserving America's hallowed battlegrounds and educating the public about what happened there and why it matters today.  The nonprofit, nonpartisan organization has protected more than 53,000 acres associated with the Revolutionary War, War of 1812, and Civil War. Learn more at www.battlefields.org.