Saved: Three Acres at the West Woods at Antietam
The American Battlefield Trust declares a preservation victory on three key acres in the West Woods at Antietam, one of the most heavily contested areas of one of the Civil War's bloodiest battlefields. Specifically, it marks where numerous Confederate brigades launched their advances into the West Woods and toward the Dunker Church. The preservation of this hallowed ground, surrounded as it is by already-protected properties, will prevent future development from infringing on the solemnity of the battlefield and lay the groundwork for its eventual transfer to the National Park Service.
The Battle of Antietam, fought on September 17, 1862, is widely considered to be one of the most critical in engagements in American history and a true turning point of the Civil War. It signaled the end of Union Maj. Gen. George B. McClellan's time at the head of a field army and the sunset of Confederate hopes for foreign political recognition. It gave Abraham Lincoln the victory he needed to issue the preliminary Emancipation Proclamation, changing the course of the war.
The generosity of the Trust's members has changed the course of history – for the better – time and time again. The saved acreage is situated inside the legislative boundary of the battlefield and, therefore, was not eligible for any of the matching-grant sources traditional used by the Trust. But donors rose to answer our urgent call to protect the site, despite a short window of opportunity. This project also marked inaugural use of donations to the Lighthizer Legacy Fund, which was created in tribute to the twenty years that James Lighthizer spent leading the organization. In a particularly meaningful turn of events, Lighthizer was able to announce this victory at his favorite battlefield on his final day as Trust president.
When contemplating the significance of this property, reflect on the words of Sgt. William Andrews of the 1st Georgia, who witnessed the action there: "You could hear laughing, cursing, yelling and the groans of the wounded and dying, while the awful roar of musketry was appalling. Where the line stood, the ground was covered in blue, and I believe I could have walked on them without putting my feet on the ground."
This preservation success allows Sergeant Andrews' words to carry even greater weight and inspires the Trust to continue pushing boundaries in the name of saving America's hallowed ground. The acquisition of the West Woods property brings our total land saved at Antietam to 463 acres.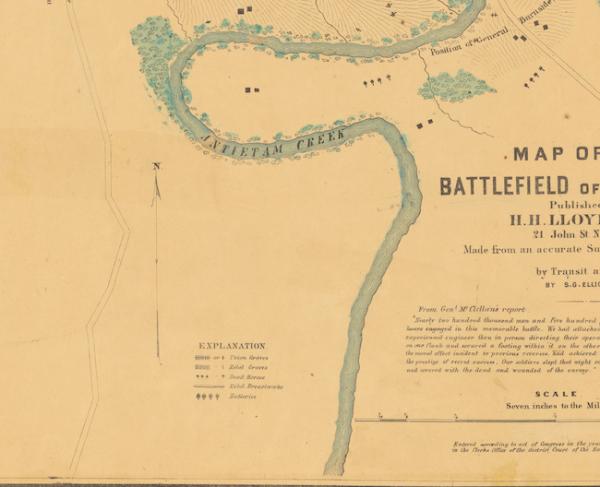 The S. G. Elliott Burial Map for the Antietam Battlefield The S.G. Elliott burial map for the Antietam battlefield was created by Simon G. Elliott in