News
Historian Ed Bearss To Throw Out First Pitch In Inaugural All-Star Armed Services Classic
Combat veteran of World War II attended first All-Star Game in Chicago in 1933
(Washington, D.C.) — This Friday evening, July 13, at Nationals Park in Washington, U.S. Army and Air Force co-ed softball teams will make history competing in the Championship Game of the first-ever All-Star Armed Services Classic.
Ed Bearss, an embodiment of baseball and military history, will throw out the game's ceremonial first pitch. Bearss, a Marine Corps combat veteran of World War II and a noted historian, attended the first Major League Baseball All-Star Game on July 6, 1933, at Comiskey Park in Chicago, Ill., as a 10-year-old boy visiting with his family from Montana.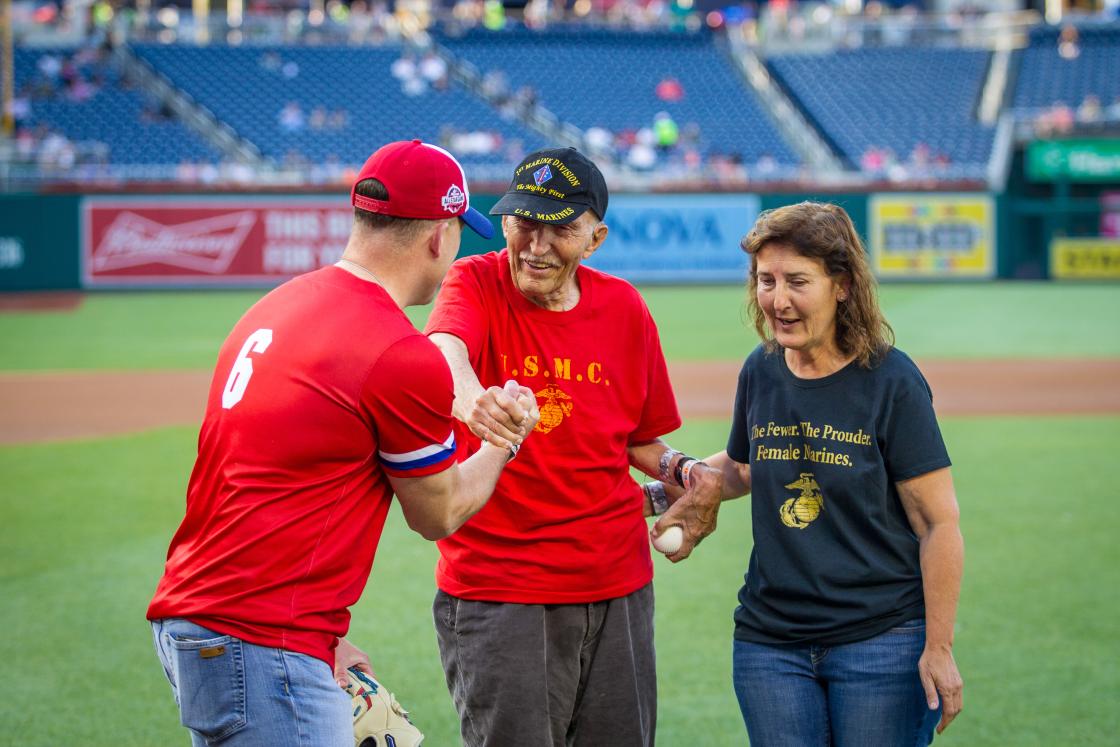 Bearss, 95, an Arlington, Va., resident and Georgetown University alumnus, is an author and battlefield guide known for his work on the American Civil War and World War II eras. He served as chief historian of the National Park Service from 1981 to 1994 and is now the service's chief historian emeritus. He serves on the American Battlefield Trust's Board of Trustees.
Bearss was able to see the first All-Star Game because his grandmother Sara saved money for the family to travel to Chicago for the World's Fair, which opened that May. She had attended the 1893 Columbian Exposition in Chicago and wanted to go back. Sara became gravely ill and died of pneumonia soon thereafter, but her thrift enabled Ed and his family to attend the 1933 World's Fair.
The Bearss family has a long history of service in the Marine Corps. Ed's father, Omar, served in World War I.  His father's cousin Hiram I. Bearss, a famous Marine colonel nicknamed "Hiking Hiram," fought in France during World War I and received the Medal of Honor for service in the Philippines in 1901.  Ed's daughter also served in the Corps, as his grandson does now.
Bearss enlisted in the Marines at 19 in 1942 and was sent to fight in World War II's Pacific theater. In January 1944, as a member of the 3rd Marine Raider Battalion and 1st Marine Division during the Guadalcanal and New Britain campaigns, he was severely wounded by Japanese machine-gun fire at "Suicide Creek" on the island of New Britain and nearly killed. He spent 27 months recovering from his wounds. His association with our nation's military history spans more than 75 years.
Bearss is among the historians who appeared on camera in Ken Burns' documentary series "The Civil War" for PBS television.  He still leads tours of battlefields in the United States and Europe for Smithsonian Associates and other organizations.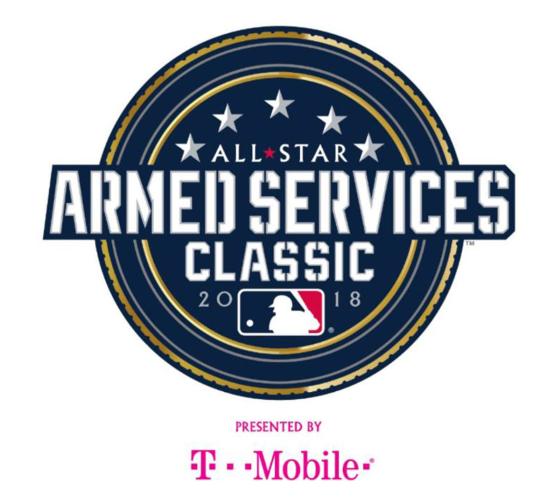 Friday's Armed Services Classic, played by active-duty service members, represents the first major ballpark event of 2018 Major League Baseball All-Star Week in Washington.
Major League Baseball and the Washington Nationals designed the Classic to support and honor the general military community as well as the many service members and families stationed in the national capital region.
To earn a berth in the Championship Game, co-ed teams of service members stationed in the national capital region from all five U.S. military branches (Army, Marine Corps, Navy, Air Force and Coast Guard) competed in a round-robin preliminary round, with the top two teams advancing. The Army team finished the preliminary round with a record of 3-1. The Air Force team also finished 3-1 and was awarded the tie-breaker to claim home-field advantage.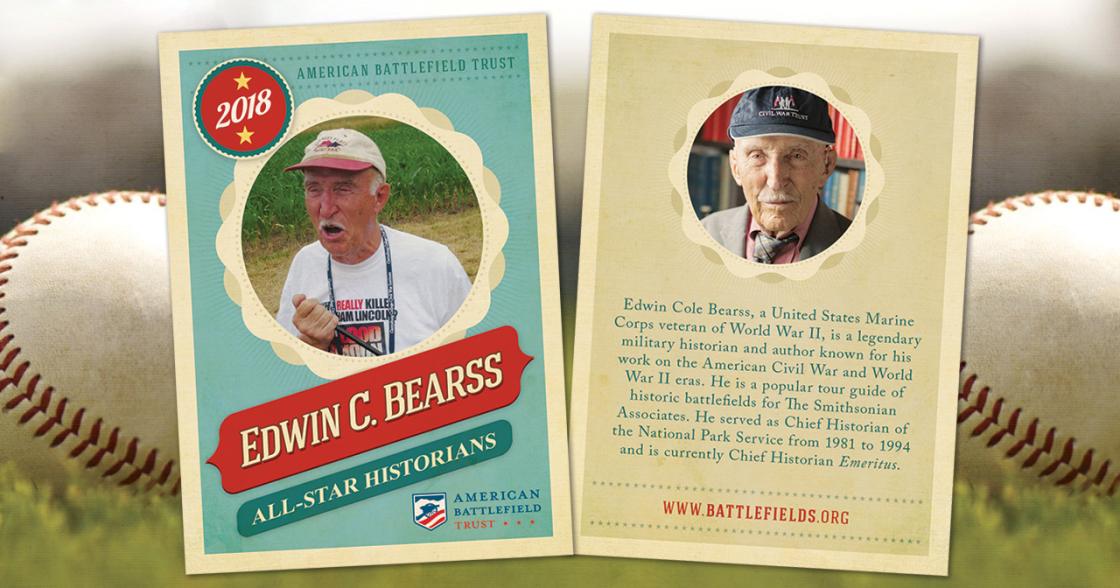 At the game, before the individual Air Force and Army players are introduced, Major League Baseball and the Nationals will recognize the teams from the Marine Corps, Navy, and Coast Guard who competed in the preliminary round.
The national anthem will be performed by the U.S. Army Brass Quintet, accompanied by the Armed Forces Color Guard.
The All-Star Armed Services Classic is a free, ticketed event at Nationals Park. Major League Baseball and the Washington Nationals have distributed tickets to each military branch for service members and families. Fans can also get free tickets online at Nationals.com/ASG and AllStarGame.com or at Nationals Park ticket windows on the day of the game.
The All-Star Armed Services Classic will be streamed LIVE on MLB.com, made possible by the support of T- Mobile.
After the Championship Game, one member of each military branch will compete in a Home Run Challenge, vying for the opportunity to hit home runs in between Major Leaguers during the T-Mobile Home Run Derby that will air on ESPN on Monday, July 16, from Nationals Park.
The American Battlefield Trust is dedicated to preserving America's hallowed battlegrounds and educating the public about what happened there and why it matters today.  The nonprofit, nonpartisan organization has protected more than 50,000 acres associated with the Revolutionary War, War of 1812, and Civil War. Learn more at www.battlefields.org.