News
Legendary Historian Edwin C. Bearss Recognized For Lifetime Achievements By American Battlefield Trust
Renowned historian and storyteller lauded for extraordinary contributions to battlefield preservation and interpreting America's past
(Newport News, Virginia) – Edwin Cole Bearss, chief historian emeritus of the National Park Service, was presented Thursday with the American Battlefield Trust's inaugural Lifetime Achievement Award, for his many decades dedicated to researching and relating the nation's past to millions of people, as well as his advocacy for battlefield preservation.
The honor is the first to be awarded by the American Battlefield Trust. The nonprofit organization dedicated to preserving America's hallowed battlegrounds and educating the public about their unique role in our nation's history.  Trust President O. James Lighthizer presented the award to Bearss at an emotional ceremony during the group's annual conference this week in Newport News.
Bearss was one of the stars of Ken Burns' award-winning PBS TV series "The Civil War," which introduced generations to the compelling subject of the nation's deadliest conflict.  Thousands more people have enjoyed the historian's unique tours of historic sites associated with the Civil War; the American Revolution; World War I and World War II in Europe; Abraham Lincoln's assassination; and the American West, delivered at a brisk pace and in his distinctive baritone voice.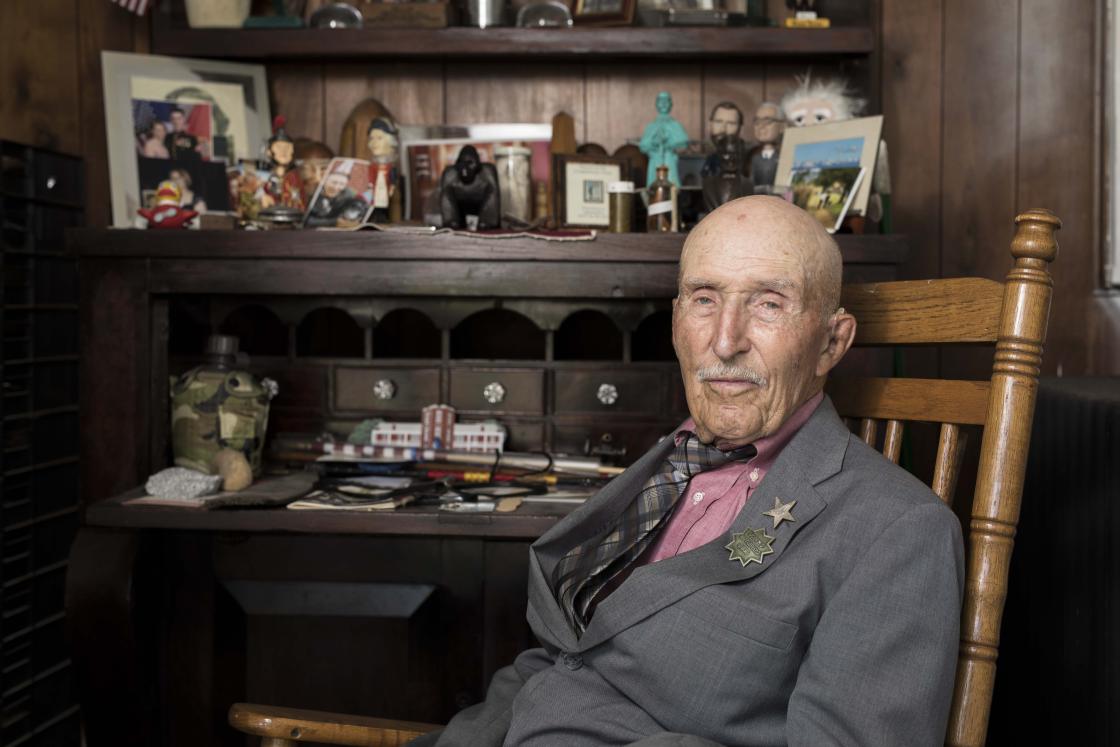 "Ed Bearss, the best battlefield guide you'll ever find, is widely recognized as the nation's premier storyteller of the American Civil War," Lighthizer said. "Ed's encyclopedic knowledge and passion for history has inspired countless people to preserve battlefield landscapes, visit historic sites in the U.S. and abroad, and learn about the past."
U.S. Congressman Robert C. "Bobby" Scott of Virginia's 3rd House District, and Dan Smith, Deputy Director of the National Park Service, were also present during the ceremony.  Noting his long association with Bearss, Smith remarked, "My day was made today when Ed Bearss walked into the room."
The Trust's Edwin C. Bearss Lifetime Achievement Award was first presented in May 2001 when the organization was known as the Civil War Preservation Trust.  Now, as the American Battlefield Trust, the organization decided to rededicate its most prestigious award by recognizing its namesake.  The nonprofit is also creating a Battlefield Preservation Hall of Fame, with Bearss inducted as its first member.
In addition, Lighthizer said the Trust will erect a granite monument to Bearss on the Vicksburg Campaign's Champion Hill battlefield in Mississippi, with a bronze plaque that will include his portrait. Original scholarship by Bearss has helped modern historians better understand the pivotal role this May 16, 1863, battle played in determining the course of the Civil War.
Bearss, who will mark his 95th birthday in June, is a Marine veteran of World War II and the son of a Marine veteran of World War I.  As a member of the 3rd Marine Raider Battalion, Bearss was wounded at Suicide Creek, New Britain, by Japanese machine-gun fire during the Pacific Campaign of 1944. 
After a lengthy recuperation, Bearss earned a bachelor's degree in Foreign Service studies from Georgetown University and a master's degree in history from Indiana University. He had been fascinated by history since his boyhood on his family's E Bar S ranch near Billings, Montana, where he named cows for Civil War generals and battles.
During his master's thesis research, a visit to Shiloh National Military Park convinced Bearss that it was vital for people to merge their study of the Civil War with examining and understanding the terrain upon which battles were fought.  He told friends: "You can't describe a battlefield unless you walk it."  That visit sparked his interest in a career with the National Park Service.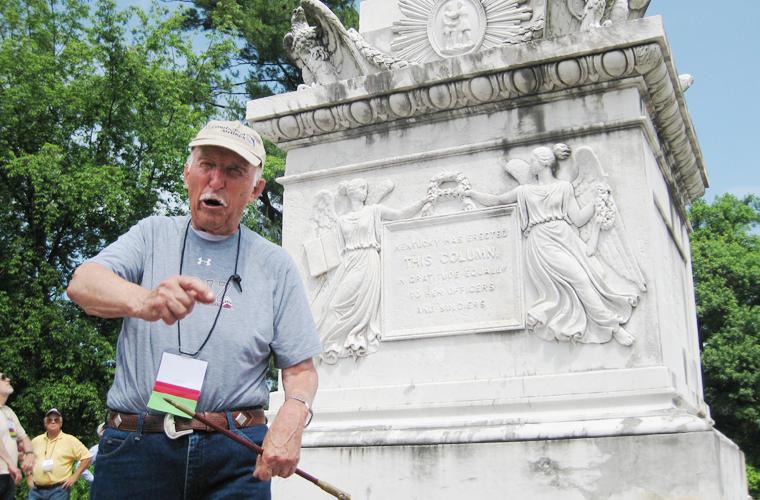 For many years, Bearss was the historian at Vicksburg National Military Park.  There, he found and raised the USS Cairo ironclad from the Mississippi River.  The gunboat sank in 12 minutes on Dec. 12, 1862.  Today, you can see the remains of the vessel on display at the park.
Bearss served as chief historian of the National Park Service from 1981 to 1994 and became special assistant to the agency's director in 1994.  He is the author of many magazine articles and books, including Fields of Honor: Pivotal Battles of the Civil War, and Receding Tide: Vicksburg and Gettysburg – The Campaigns That Changed the Civil War.  Bearss' influence on battlefield preservation has been profound.  His prominent role in national controversies over development near Manassas National Battlefield Park is told in historian Joan M. Zenzen's book Battling for Manassas.
Bearss was not the only battlefield preservation champion recognized during the Trust's annual conference.  On Thursday evening, the Trust presented its Shelby Foote Preservation Legacy Award to philanthropist and battlefield advocate Mark Perreault, a longtime member of the organization, in recognition of his years of extraordinary support for battlefield preservation in Virginia and throughout the nation.
Former legal counsel of Norfolk Southern Corp., Perreault led the grassroots effort to create Fort Monroe National Monument in Hampton.  He is now working with the Trust and the Richmond Battlefields Association to preserve the Second Deep Bottom battlefield near Richmond, and he and his wife, Karen, are restoring an antebellum house at Fussell's Mill there.  He is also a strong advocate for the preservation of Petersburg National Battlefield, and supported legislation enacted by Congress in 2016 that expanded the park's authorized boundary.
"Mark has stepped up again and again, responding to every appeal, and also lending a hand with special projects.  He has given hundreds of times to the Trust," Lighthizer said. "He is a pace-setter, no question about it."
The Trust presented its Brian C. Pohanka Preservation Organization Award to the Save Historic Antietam Foundation (SHAF), a nonprofit group established in 1996 to preserve more of the Antietam battlefield's landscape in a fast-growing part of the Washington metropolitan area.  SHAF has conserved more than 3,000 battlefield acres in the Sharpsburg, Md., area, restored historic sites, and helped reforest the Antietam battlefield's wartime North Woods, East Woods and West Woods.  Dr. Tom Clemens, SHAF's president, and SHAF co-founder Dennis Frye, former historian at Harpers Ferry National Historical Park, accepted the award on the group's behalf.
The Trust also presented the Pohanka Award to Civil War Trails Inc., a nonprofit group based in Williamsburg, Va., that helps travelers find, understand and enjoy Civil War sites in five states — Virginia, Maryland, West Virginia, Tennessee and North Carolina. Last year, it distributed more than a quarter million maps to localities, tourism offices and other partners, seeing greater demand than during the Civil War's 150th anniversary. Drew Gruber, executive director of Civil War Trails, accepted the award for the organization.
The American Battlefield Trust is dedicated to preserving America's hallowed battlegrounds and educating the public about what happened there and why it matters today. The nonprofit, nonpartisan organization has protected more than 50,000 acres associated with the Revolutionary War, War of 1812, and Civil War. Learn more at www.battlefields.org.
###