Laurel Housden Photography
News
American Battlefield Trust is Twice-Honored in 43rd Annual Telly Awards
Nonprofit wins Silver distinctions in the Online Series and General Non-Broadcast categories for its history education content
Mary Koik, (202) 367-1861 x7231 
Colleen Cheslak, (202) 367-1861 x7234 
(Washington, D.C.) – The American Battlefield Trust announced today that it had received two Silver awards in the 43rd Annual Telly Awards, recognizing Carved in Stone, in the General Non-Broadcast category and How We Became America: The UNTOLD History in the online series group. The Telly Awards honors excellence in video and television across all screens and is judged by leaders from video platforms, television, streaming networks and production companies, including Adobe, Netflix, Dow Jones, Duplass Brothers Productions, Complex Networks, Jennifer Garner, A&E Networks, Hearst Media, Nickelodeon, ESPN Films, RYOT, Partizan and Vimeo. 
"More than just a land preservation organization, the American Battlefield Trust takes pride in its mission to educate the world about our history and to inspire this and future generations with the powerful stories that shaped the nation we have become" said organization president David Duncan. "Receiving outside accolades for this work demonstrates we're meeting our commitment to bring the past to life." 
Carved in Stone, filmed by Francisco Aliwalas of Pinatubo, Inc., and created in partnership with the Washington Rochambeau Revolutionary Route National Historic Trail, tells the story of how two French officers who died fighting for American freedom finally received permanent headstones, nearly 250 years later. At the instigation of the National Historic Trail, two hand-carved stones were commissioned from the John Stevens Shop in Newport, R.I., and completed under the watchful eye of master craftsman Nick Benson. The shop, in business since 1705, has etched its imprint onto everything from personal gravestones to monuments on the National Mall.  
"Honoring the sacrifice of our French allies in the War for Independence takes on increased significance as we approach the milestone anniversary of those events," said trail administrator Johnny Carawan. "We were honored to collaborate with the American Battlefield Trust to tell this powerful story and gratified by the attention it has received." 
How We Became America: The UNTOLD History celebrates that not everything worth knowing exists inside the cover of our history textbooks. The still-growing series is associated with the Driving Force Institute's larger Untold initiative, which is produced and distributed by Makematic and the University of Southern California's Center for Engagement-Driven Global Education (EDGE). Ongoing funding has been made available through the HTR Foundation and, in the form of matching grants, the federal American Battlefield Protection Program.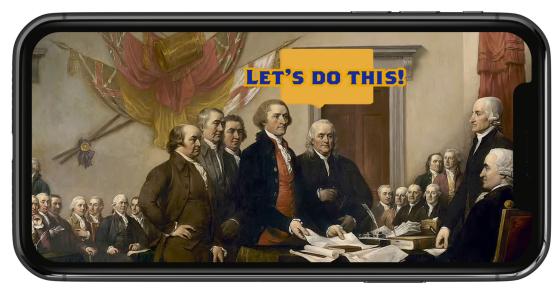 "The American Battlefield Trust represents an important segment of our nation's history that must be taught and learned by all who care about this nation. The Driving Force Institute is proud to partner with the Trust to help bring that story to students across the country as part of the Untold History series," said DFI CEO Patrick Riccards.  
"Now, more than ever, it is necessary to celebrate video work that reflects the top tier of our industry, such as what has been created by the American Battlefield Trust," says Telly Awards Executive Director Sabrina Dridje. "This year's submissions reflect an industry that has returned to the important work of storytelling, one that has returned with a new perspective that values innovation, agility, equity, and tenacious creativity." 
The winners announcement caps a year-long celebration of creators producing work with a new point of view and a refreshed creativity, reflecting an ever-changing landscape emerging from the difficulties and opportunities that arose in the last few years.  
In function of this, a series of new categories were introduced to mirror and celebrate ways in which video has continued to be used as a critical tool for communication, notably within and across a new culture of working. These new categories, including Workplace Culture, Recruitment and Education & Training, shine a light on the companies using video at a time when company culture has never been so critical in attracting and retaining talent.  
"Whether it's new ways of remote working, placing purpose at the center of a business's key values or providing Employee Resource Groups for communities to gather and support each internally," says Dridje, "this year's incredible group of winners perfectly exemplifies the many artful and unique ways video is being used to tackle these timely topics. By introducing our new categories, we're continuing to deliver on our mission of constantly evolving with the changing industry and the world." 
Last year, The Telly Awards attracted more than 12,000 entries from top video content producers. The full list of the 43rd Annual Telly Awards winners can be found at www.tellyawards.com/winners.  
About the Trust 
The American Battlefield Trust is dedicated to preserving America's hallowed battlegrounds and educating the public about what happened there and why it matters today.  The nonprofit, nonpartisan organization has protected more than 55,000 acres associated with the Revolutionary War, War of 1812 and Civil War. Learn more at www.battlefields.org.  
About The Telly Awards  
The Telly Awards is the premier award honoring video and television across all screens. Established in 1979, The Telly Awards receives over 12,000 entries from all 50 states and 5 continents. Entrants are judged by The Telly Awards Judging Council—an industry body of over 200 leading experts including advertising agencies, production companies, and major television networks, reflective of the multiscreen industry The Telly Awards celebrates. Partners of The Telly Awards include Video Consortium, Ghetto Film School, We Are Parable, Future of Film, IFP, LAPPG, NAB, Stash, NYWIFT, Production Hub, IFP, with support from The Commercial Director's Diversity Program. 
###