Patrick Ferguson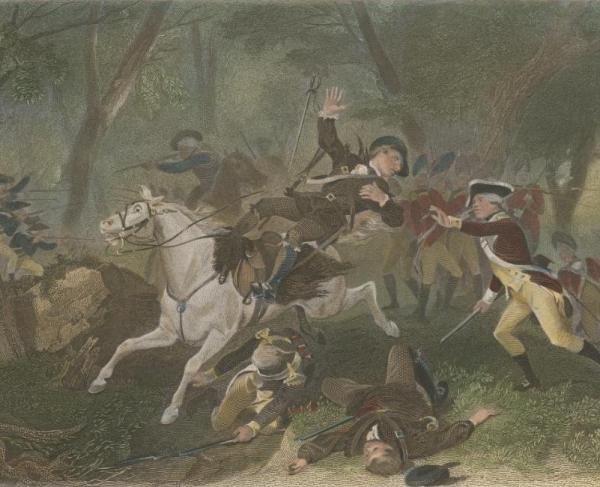 TitleMajor
War & AffiliationRevolutionary War / British
Date of Birth - DeathJune 4, 1744 - October 7, 1780
Patrick Ferguson was born in Aberdeenshire, Scotland, on May 25, 1744 (June 4, New Style) to James Ferguson and Anne Murray. Both of Patrick Ferguson's parents came from nobility, his father being a Senator of the College of Justice (and later Lord Pitfour after 1764), and his mother being the sister of Patrick Murray, 5th Lord Elibank.
Ferguson began his military service as a teenager. He served with the Scots Grays during the Seven Years' War before returning home due to a leg injury. Ferguson returned to military service in the 70th Regiment of Foot, serving in the West Indies under the command of his cousin Alexander Johnstone, until his leg ailment hindered his service.
In 1772, Ferguson returned home to participate in light infantry training, where he gained the attention of General Howe. He also invented the Ferguson rifle, a breech-loading flintlock weapon that was superior to the most advanced sharpshooting rifles of that era.
Ferguson went to serve in the American Revolution in 1777. He served with his new rifle corps and was shot in the elbow during the Battle of Brandywine in September of 1777 in Pennsylvania. Ferguson took a one year hiatus from military service as he recovered both from his wound and from receiving news of his father's death. He returned to service in 1778 under the command of Henry Clinton.
In October 1778, Ferguson led a raid in New Jersey—attacking the Continental base in Little Egg Harbor River in the Battle of Chestnut Neck. Ferguson gained word through intelligence that Count Pulaski's troops were located nearby. Ferguson ordered his men to attack the sleeping American troops with bayonets at dawn on October 15, 1778—the attack would go on to be known as the Little Egg Harbor massacre by the Americans.
Ferguson was promoted to Major in the 71st Regiment of Foot on October 25, 1779 and was sent with General Charles Lord Cornwallis to defeat the Americans in the Carolinas and to recruit Loyalist militias to intimidate colonists who did not remain loyal to the Crown.
Cornwallis divided his arm in the summer of 1780 and gave command of one section to Ferguson that consisted of Loyalists he had recruited. Ferguson threatened to invade the mountains beyond the legal limit of settlement westward. The locals organized a militia and fought against the loyalist forces on October 7, 1780 in the Battle of King's Mountain.
The Battle of King's Mountain proved fatal for Ferguson as he was shot from his horse and dragged to the Rebel side by his stirrup. When approached for surrender, he pulled his pistol and shot a Patriot Rebel. He was shot eight times by Rebel soldiers and later buried in an unmarked grave. In the 1920's the King's Mountain National Military Park, administered by the National Park Service, erected a marker at Ferguson's gravesite.
Related Battles
Battle Facts
South Carolina | October 7, 1780
Result: American Victory
Estimated Casualties
1,108