Lewis A. Grant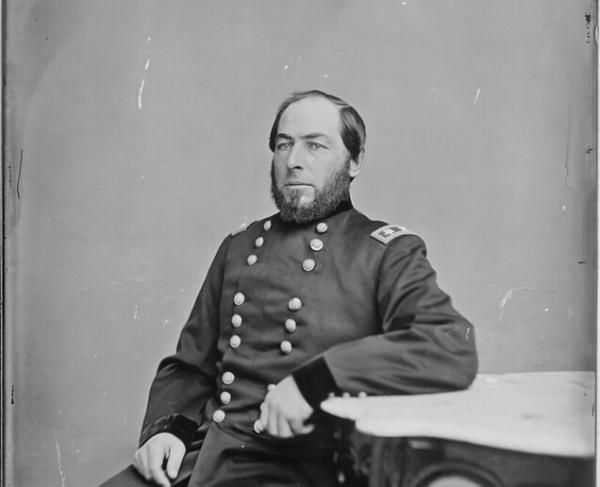 TitleBrevet Major General
War & AffiliationCivil War / Union
Date of Birth - DeathJanuary 17, 1829 - March 20, 1918
A lesser known but no less distinguished Union commander with the surname Grant, Lewis Addison was born in Winhall Hollow, Vermont, on January 17, 1829. His father was a schoolteacher and farmer, while his mother was the daughter of a soldier in the American Revolution. After attending school, Grant had a brief stint teaching, before eventually being admitted to the bar in 1855 and practicing law in Bellow Fall, Vermont.  
He married S. Agusta Hartwell in 1857 and had a daughter with her, but Agusta passed away only two years later. He then married Mary Helen Piece, a niece of President Franklin Pierce, in 1863, with whom he had two sons.
As soon as war broke out in April 1861, Grant abandoned his law practice and enlisted in the Union Army. He was commissioned a major of the 5th Regiment Vermont Infantry Volunteers and mustered into service on September 16, 1861, for a three-year term. However, Grant would go on to serve for the rest of the war, seeing action at nearly every major engagement in the Eastern Theater.
Upon arrival to the rest of the Army of the Potomac, the 5th Vermont was united with four other Vermont regiments to form the First Vermont Brigade. It was one of the few brigades in the Army of the Potomac to be compromised solely of regiments from one state. The First Vermont became known as the "Old Vermont Brigade," on account of their reputation for being a reliable and strong fighting force. They were specially chosen for such important missions such as quelling the New York Draft Riots in the summer of 1863 and defending Washington, DC, during General Jubal A. Early's raid north in the summer of 1864.
The brigade fought with gallantry during the Peninsula Campaign of 1862, after which Grant was promoted to lieutenant colonel in September 1862, just prior to being engaged at Antietam. After being promoted to colonel, Grant led the regiment at Fredericksburg, where he was wounded in the leg.
Early in 1863, Grant was given the command of the Vermont Brigade. Grant led an assault at Salem Heights, Virginia, part of the Chancellorsville Campaign, where his "extraordinary heroism" earned him a Medal of Honor. At Gettysburg, the Vermont Brigade relieved the beleaguered V Corps troops on Little Round Top late July 2. At the Battle of the Wilderness, Grant and his brigade defended a crucial point near the Brock Road-Plank Road Intersection, helping to hold off an attack of an entire Confederate division.
Grant and the Vermont Brigade also had a key role in the Battle of Cedar Creek in October 1864. After General Philip S. Sheridan's famous ride from Winchester to rally his troops, he reportedly stopped in front of the exhausted Vermont Brigade and asked what troops they were. Cries of "The Vermont Brigade! The Sixth Corps!" answered him, and Sheridan nodded and said, "We are all right," before riding off. The Vermont Brigade helped to regain the ground lost earlier in the day, and Grant earned a promotion to brevet major general.
Grant also gained renown for his carefully planned and meticulous plan to break through Confederate lines at Petersburg. After studying the terrain and relaying detailed instructions to his troops, the assault was executed almost flawlessly and broke through the lines on April 2, 1865, ending the 272 day-long siege and sending General Lee's army reeling. In later accounts of this incident, Grant is extraordinarily humble, acknowledging that he had been wounded a few moments before the attack began, which forced him to sit the action out. However, contemporaries argue that without his studying of the terrain and the proposed attack, in action to detailed plans that left no room for error, the attack could not have proceeded as it had, and thus Grant deserves credit.
After the war, Grant was offered a lieutenant colonel's commission of the 36th United States Infantry, but he declined, preferring to retire to private life. He was a famous man in his hometown of Bellow Fall and was invited by many veterans groups to speak about his experience in the war. Grant remained modest about his achievements and "talked unwillingly of his own military distinction." He "believed in deeds, not words." He also served as Assistant and Acting Secretary of War under President Benjamin Harrison.
When he died on March 20, 1918, in Minneapolis, Minnesota, Grant was said to be the last surviving member of the Old Vermont Brigade.