John Sappington Marmaduke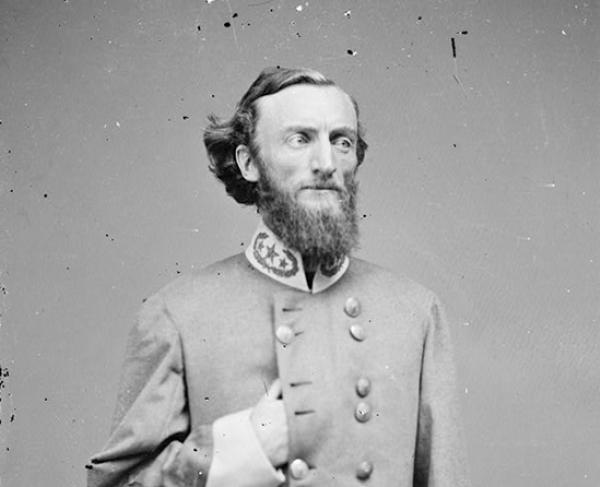 TitleMajor General
War & AffiliationCivil War / Confederate
Date of Birth - DeathMarch 14, 1833 – December 28, 1887
John Sappington Marmaduke graduated from the United States Military Academy in 1857 after attending both Harvard and Yale.  Marmaduke briefly served with the United States Army during the Utah War before resigning his commission upon the outbreak of the Civil War.
He first entered the war when Missouri Governor Claiborne F. Jackson appointed him a colonel in the Missouri Militia.  After being routed by Union troops under General Nathaniel Lyon at the battle of Boonville, Marmaduke resigned his commission once again, and instead accepted a commission within the Confederate Army.  He was sent to Arkansas where he was appointed a lieutenant colonel of the 1st Arkansas.  At the battle of Shiloh, while serving as colonel of the 3rd Confederate Infantry, Marmaduke suffered a severe wound, forcing him to relinquish his command for several months.  For his actions during the battle, Marmaduke was promoted to brigadier general on November 15. 1862.  In 1863, Marmaduke led two separate raids into Missouri which were both repulsed.  Marmaduke participated in the defense of Little Rock, during which he was challenged to a duel by General L.M. Walker.  The duel resulted in General Walker's death. Marmaduke then went on to participate in the Red River Campaign, as well as the invasion of Missouri led by General Sterling Price.  During the battle of Mine Creek, Marmaduke was captured by Union forces when they broke through his defensive lines.  On March 18, 1865, he was promoted to Major General while still a prisoner of the Union army.  He remained a prisoner until after the war ended. 
After the war, Marmaduke was elected Governor of Missouri in 1884, but died three years into the term.