John F. Reynolds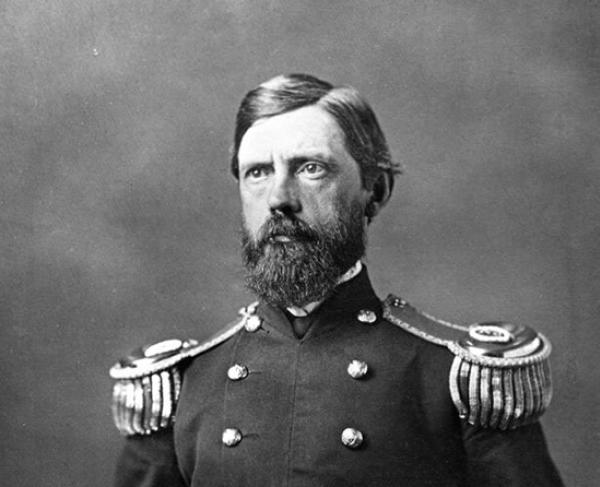 TitleMajor General
War & AffiliationCivil War / Union
Date of Birth - DeathSeptember 20, 1820 - July 1, 1863
John Fulton Reynolds was born on September 20, 1820, in Lancaster, Pennsylvania. He was one of eleven children. In 1837, he was nominated to the United States Military Academy at West Point by future President James Buchanan, a friend of Reynolds's father. Reynolds graduated in 1841, finishing 26th in a class of 50. His classmates included future Civil War generals Horatio Wright, Richard Garnett, Don Carlos Buell, Israel Richardson, and Nathaniel Lyon.
After his graduation, Reynolds was commissioned 2nd lieutenant in the 3rd United States Artillery, stationed at Fort McHenry in Baltimore, Maryland. Over the next four years he would also serve at Fort Pickens and Fort Marion in Florida and at Fort Moultrie in Charleston, South Carolina. During the Mexican War, Reynolds, by then a 1st lieutenant, served under General Zachary Taylor. He was brevetted twice for gallantry. At the Battle of Buena Vista, his artillery stopped a flanking attack by enemy cavalry, forcing the Mexican army to withdraw.
After the Mexican War, Reynolds served at various posts, including Fort Preble in Maine, Fort Lafayette in New York, and Fort Ortford in Oregon. During this period, he became engaged to Catherine Mary Hewitt. Because she was a Catholic and he was a Protestant, however, Reynolds kept their engagement a secret. From September 1860 to June 1861, he was the Commandant of Cadets at West Point, where he also served as an instructor.
Reynolds remained a supporter of James Buchanan and his pro-slavery policies. After John Brown's raid on Harpers Ferry, he commented that if "a few more of the abolitionist stripe" were hanged, "it would effectively stop the agitation for a time." Although did not support anti-slavery politics, he was a committed Unionist. On August 20, 1861, he was appointed brigadier general of volunteers in the Union Army and put in command of one of the brigades of the Pennsylvania Reserves.
During the Seven Days Campaign, he commanded his brigade at the Battles of Beaver Dam Creek and Gaines' Mill. After the latter, an exhausted Reynolds was captured while attempting to get some sleep. An embarrassed Reynolds was comforted by his pre-war colleague, Confederate General D.H. Hill, who told him "do not feel so bad about your capture, it's the fate of wars."
Reynolds did not remain a prisoner for long; just weeks later he was exchanged and put in command of the entire division of Pennsylvania Reserves. At the Battle of Second Manassas, Reynolds led a rear guard counterattack that bought time for the Union Army to escape potential annihilation. He was unable to participate in the Battle of Antietam because a panicky Pennsylvania Governor Andrew Curtin demanded that he command local militia forces during Lee's invasion.
Reynolds once again commanded his division at Fredericksburg. After Fredericksburg, when General Joseph Hooker was given command of the Army of the Potomac, Reynolds was given command of Hooker's old First Corps. After the Battle of Chancellorsville, Reynolds was one of several Union Generals who urged Hooker's removal from command. However, when President Lincoln met with Reynolds and offered him command of the Army of the Potomac, Reynolds replied that he would only accept the command if he could be sure there would be no interference from his superiors in Washington. Unwilling to sacrifice civilian control of the military, Lincoln instead put Reynolds's friend General George Meade in command.
On the morning of July 1, 1863, as he was leading his forces towards Gettysburg, Pennsylvania, Reynolds received a message that Confederate forces were almost there as well. Reynolds led his First Corps to McPherson Ridge, when he received a bullet through the neck. Reynolds died instantly. He was the highest ranking soldier on either side killed at Gettysburg.