Horatio G. Wright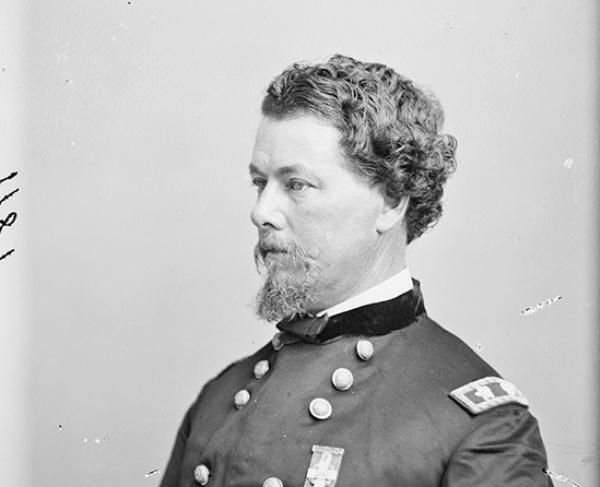 TitleMajor General
War & AffiliationCivil War / Union
Date of Birth - DeathMarch 6, 1820 – July 2, 1899
Horatio Gouverneur Wright began his military career after graduating 2nd from a class of 52 from the United States Military Academy in 1841.  He was commissioned into the Corps of Engineers, and taught briefly at West Point before being sent to Florida to work on infrastructure and fortification improvements.
At the outbreak of the Civil War, Wright first took part in the evacuation and destruction of the Norfolk Navy Yard on April 20, 1861, before it could fall into Confederate hands.  Although he was captured during the operation, he was released four days later.  He began work on fortifications around Washington DC, before being assigned as chief engineer to the division of Samuel P. Heintzelman.  He served with the division during the Battle of First Manassas, which led to his promotion to Brigadier General on September 16, 1861.  He was then made the chief engineer for Major General Thomas W. Sherman during the Front Royal campaign.  In February of 1862, he led troops against Confederate forces along the Florida coast, and in June led a division under Henry W. Benham during the battle of Secessionville.  He was moved to the Department of the Ohio, and took part in forcing Confederate general Braxton Bragg out of Kentucky.  He was promoted to Major General on July 18, 1862, but the appointment was first refused by Congress.
In May of 1863, Wright was given a command of a division in the VI Corps under General John Sedgwick.  He led the division through the battles of Gettysburg and Rappahannock Bridge, as well as during the Mine Run Campaign.  In May of 1864, he led his division through the Battle of the Wilderness, and following the death of Sedgwick at the Battle of Spotsylvania Courthouse, was given command of the entire corps until the end of the campaign.  He was again promoted to Major General, and was confirmed on May 12, 1864.  He led his corps through the Battle of Cold Harbor, and during the Valley Campaign of 1864. Wright and his corps were sent to Washington, DC to help prevent Confederate General Jubal Early from attacking the capital.  Wright participated in the Battle of Fort Stevens, and directed the Union army at the Battle of Cedar Creek before Union General Philip Sheridan arrived and took over.  At the Battle of Petersburg, Wright and the VI Corps were some of the first Union soldiers to breakthrough Confederate lines, and the corps went on to defeat Confederate forces during the Battle of Sayler's Creek on April 6, 1865. 
After the war, Wright continued his service with the United States military, and took part in engineering projects such as the completion of the Washington Monument and the construction of the Brooklyn Bridge.