James B. McPherson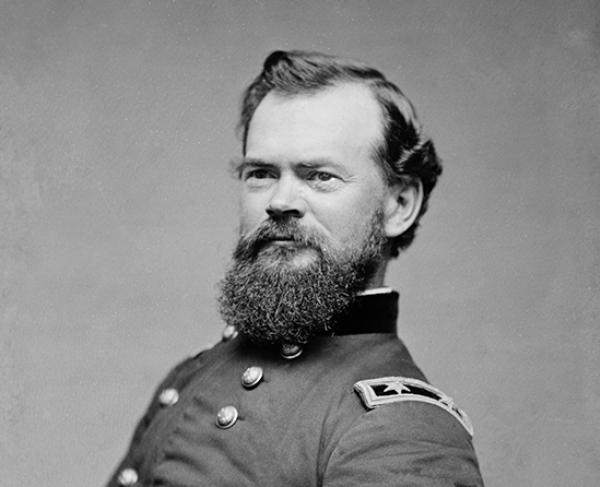 TitleMajor General
War & AffiliationCivil War / Union
Date of Birth - DeathNovember 14, 1828 – July 22, 1864
James Birdseye McPherson began his career after graduating first in his class from the United States Military Academy class of 1853, a class that included Philip Sheridan and future foe John Bell Hood.  After graduation, he was commissioned into the Corps of Engineers, and participated in building improvements to New York Harbor, the building of Fort Delaware, and the construction of fortifications on Alcatraz Island in San Francisco Bay.
After the outbreak of the Civil War, McPherson requested a transfer back to the east, briefly serving on the staff of General Henry Halleck. 
He was transferred to the command of Ulysses S. Grant and served as his Chief Engineer during the capture of Fort Henry and Fort Donelson, as well as during Grant's advance on Corinth during the spring of 1862.  At the Battle of Shiloh, McPherson presciently warned Grant that his forward camps were indefensible and had a horse killed under him. 
On August 19, 1862, McPherson was promoted to a Brigadier General, and after the Battle of Corinth, was promoted to Major General of volunteers on October 8, 1862. 
He was given command of the Seventeenth Corps in the Army of the Tennessee under Ulysses S. Grant, and served capably throughout the Vicksburg Campaign.  At the May 12, 1863 Battle of Raymond, he nearly annihilated a smaller Confederate force that mistakenly attacked his 10,000-man column. 
On August 1, 1863, he was made a Brigadier General in the regular army, and was given command of the Army of the Tennessee on March 26, 1864 after William T. Sherman was promoted to command all armies in the West. 
McPherson's army made up the right wing of Sherman's force as he moved against Atlanta beginning in May of 1864. He and his troops participated throughout the Atlanta Campaign, trying to outmaneuver Confederate forces under Joseph E. Johnston.  On May 9, 1864, McPherson tried to flank and destroy Johnston at the Battle of Rocky Face Ridge, but his 25,000-man column was thwarted by a blocking force of some 4,000 Confederates.  Hearing of this defeat, Sherman told McPherson that he had "missed the opportunity of a lifetime."  McPherson's army also suffered heavily while assaulting the steep slopes of Kennesaw Mountain on June 27, 1864. 
On July 17, 1864, Confederate President Jefferson Davis replaced Joe Johnston with McPherson's former classmate, General John Bell Hood.  On July 22, 1864, Hood launched an attack against the Union forces in front of Atlanta.  During the battle, a line of Confederate skirmishers shot and killed McPherson after he attempted to escape capture on the way to the headquarters of William T. Sherman.  Both Sherman and Hood mourned the loss of the general, who was returned to Union forces to receive a proper burial.
Ulysses S. Grant memorialized McPherson one of the army's "ablest, purest, and best generals."  Sherman called him "a man who was...qualified to heal national strife."  Even John Bell Hood marked his passing with friendship, admiration, and gratitude.