George E. Pickett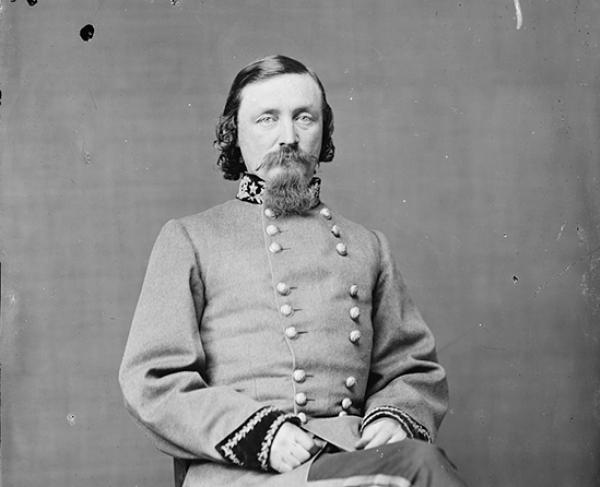 TitleMajor General
War & AffiliationCivil War / Confederate
Date of Birth - DeathJanuary 16, 1825 – July 30, 1875
George Edward Pickett was born in Richmond, Virginia.  He received an appointment to the United States Military Academy at the age of 17, and graduated last in his class at West Point in 1846.  He was immediately sent to participate in the Mexican-American War where he received to brevet promotion for being the first to climb a parapet at the Battle of Chapultepec.  After the Mexican-American War, Pickett continued to serve in the United States military and was assigned to the Washington Territory, where he became involved in a land dispute with Great Britain known as the Pig War.
At the outbreak of the Civil War, Pickett resigned from the United States military and was appointed as a colonel in the Confederate army.  After briefly commanding the defense of the Lower Rappahannock River, he was appointed a brigadier general on January 14, 1862.  Pickett first saw combat during the Peninsula Campaign, where he led his brigade at the battles of Williamsburg, Seven Pines, and Gaines' Mill.  At Gaines' Mill, Pickett was wounded in the shoulder and forced out of command until September of 1862.  In October of 1862, Pickett was promoted to major general and placed in command of a small division in General James Longstreet's corps.  He and his command were present at the battle of Fredericksburg, but saw only little combat, and then took part in the Suffolk Campaign.  Pickett's most important role in the war however would come at the Battle of Gettysburg.
Pickett would arrive with his division after following the major fighting of the first and second days.  General Robert E. Lee decided to use Pickett's men, whose ranks had not been depleted, to lead a grand assault against the Union positions on the high ground around Gettysburg.  On July 3, 1863, Pickett's men would make the farthest breach into Union lines, but cannon and musket fire received during the assault weakened his division far too much to make the assault successful.  The attack known as "Pickett's Charge" even though he technically was not leading the attack, resulted in a great number of Confederate casualties.
After the failure at Gettysburg, Pickett continued to command his division during the Overland Campaign as well as the Siege of Petersburg.  During the battle of Five Forks, however, Pickett and his men were defeated, which led to the eventual collapse and surrender of the Confederate army.