Alexander Hays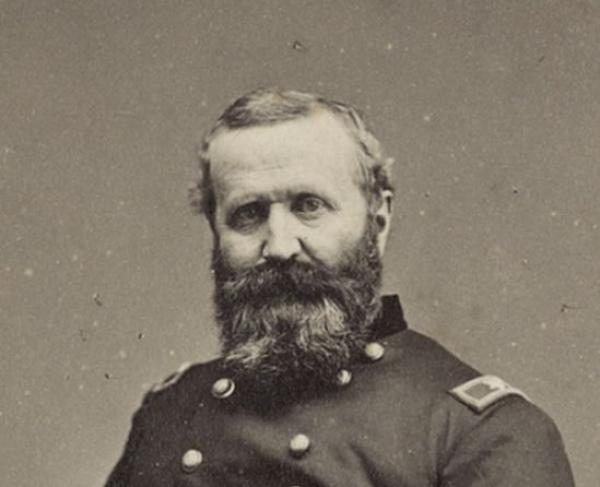 TitleBrigadier General
War & AffiliationCivil War / Union
Date of Birth - DeathJuly 8, 1819 – May 5, 1864
Born in Franklin, Pennsylvania, Alexander Hays did not seem destined for a successful military career. He graduated from the United States Military Academy at West Point in somewhat of a mediocre standing compared to his other classmates, finishing 20th out of a class of 25. One notable thing he appears to have accomplished while at school with striking a friendship with a cadet in the preceding year named Ulysses S. Grant. Despite his apparent distaste for academic theory (he reportedly called strategy the "next thing to cowardice"), he served ably in the war with Mexico, earning a brevet for gallantry. He resigned his commission at the end of the war and, like his friend Grant, tried his hand at many jobs to make a living, like running an iron business or prospecting for gold in California. Few of his attempts succeeded.
At the outbreak of the Civil War, Hays was working in Pennsylvania as an engineer, but he immediately enlisted in the Union Army, and was made colonel of the 63rd Pennsylvania Volunteers. From the First Bull Run onwards, he gained a reputation for both hard fighting and drinking, both of which endeared him to his men. He was wounded at Second Bull Run and missed the battle of Antietam, but he was promoted to brigadier general and headed the Third division of the vaunted II Corps. The most colorful moment of his command would come at the Battle of Gettysburg. Facing Pickett's Charge he showed his audacity by walking about in the open under Confederate artillery bombardment, riding around the battlefield and cheering for his men as they repulsed the Confederate assault, and then tying a captured battle flag to his horse and dragging across the Union line in celebration. He later wrote that the thoughts of defending Pennsylvania from the Confederates explained much of his emotional state at Gettysburg.
Hays continued to serve in the Army of the Potomac, but his luck ran out in the spring of 1864, where he was shot in the head at the Battle of the Wilderness and died instantly. News of his death greatly saddened his old friend General Grant, who visited his grave during one of his presidential campaigns. He is buried in the Allegheny Cemetery, near his home in Pittsburgh.