Albert Cashier aka Jennie Hodgers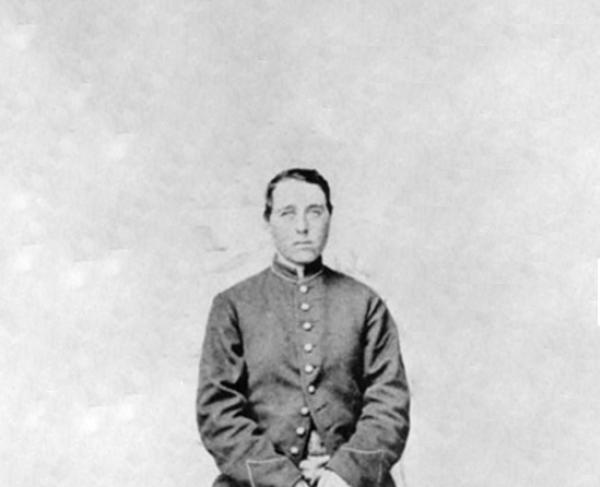 TitlePrivate
War & AffiliationCivil War / Union
Date of Birth - DeathDecember 25, 1843 - October 10, 1915
There are over 400 documented cases of women disguising themselves as men and fighting as soldiers on both sides during the Civil War. The case of Albert Cashier, born "Jennie Hodgers" with a female sex assignment, is one of the most famous because Cashier continued to live as a man after the war and was not discovered until a couple of years before his death. His consistent and nearly life-long commitment to a male identity has prompted some contemporary scholars to think of Cashier as a transgender man.
Cashier was born on December 25, 1843 in Clogherhead, County Louth, Ireland. Not much is known about his early life, as the only account available was given by Cashier when he was suffering from dementia in 1913.
This much is certain—on August 6, 1862, Albert Cashier, a resident of Belvidere, Illinois, enlisted in the 95th Illinois Infantry. Although he was the shortest soldier in the regiment, and kept mostly to himself, Cashier was accepted as "one of the boys" and considered to be a good soldier.
Cashier's regiment was part of the Army of the Tennessee and fought in over 40 engagements, including the siege of Vicksburg, the Battle of Nashville, the Red River Campaign, and the battles at Kennesaw Mountain and Jonesborough, Georgia. There is an account of Cashier being captured and escaping by overpowering a prison guard, but no further details of this event exist.
Cashier served a full three year enlistment with his regiment until they were all mustered out on August 17, 1865 after losing a total of 289 soldiers to death and disease.
After the war, Cashier returned to Illinois where he settled in Saunemin. He continued his identity as a man, and held many different jobs, including farmhand, church janitor, cemetery worker, and street lamplighter. Cashier also voted in elections at a time when women did not have the right to vote and collected his veteran's pension.
In November of 1910, Cashier was hit by a car and broke his leg, at which time his sex assigned at birth was discovered. The local hospital agreed not to divulge his sex assignment, and he was sent to the Soldiers and Sailors Home in Quincy, Illinois to recover. Cashier remained a resident of the home until March of 1913, when due to the onset of dementia, he was sent to a state hospital for the insane. Attendants there discovered his sex assignment and forced him to wear a dress. The press got a hold of the story and soon everyone knew that Private Albert Cashier had been born as Jennie Hodgers.
Many of his former comrades, although initially surprised at this revelation, were supportive of Cashier, and protested his treatment at the state hospital. When Cashier died on October 10, 1915, he was buried in his full uniform and given a tombstone inscribed with his male identity and military service.