Douglas Ullman, Jr.
As he prepared to force Joseph E. Johnston to retreat back across the Chattahoochee, William T. Sherman drew from his bag of tricks a really big one. So far in the campaign he had outflanked the Rebels by maneuvering around their left: at Rocky Face Ridge, Resaca, Allatoona, Lost-Brush Mountain, Kennesaw Mountain, and Smyrna. Now he would switch up and do the opposite. He had been planning this all along. As early as April 10, he announced to Gen. Ulysses S. Grant, "Should Johnston fall behind the Chattahoochee I would feign to the right, but pass to the left, and act on Atlanta or on its eastern communications, according to developed facts."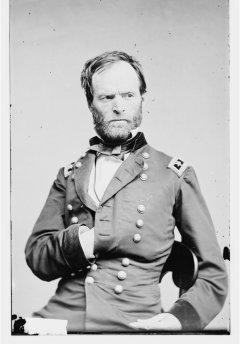 Sherman learned from his cavalry, Brig. Gen. Kenner Garrard's, that although the bridge Roswell had been destroyed, there remained a good ford. Downstream Ed McCook found both Power's and Isham's Ferries guarded with artillery. John M. Schofield's Twenty-third Corps marched from Smyrna toward a proposed crossing somewhere downstream from Roswell. Farther below, Oliver O. Howard's Fourth Corps had reached Pace's Ferry, where they saw retreating Rebels cut a pontoon bridge. James B. McPherson's army held the right, with some of his troops down as far as Howell's Ferry; Stoneman's cavalrymen stretched farther downriver toward Campbellton. All told, from Campbellton to Roswell, Sherman had his forces spanning thirty miles. 
Such a broad front was calculated to confuse Johnston about where the Federals planned to make their main crossing. Sherman kept up the impression that he might try to push his right wing; for that reason on the 7th of July, he told McPherson to "display as much anxiety to cross as possible and as low down, but keep your masses ready to move to the real quarter when require." The real quarter would be on the other flank, where he directed Schofield to make a foothold on the south bank near Sope Creek or anywhere else in the vicinity. In the meantime, there were indications that Johnston was being fooled. Judging by the light force against him, Garrard reported, "Johnston will make no attempt on this flank...his cavalry has gone to his left." Sherman and Schofield could anticipate a virtually unopposed crossing. He confidently wired Gen. Henry Halleck July 7: "Johnston is maneuvering against my right, and I will try and pass the Chattahoochee by my left."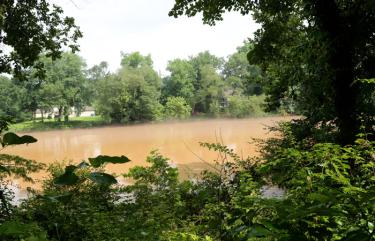 Sherman's troops forded the river midafternoon of July 8. With Thomas ordered to "stir up the enemy" with demonstrations and Garrard attempting a crossing at Roswell, Schofield was Sherman's main hope for a foothold on the south bank. A brigade of Cox's division of the Twenty-third Corps not only found a convenient fish dam that allowed them to wade across the river, but found on the other side just a handful of Rebel pickets, who fled. A half-mile downstream near Isham's Ferry (where Sope Creek flows into the Chattahoochee) the 12th Kentucky crossed on pontoons and a bridge was soon built. By 7:00 p.m., Schofield reported that Jacob D. Cox's whole division was on the south bank and entrenching.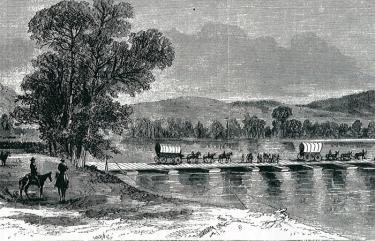 That night a Southern scout informed Confederate headquarters that the Yankees had crossed at least two brigades of infantry plus artillery at Isham's and that they had pushed more than a mile from the riverbank. Johnston responded predictably: early on the 9th, he directed Wheeler to contain the enemy bridgehead while he issued orders for the army to retreat across the river that night. By the time it did so, more of Schofield's corps had crossed, and so had at least two brigades of Garrard's cavalry division at Shallow Ford below Roswell. That day too, farther downstream at Cochran's Ferry, a detachment of the 1st Tennessee under Col. James Brownlow, stripped nude, waded across the river, and secured lodgment wearing only their weapons and gear. 
The Federals' crossing of the Chattahoochee, which had been the focus of Sherman's anxious thoughts for days on end, had, thanks to Joe Johnston's peculiar indolence, proven surprisingly easy.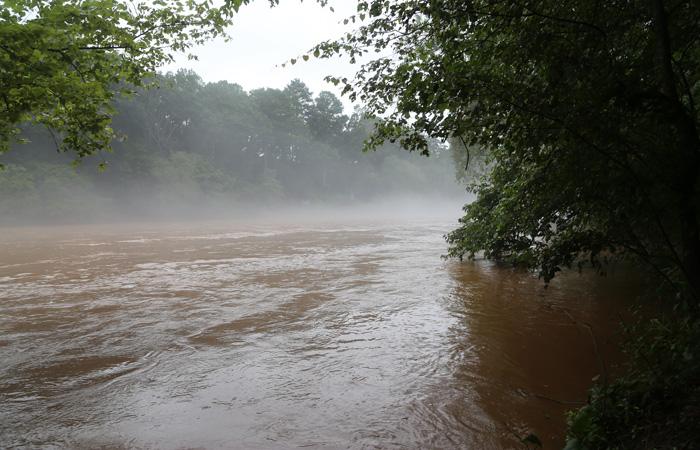 Related Battles
Battle Facts
Cobb County, GA | June 27, 1864
Result: Confederate Victory
Estimated Casualties
4,000