Remembering Ed Bearss
Bill Vodra, a fellow Trustee at the American Battlefield Trust and member of the Bearss Brigade, reflects on a remarkable legacy.

On Memorial Day 1990 — Monday, May 28, because precision matters — at Mill Springs, Ky., I  learned three important things about Edwin C. Bearss. 
Our tour bus turned down a country road and stopped by a small park, enclosed by a low wall. Ed jumped off, gathered his group and, amidst a slight drizzle, interpreted the Battle of Mill Springs. As always, during the drive, Ed had laid out the strategic situation, described the opposing forces — from commanders to individual regiments — and provided an incredible wealth of detail about weather, weapons, politics and logistics. Once on the ground, he immediately located the positions of the Union artillery and cavalry, the path of the Confederate troops and the ebb and flow of the fighting, ending with the "Zollie Tree," against which Confederate Brig. Gen. Felix Zollicoffer had died. Ed put us into the midst of the combat. When he finished, he looked around and said, "This place is very pretty. I've never been here before."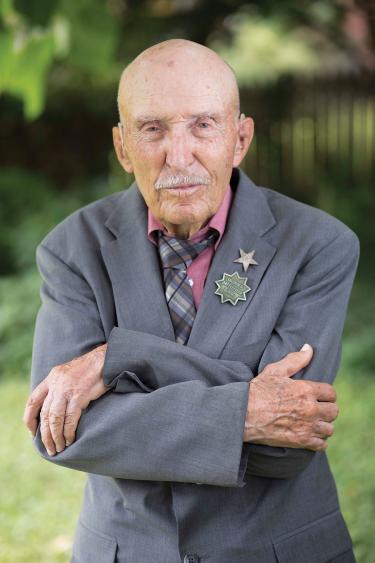 First lesson: Ed could, in fact, arrive at a spot where Americans fired shots in anger, orient himself and figure out how the battle was fought. His personal experience as a Marine in World War 2, his research into the ways in which Civil War combat occurred and his acute understanding of the role of terrain allowed him to translate historical records into a vibrant experience. Having seen the elephant himself, Ed knew how soldiers live, fight and die, and the effect terrain has. It was, after all, terrain that led to his severe wounding in Cape Gloucester, New Britain, in January 1944.  
While Ed spoke, a local woman drove up. Seeing our bus, she wondered what we were doing. Hearing the end of Ed's interpretation, the woman recognized the name "Zollicoffer." When she was young, she recalled an elderly woman regularly laying flowers at the Zollie Tree, but she had no idea who Zollicoffer was or what happened there. Ed proceeded to provide a condensed version of the entire story, adding information about the likely identity of the woman she remembered.  
Second lesson: Ed was enthusiastic about educating everyone and sharing his knowledge without flaunting it. Ed was not a natural teacher, however. He said his early lectures put people to sleep. Realizing that to educate, one also had to entertain, he developed the persona we all came to love.
That rainy Memorial Day, only a one-acre park marked the battlefield. Support for battlefield preservation had dried up after the Centennial. A new group (the Association for Preservation of Civil War Sites, or APCWS) had been formed in 1987, but was still focusing initially on the Eastern Theater. And in 1988, Congress condemned and took Stuart's Hill, at Manassas, to prevent its commercial development. Otherwise, much of the modern preservation story lay in the future. A new generation had to be inspired first.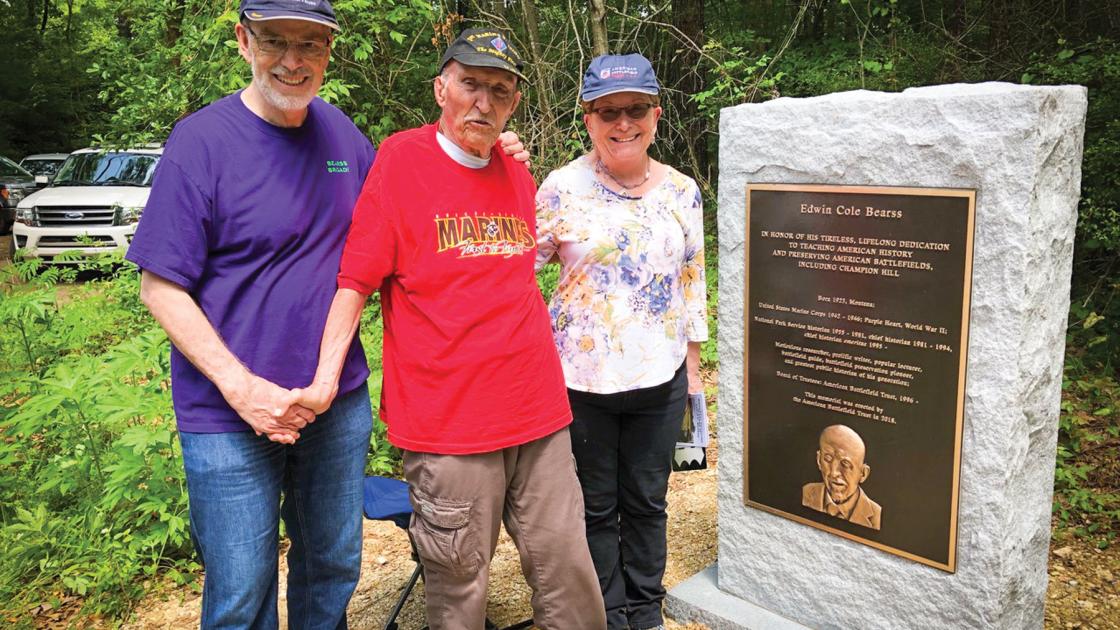 Third lesson: Ed taught the importance of understanding — and therefore preserving — the land. From the 1980s (and probably much earlier) through the 2010s, he would guide day trips on weekends and longer tours during his vacations from the National Park Service (NPS). He also traveled around the nation, giving talks to roundtables and friends groups, often as a fundraising attraction to support preservation. His most devoted followers, the Bearss Brigade, celebrated his birthday each year by raising $8,000–10,000 for a preservation cause of Ed's choosing. These gifts often made a huge difference to a small organization, and over 25 years exceeded $250,000.
His energy was boundless, if he could be of help. During a 2007 tour on the 1862 Dakota War in Minnesota, we arrived at the hotel near dinnertime. Awaiting were representatives of the Wood Lake Battlefield Preservation Association (BPA): Would Ed be willing to depart, now, to go 70 miles to address a meeting of county commissioners regarding a preservation project? Despite being 84, having been "on duty" for the last 10 hours and facing an early departure the next morning, Ed agreed. He would always go the extra mile, for the cause of preservation. (The American Battlefield Trust, working with the Wood Lake BPA, helped preserve 280 acres of the battlefield in 2009 and 2011.)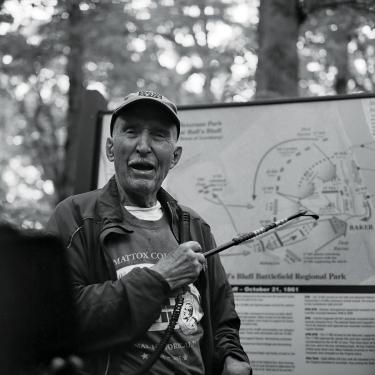 Ed's role in preserving battlefields cannot be overstated. In the late 1950s, he was central to creation of national parks at Pea Ridge and Wilson's Creek. During the "Third Battle of Manassas," Ed worked with senior levels of the Department of the Interior and congressional leadership in the federal taking. In 1993, the Civil War Sites Advisory Commission proposed a national strategy for battlefield preservation, and much of the work was done by Ed Bearss, an ex officio member. He would also regularly "sell" preservation by testimony before congressional committees and by private tours for key members and their staffs.
He joined the Board of Trustees of the original Civil War Trust, and when that group merged with APCWS in 1999 to form the Civil War Preservation Trust, Ed was made Trustee for life. His role on the CWPT Board was critical. His deep knowledge of battlefields served to advise on the importance (or not) of tracts offered for preservation. He was also respected by NPS officials and local preservation organizations, providing the Trust credibility among those with whom it would work closely. And his presence at meetings of the membership, lecturing and guiding tours, was a special treat for our donors.
On October 14, 2020, just a day less than a month after Ed Bearss passed away, the National Park Service celebrated the formal establishment of the Mill Springs Battlefield National Monument, as authorized by Congress in March 2019. (See Page 5) While Ed was on the Board, the American Battlefield Trust and its predecessors preserved 696 acres of this battlefield.  
Ed Bearss epitomized and embodied the Trust's goals: "Preserve. Educate. Inspire." We will miss his wisdom and gruff voice, but will continue to pursue these goals.  
Bill Vodra has served on the American Battlefield Trust Board since 2005, barring a one-year gap, as mandated in the bylaws. He toured battlefields across the nation and around the world with Ed Bearss from September 1987 to September 2019. Cumulatively, he spent more than 365 days on a bus, somewhere, with Ed.