News
History and Preservation Community Mourns the Loss of Legendary Historian Edwin Cole Bearss
Celebrated author, tour guide and National Park Service Chief Historian Emeritus led the creation of the modern battlefield preservation movement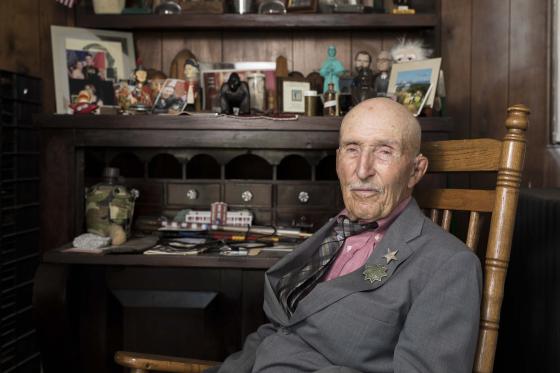 (Washington, D.C.) — Legendary military historian and preservationist Edwin Cole Bearss passed away yesterday, peacefully and surrounded by family, at the age of 97. A decorated U.S. Marine veteran of the Pacific Theater of World War II, he attended college and graduate school on the GI Bill before pursuing a distinguished career in the National Park Service, ultimately rising to be chief historian of that agency in 1981. As one of the powerful voices in the Ken Burns documentary, The Civil War, he brought history alive for millions of Americans with his deep voice and evocative descriptions, a style once described by the Washington Post as nearly "Homeric monologues." Although a prolific author on topics in military history, Bearss was particularly dedicated to the importance of preserved landscapes enhance our understanding of the past. He was among the originators of the modern battlefield preservation movement and a devoted tour guide, travelling up to 200 days per year into his 90s.
"For those of us who value the preservation and perpetuation of American history, few figures are more revered than Ed Bearss. His knowledge, passion and energy were without equal, and he will be missed tremendously by so many," said American Battlefield Trust President James Lighthizer, "Ed's decades-long commitment to protecting special places and making the stories of our past come to life laid the groundwork for organizations like ours, which will embody his legacy for generations to come. The Trust — our board and staff, as well as our members and supporters — send deepest condolences to the entire Bearss family."
Bearss, born on June 26, 1923, grew up on a Montana cattle ranch just outside the Crow Indian Reservation that includes the Little Bighorn Battlefield. Although he gravitated toward history at an early age, his passion was the Civil War – he even called his favorite milk cow "Antietam." After graduating from high school in 1941, he spent the summer hitchhiking across the country to visit battlefields. Bearss returned home and, after the Japanese bombed Pearl Harbor, followed in the footsteps of his father and Medal of Honor–recipient older cousin to enlist in the U.S. Marine Corps. He left for the South Pacific in mid-July 1942 but was severely wounded on January 2, 1944 during the Battle of Suicide Creek on the island of New Britain, injuries that limited his dexterity for the remainder of his life.
After recovery and discharge, Bearss went to college and graduate school on a version of the GI Bill for veterans with disabilities. While researching his master's thesis on Confederate Maj. Gen. Patrick Cleburne, he had an epiphany during a visit to Shiloh National Military Park. "I'd already realized from my service in the Marine Corps that if you're hit by small arms fire, they pretty well have to see you," he later recalled during an oral history project for the Trust. "I lived rather than died because I used the configuration of the terrain to get out of there." That hard-earned lesson in terrain helped him better understand how history could be gleaned from historic battlefield landscapes.
Bearss resolved to become a historian within the National Park Service, helping others understand the inherent connection between physical landscapes and history. His first posting was at Vicksburg, Miss., where he met his wife, fellow historian Margie Riddle, who passed away in 2006. His tireless research led to the discovery and raising of the ironclad USS Cairo, which is preserved within a museum that is now a fixture of Vicksburg National Military Park. In 1958, he was promoted to regional historian and played a key role in shaping the two new parks created as part of the Civil War centennial: Pea Ridge National Military Park and Wilson's Creek National Battlefield. In 1966, he was called to Washington, D.C., to join a new corps of research historians and became involved in various preservation battles.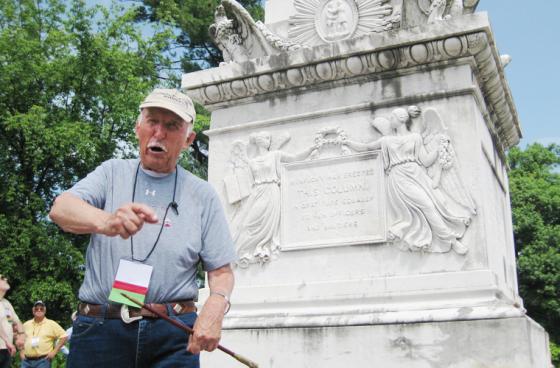 Bearss was named chief historian of the National Park Service in 1981, and late that decade and into the next he was a key figure in the early years of the modern battlefield preservation movement. He served on the Congressionally appointed Civil War Sites Advisory Commission and was an early board member of the Civil War Trust, a predecessor organization of the American Battlefield Trust. He retained a position on that governing body as historian emeritus until his death.
Whether acting on behalf of the Trust or other organizations, including the Smithsonian Institution, Bearss was perhaps the greatest battlefield guide to ever walk a historic landscape. Writing in Smithsonian Magazine in 2005, author Adam Goodheart described his presentation style as being a "battlefield voice, a kind of booming growl, like an ancient wax-cylinder record amplified to full volume—about the way you'd imagine William Tecumseh Sherman sounding the day he burned Atlanta, with a touch of Teddy Roosevelt charging up San Juan Hill." Tours at Trust events led by Bearss invariably booked up, often within hours, even when all options included industry-leading experts.
Bearss is the recipient of numerous awards in the fields of history and preservation; the America Battlefield Trust has named its lifetime achievement award in his honor and dedicated a monument to his achievements on Champion Hill Battlefield in Mississippi. He wrote extensively, including a three-volume history of the Vicksburg Campaign, and was a regular guest on programs for the History Channel, A&E Networks and TLC, as well as appearing  throughout Ken Burns's iconic documentary The Civil War.
At the request of the Bearss Family, in lieu of flowers, donations in memory of Ed Bearss may be made to the American Battlefield Trust. Recognizing the special place that these battlefields held in his heart, such gifts will be used to secure additional lands associated with the Vicksburg Campaign. Please visit www.battlefields.org/RememberingBearss for more information. 
The American Battlefield Trust is dedicated to preserving America's hallowed battlegrounds and educating the public about what happened there and why it matters today. The nonprofit, nonpartisan organization has protected more than 53,000 acres associated with the Revolutionary War, War of 1812, and Civil War. Learn more at www.battlefields.org.
###