The Fighting Bearss
If you imagine that this family's military legacy is confined to the Pacific Theater of WWII, think again.

Edwin C. Bearss brought the Civil War to life for many with his stories. He knew firsthand the cost of defending this great nation as a Marine during World War II in the Pacific Theatre. But like all of us, he was more than the environment he lived in, more than a sum of life experiences; he was also a product of those who came before him.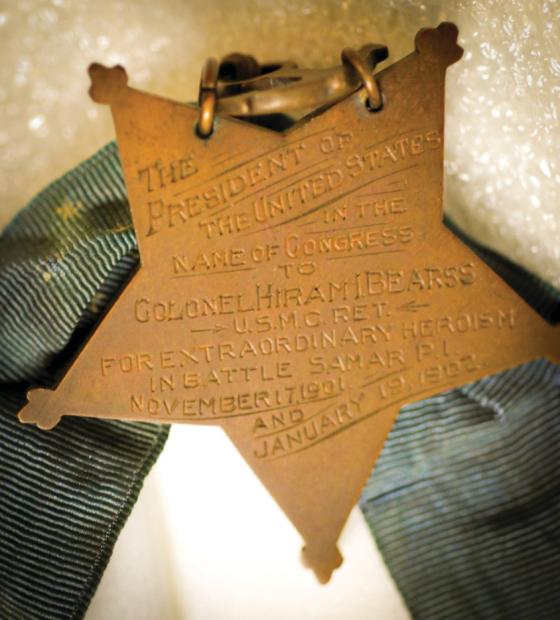 Bearss' ancestors are found intertwined through many pieces of American history. Perhaps the most famous Bearss on the family tree, besides the legendary historian, is "Hiking Hiram" Bearss, who earned the Medal of Honor for leading an assault on an insurgent position in the Philippines in 1901. Bearss went on to other postings, including command of the newly established Marine barracks at Guantanamo Bay, Cuba, in 1909. While stationed in the Dominican Republic, the aggressive foot patrols led by Lieutenant Colonel Bearss earned him the nickname "Hiking Hiram" — a proclivity that those who enjoyed battlefield tours with his younger cousin-once-removed might consider congenital. As part of the American Expeditionary Force, Colonel Bearss fought at Belleau Wood, where the Marines earned their Devil Dogs nickname, and other key engagements of World War I (WWI), earning the Distinguished Service Cross and other awards.

Edwin C. Bearss was born and raised on a ranch in Montana. His father, Omar, was also a veteran of WWI as part of the 1st Engineer Battalion, which participated in the Lorraine and Meuse-Argonne Campaigns. Omar was born in Indiana to Edwin and Lucia Effinger Bearss, early Indiana settlers. Edwin had served in the Civil War as part of the 109th Indiana Infantry, which was organized July 10, 1863, to repel Morgan's Raid, and disbanded one week after it was mustered.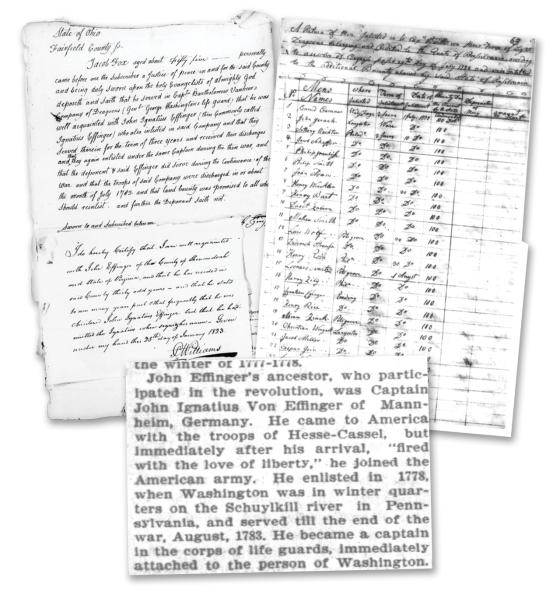 Lucia Effinger Bearss was the daughter of prominent judge Robert Patterson Effinger. Robert was born in Ohio, and as a young man of about 20, ventured out to California during the Gold Rush of 1849, not as a miner, but working for the U.S. Boundary Commission. He wrote letters home that were later published as R P Effinger's Excellent Adventure: The Unknown Letters of a Young Ohio Lawyer. Apparently storytelling, like hiking, runs in the family.
Lucia's great grandfather — Ed's great-great-great grandfather — appears to have been not just a witness, but also a participant, in the beginning of American history. John Ignatius Effinger was born in Mannheim, Germany, in 1765. He joined the British Army, arriving at Staten Island in July 1776. But the Americans captured the imagination of Ignatius, as he was commonly known, and he deserted the British. In August 1778, he enlisted in the Light Dragoons, serving under Bartholomew von Heer. But this was not just any fighting regiment, they were part of George Washington's Life Guard, and Ignatius likely would have been nearby during the harsh winter at Valley Forge, when Cornwallis surrendered at Yorktown in 1781, and until he left service in 1783.
Nor did the family's military legacy end with Ed's time in the South Pacific. In each of the two subsequent generations — his children and grandchildren — there has been at least one U.S. Marine surnamed Bearss.