Personal Reflections This Memorial Day

Through my work at the American Battlefield Trust, I am reminded every day about the military men and women who passed away while serving in our nation's conflicts. As a descendent of a veteran who survived the Civil War, the past never feels too far away. I am deeply cognizant of the fact that I would not be alive today if my great-great-great-great-grandfather had suffered a different fate, like so many of his fellow service members. This Memorial Day, I feel grateful to reflect on his history, and remember the hundreds of thousands of others just like him whose lives were cut short too soon.
Before I started working at the Trust, I don't think I truly recognized how influential the U.S. military has been in my life. Aspects of the military have always been in my periphery – I worked on a Naval Recreation base for seven summers as a lifeguard, I remember collecting souvenirs from my Uncle's Army deployments to Bosnia and Honduras, and I have always been in awe of my great grandfather's service in WWII. But what remained a mystery was a framed newspaper clipping in my grandparents' house that featured two elderly bearded gentlemen sitting in an open car emblazoned with the title "One Wore Blue, And Other Gray." 
This newspaper clipping remained a mystery until the Trust formed a partnership with Ancestry.com and Fold3 to connect ancestor history and the places we help to protect. Many of our supporters, like you, have ancestors who served in the military too. With so many of our members and staff members uncovering their own family history and genealogical trees, I was inspired to do the same. So, after 27 years, I took the first step everyone should take when curious about their family history (if they are able) – I asked my elders. And I am so happy I did! Within minutes of contacting my grandmother, she emailed me a hefty file filled with pictures, stories, and documents outlining the life of my great-great-great-great-grandfather, Louis P. Hennighausen.
Louis P. Hennighausen arrived as a German immigrant in Baltimore, Maryland at the age of 15. He went on to visit Washington, D.C., then Richmond, Virginia, where he was residing when the Civil War erupted. Although he was urged by his own brother, Carl A. Hennighausen, to fall in with southern secessionists, Louis' sympathies were with the Union, and he returned to Washington, D.C. Once there, he entered the Union Army Company A, Eighth Battalion, District of Columbia Volunteers on April 11, 1861 for a three-month term guarding the Potomac River. In August of 1861, he joined the Forty-sixth Regiment New York Volunteer Infantry, eventually rising to the rank of Captain. While in service with the 46th NY, Louis engaged in the Siege of Fort Pulaski, operations about Charleston, South Carolina, and the Peninsula Campaign. At his highest rank, he commanded his own company in the Battle of Secessionville. 
His brother Carl served in the Confederate Army of Northern Virginia, fighting on the very same battlefield as Louis during parts of the Peninsula Campaign.
Both brothers survived the war. Louis returned to Baltimore, where he became a lawyer, philanthropist, and member of the Grand Army of the Republic. The Grand Army of the Republic was a fraternal organization created by the veterans of Union forces. In addition to their advocacy work for veterans of the Civil War, they were an integral part of making Memorial Day a national holiday, honoring those who did not survive the conflict.
In 1913, Louis and Carl traveled to Pennsylvania for the 1913 Gettysburg reunion, where veterans from both armies gathered to remember, reminisce, and heal. It was at this event where they posed for this photo together, the very photo that hung at my grandparents' house and caught my eye as a child: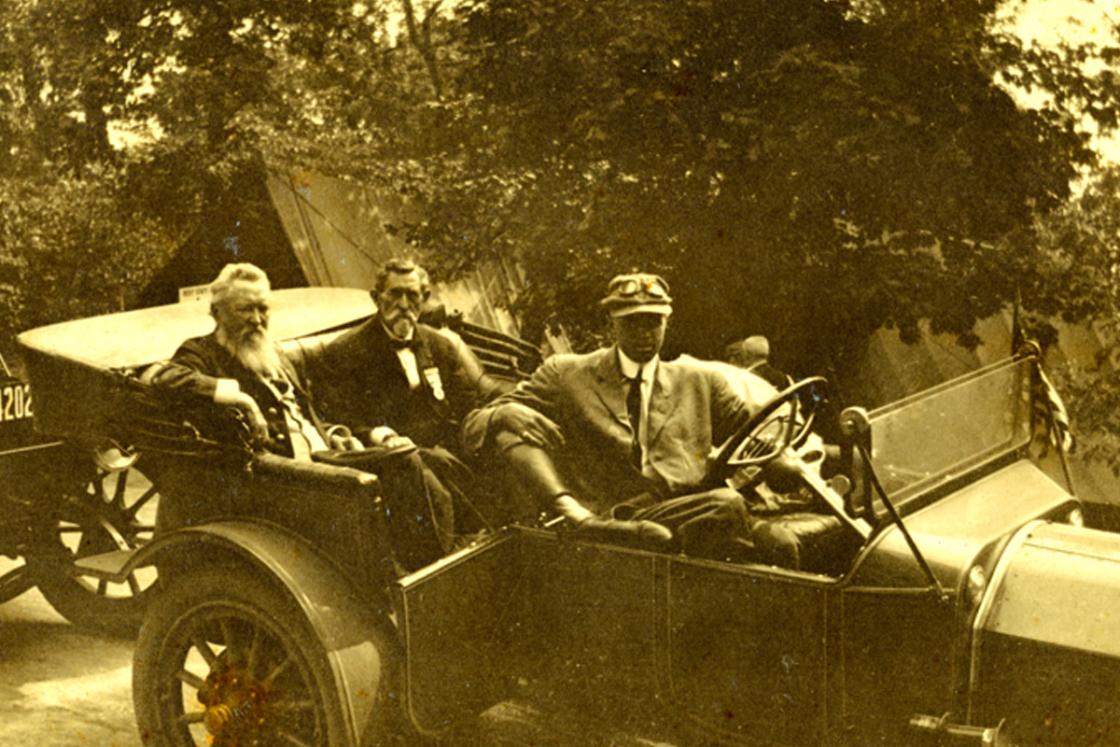 It's an honor to be part of an organization that fights every day to protect the memory of service men and women. Thank you for all that you do to ensure that the sacrifices they made are never forgotten.
Connor Townsend
Associate of Audience Development