Moments in Time: The Battle of Second Manassas - A Battle in Five Parts
A Fierce and Sanguinary Struggle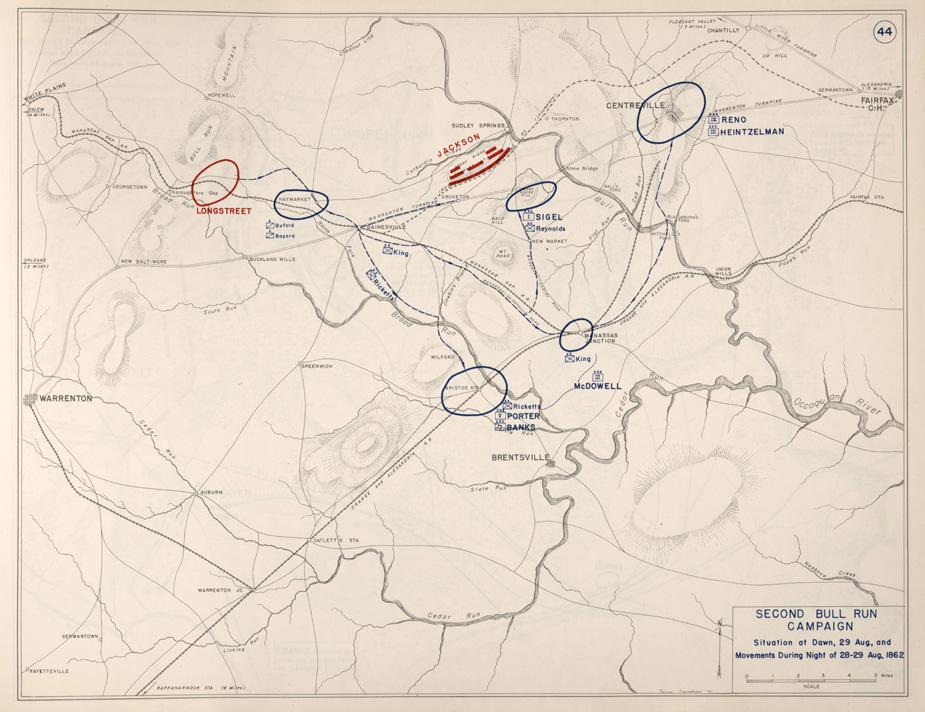 In the summer of 1862 two massive Union armies were descending on Richmond, Virginia.  George McClellan's Army of the Potomac forced an amphibious landing on the Virginia coast and drove across the muddy roads of the Peninsula, slowly grinding its way through the vastly outnumbered Confederate defenders.  Meanwhile, John Pope's Army of Virginia marched from Washington, D.C., with only a little over 100 miles to cross before reaching the outskirts of the Confederate capital.
Robert E. Lee took command of the Confederate forces around Richmond at the end of June.  McClellan's army was within sight of Richmond when Lee launched a ferocious counterattack.  The resulting Seven Days' Battles forced McClellan back to the sea and shattered the Army of the Potomac.  Lee then turned north, on a collision course with John Pope. 
The two armies came within grappling distance at the end of August.  Artillery boomed over the Rappahannock River for days as both sides jockeyed for position near Gainesville, Virginia. 
On August 25th Lee made a decision of characteristic boldness--he divided his forces against a larger enemy.   While James Longstreet and the Right Wing of the army held firm on the Rappahannock, Stonewall Jackson and the Left Wing swung around Pope's flank.  Jackson was ordered to cut Pope's line of supply and then take up a strong position between Washington and the Union army.  With this accomplished, Pope would have no choice but to turn and attack Jackson.  Once Pope launched his attack, Longstreet would push his half of the army forward and strike the Union army at its weakest point.   
Moments in Time at Second Manassas: Part I | Part II | Part III | Part IV | Part V
Related Battles
Battle Facts
Prince William and Fairfax Counties, VA | August 28, 1862
Result: Confederate Victory
Estimated Casualties
21,849