The Citadel in Charleston, S.C.

Jairy Hunter
As part of a series on military service academies, Maj. Gen. Joseph G. "Skip" Garrett III (Ret.), Class of 1969, reflects on his experience at The Citadel in Charleston, S.C.
From an early age, growing up in Toledo, Ohio, I was interested in pursuing a military career. My father was a WWII veteran, whose experience as a young, enlisted medic in Europe had been very positive. While I initially aspired to a principal appointment to West Point, I failed the medical exam due to poor eyesight. Although disappointed, I was encouraged to look at The Citadel and was accepted there. The first time I laid eyes on campus was when I reported as a cadet in August 1965.
Arriving at The Citadel is a bit like stepping off the high dive — no matter how good a swimmer you are, you will go under! It was overwhelming because it was designed to be so. You must put other things aside and focus on your new life as a cadet. Four years passed quickly, surrounded by outstanding educators and student leaders, as I received scholarships in recognition of my studies and my commitment to join the army.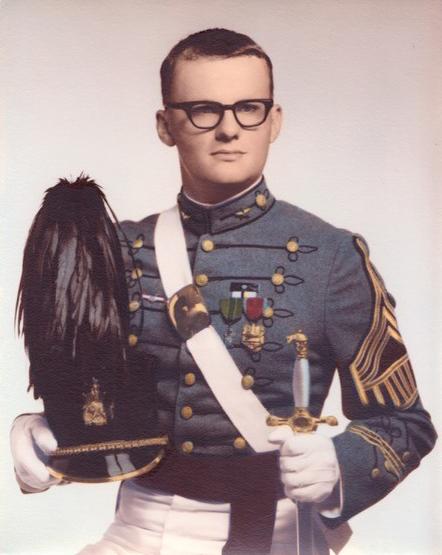 The Citadel gave me a very strong foundation for going into the military, and any graduate is given a strong foundation to do whatever they want to do in life. You learn teamwork, time management, accountability, the importance of not just accomplishments, but also of taking care of subordinates. I am deeply grateful for the training I received, relying on it heavily in my military career. Whenever faced with a difficult situation, I knew what was expected of me as a leader because The Citadel set me on the path toward that type of leadership.
The Citadel has made tremendous strides to modernize its curriculum to develop skills for officers and civilians — graduates are not required to enter the military; in fact, only one-third do — and prepare them to meet the demands of society today. In my day, cadets could receive commissions in the army and air force, with a small number in the marine corps. Commissions in the navy are also now an option. In addition to strong engineering programs, the school now has a focused emphasis on cybersecurity, as well as newly added coursework on entrepreneurship and nursing. More than students or even officers, The Citadel creates a brotherhood. I have friends all over the world gained from combat tours in Vietnam and the Persian Gulf, assignments in Korea and Germany, posts at the Pentagon and State Department and time in private industry. But I remain closest to my 1969 Citadel classmates.
The true purpose of The Citadel is to develop principled leaders for all walks of life who find ways to give back to society. And we give back to each other — that's why my late wife, Beth, and I created an armed forces scholarship in my parents' name and a separate one in our own names for deserving students.
But one of the strongest traditions in this regard surrounds our beloved class rings, which are bestowed in a solemn ceremony in the fall of senior year. Through the Band of Gold program, new class rings include gold from rings given back to the school by the families of deceased alumni.
The rings bestowed on the Class of 2022 were fashioned using gold melted down from rings that had been worn by members of the Class of 1942, including my father-in-law, Col. Frank Poole (Ret.).