Brandywine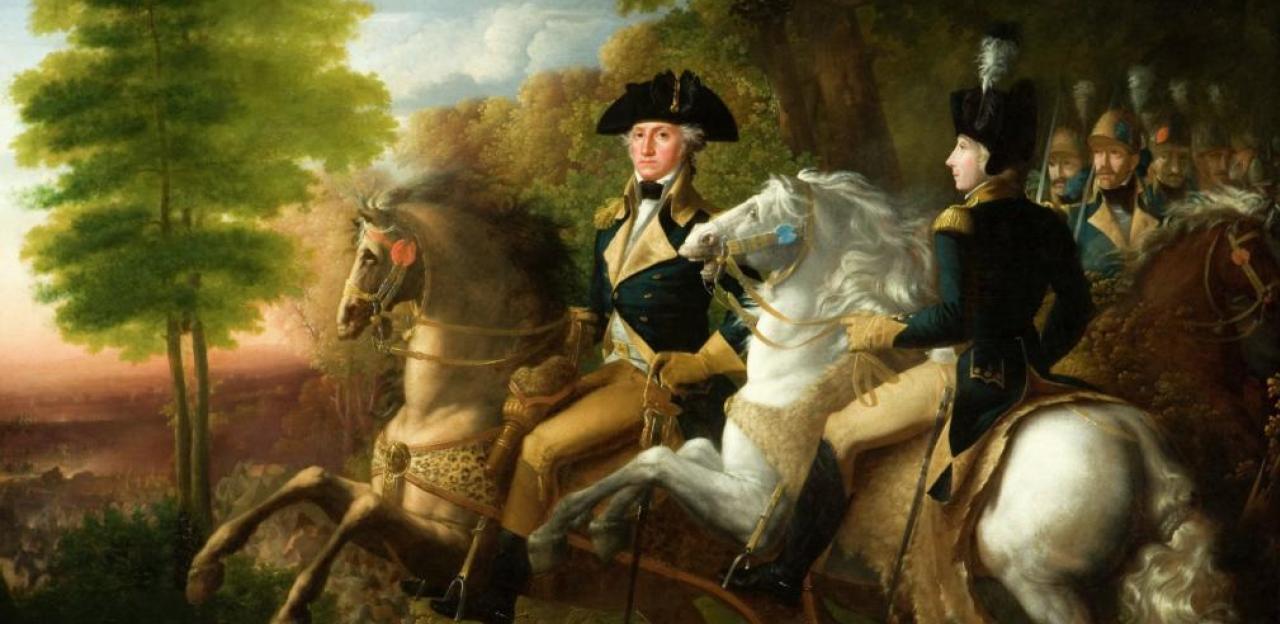 In the summer of 1777, General Sir William Howe sailed out of New York, bound for the Chesapeake Bay. His objective was the American capital of Philadelphia. On September 11, 1777 Howe's 15,500 man Crown and Hessian army clashed with George Washington's Continental force of 14,600 along the banks of Brandywine Creek. The day long battle would become the largest of the American Revolution.  
Going on the offensive, Howe decided to launch a flank attack. This tactic had become his trademark and had brought Howe much success the previous year in the New York Campaign. The British commander directed Lieutenant General Wilhelm von Knyphausen to demonstrate with his division against the American center. While von Knyphausen distracted Washington, Lord Charles Cornwallis was to make an extended march around Washington's right.
Cornwallis's movement got underway early in the morning and lasted into the afternoon hours. Plagued by conflicting intelligence reports and harried by Knyphausen, Washington was slow to react to the threat. By the time Washington dispatched troops to the threatened sector, Cornwallis was in position and preparing to launch an assault.
Shortly before 4 p.m., the Continental divisions of Generals John Sullivan, William Alexander, "Lord Stirling," and Adam Stephen engaged Cornwallis near the Birmingham Meeting House. Under Sullivan's overall direction, the Americans met some of the finest troops in the British army. Although Sullivan watched his own men break during an assault by the Brigade of Guards, the rest of his force put of a spirited defense. Outnumbered, the American line eventually broke beneath the weight of Cornwallis's onslaught. Among the Continental wounded was a young newcomer recently arrived from France, the Marquis de Lafayette.
As the battle raged for Washington's right flank, von Knyphausen attacked at Chadd's Ford. Similar to the fighting along the battlefield's northern front, the Americans gave way. Disaster was averted , however, by Gen. Anthony Wayne's division which waged a stubborn rear guard action that kept von Knyphausen at bay.
In order to reinforce Sullivan, Washington ordered General Nathanael Greene's out of line along Brandywine Creek and to his right. Greene made a stand south of Dilworth which helped secure Washington's line of retreat. Darkness finally brought an end to the fighting with Howe's tired army in command of the field. The British suffered close to 600 casualties while the Continental Army lost around 1,300 men. Despite the defeat, Washington was able to keep his army intact, thanks in large part to the exhausted state of his enemy. 
Howe's victory at Brandywine opened the door to Philadelphia which fell to Howe on September 26. Still, Washington remanied a formidable opponent. Additionally, Howe was criticized for his failure to completely destroy the Continental Army. The following spring he was relieved from command and replaced by Sir Henry Clinton.
Related Battles
Battle Facts
Pennsylvania | September 11, 1777
Result: British Victory
Estimated Casualties
1,887