10 Facts: Black Patriots in the American Revolution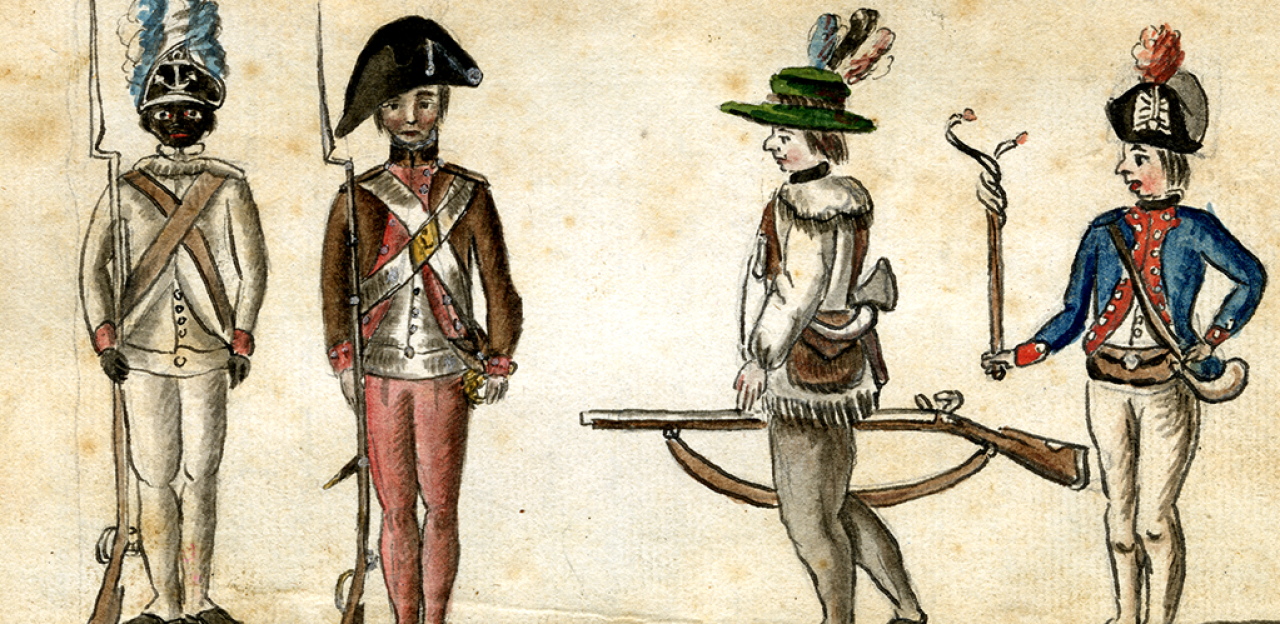 Fact #1: Numbers in the Overall Population.
At the onset of the War for Independence, approximately 500,000 African Americans lived in the colonies, of whom some 450,000 (90 percent) were enslaved. Blacks fought in provincial regiments prior to the war, and roughly 5,000 African American soldiers and sailors, free and slave, served the Revolutionary cause. While accurate numbers are hard to come by, the American population at the time was approximately 2.1 million; free blacks comprised 2.4 percent of the overall population, and slaves formed 21.5 percent. 
Fact #2: They Served from First to Last.
Black Soldiers in the Continental Army and states' militia fought in every major battle of the war, and in most, if not all of the lesser actions. The same was not true of the Crown forces during the conflict. On April 19, 1775, Massachusetts militiamen of color, free and enslaved, along with their white comrades opposed British troops during the operations intended to seize American arms that ended in a harried retreat to the safety of Boston. Blacks served in Minute companies, as well as the normal embodied militia. To date, we have the names of 35 black men present that day, at least 18 seeing combat. One, Prince Estabrook, was wounded while with Captain John Parker's company on Lexington Green. Historian John Hannigan notes that, given incomplete records, it is likely that as many as 40 to 50 African Americans were with the militia on the war's first day.
Three black veterans will serve to represent their many comrades. Former Pennsylvania private soldier Stacey Williams enlisted in April 1777, and served until autumn 1783. During that time, he was present at most, perhaps all, of the actions his regiment fought in: Short Hills, June 26, 1777; Brandywine, September 11, 1777 (where he was wounded); Germantown, October 4, 1777; the Darby Expedition, December 22–28, 1777; Monmouth, June 28, 1778; Bull's Ferry Block House, July 20–21, 1780; Green Spring, July 6, 1781; Yorktown, September 28 to October 18, 1781. Williams' military travels took him from West Point, New York, in the north, to Charleston, South Carolina, on foot the entire way. Virginian Andrew Pebbles (self-described as "a poor unlearned Mulatto"), enlisted in the 11th Virginia Regiment in 1778, and later served with Lee's Legion. At the battle of Eutaw Springs, "he received three wounds … in the shoulder slightly, lost the thumb of the left hand and was bayonetted in the belly." Pebbles was discharged from the army in August 1782. Another man, who experienced the Valley Forge winter camp, as well as the battles of Red Bank, Monmouth, Rhode Island, and Yorktown, merely noted in his pension testimony, "I Prosper Gorten (a man of colour) … say that in the Month of June … 1777 I enlisted as a private soldier in Capt Flaggs Company in Colonel Christopher Greens regiment … in the Rhode Island line In which service I continued untill the 15 June 1783 when I recivd a regular discharge signed by George Washington which discharge is hereto annexed."
Fact #3: The Continental Army and Most States' Militia were Integrated.
Barring a few units, the Continental army and states' militia were integrated forces, with enlisted white Europeans, African Americans, and Native Americans serving side by side. There is evidence of Black soldiers in the ranks during the three-year War of 1812, but the War of the Revolution was the last instance of wide-spread U.S. military integration until President Harry S. Truman signed Executive Order 9981 in July 1948.
In October 1775, General William Heath described the American army surrounding British-held Boston: "There are in the Massachusetts Regiments Some few Lads and Old men, and in Several Regiments, Some Negroes. Such is also the Case with the Regiments from the Other Colonies, Rhode Island has a Number of Negroes and Indians, Connecticut has fewer Negroes but a number of Indians. The New Hampshire Regiments have less of Both. The men from Connecticut I think in General are rather stouter than those of either of the other Colonies. But the Troops of our Colony are Robust, Agile, and as fine Fellows in General as I ever would wish to see in the Field." Two years later a German officer wrote of the American Revolutionary forces, 'The negro can take the field in his master's place; hence you never see a regiment in which there are not a lot of negroes, and there are well–built, strong, husky fellows among them." And Baron Ludwig von Closen, aide–de–camp to French General Rochambeau, wrote in July 1781, "I had a chance to see the American Army, man for man. It was really painful to see these brave men, almost naked, with only some trousers and little linen jackets, most of them without stockings, but, would you believe it, very cheerful and healthy in appearance." That August he added, "It is incredible that soldiers composed of men of every age, even children of fifteen, of whites and blacks, unpaid, and rather poorly fed, can march so well and withstand fire so steadfastly."
Fact #4: Early-War Attempts at Barring Black Service.
Shortly after the creation of the New England Army of Observation (precursor of the Continental Army), attempts were made to restrict or bar African Americans from serving as soldiers. In May 1775, the Massachusetts Provincial legislature resolved, "that no slaves be admitted into this army upon any consideration whatever." Five months later, New Jersey resident Richard Smith told of Congressional deliberations, "Tuesday 26 Septr. Comee. brought in a Letter to Gen Washington, in the Course of it E[dward] Rutledge [of South Carolina] moved that the Gen. shall discharge all the Negroes as well Slaves as Freemen in his Army, he (Rutledge) was strongly supported by many of the Southern Delegates but so powerfully opposed that he lost the Point." After much discussion, on November 12, General Washington directed, "Neither Negroes, Boys unable to bare Arms, nor old men unfit to endure the fatigues of the campaign, are to be inlisted." Among the officers defending Black soldiers, Massachusetts Brigadier General John Thomas stands out. He wrote in October 1775, in the "Regiments at Roxbury, the Privates are Equal to any that I Served with Last war, very few Old men, and in the Ranks very few boys … we have Some Negros, but I Look on them in General Equally Servicable with other men, for Fatigue and in Action; many of them have Proved themselves brave." Signaling a change of policy, at the end of December, the Commander-in-Chief told of "Numbers of Free Negroes [who] are desirous of inlisting," giving "leave to the recruiting Officers to entertain them." (As a side note, African Americans were never evicted from the army and continued to serve during the eight-month paper exercise of deciding if they should be soldiers or not.) Given the desperate need to fill Continental regiments, Washington's decree was generally adopted and the American army remained a racially integrated organization to the war's end.
Fact #5: Black Americans' Motivations for Enlisting.
Black Americans' reasons for joining the Continental Army often mirrored those of their fellow white and Native American soldiers. Many fought for national independence and hoped for opportunities in the new country. Some, perhaps many, joined for the adventure of military service, sometimes connected to the prospect of serving alongside family or friends. Others were at least partly enticed by the lure of an enlistment bounty or regular pay. Furthermore, after the ideals espoused in the Declaration of Independence, some fought for their own freedom, or for that of their loved ones. Forced service was another factor. If they were on the militia rolls, both white and Black men periodically faced the chance of being drafted for a short-term stint in a Continental regiment. Whites were occasionally compelled to enlist, but enslaved African Americans were more often coerced or forced by their masters to serve. Many enslaved Africans, especially in New England, were promised freedom in return for military service; most of those promises were honored, but some veterans were kept in bondage.
Fact #6: Black Continental Soldiers Received Equal Pay, Mostly Equal Treatment.
The major dividing line between white and Black common soldiers was the American system that enslaved ninety percent of the country's African Americans and treated free blacks as second-class citizens. Despite that, Black Continental soldiers largely received the same considerations as their white comrades. At the most basic level, soldiers of color (both African and Native Americans) received the same pay, provisions, clothing, and equipment as white soldiers. Regarding all these things, both whites and soldiers of color suffered together in times of scarcity and jointly enjoyed the rare times of bounty. The most glaring case of unequal treatment was that Black soldiers were largely barred from serving in any rank other than drummer, fifer, or private soldier. Furthermore, in the early war years, they seem to have occasionally been given labor details more often than white soldiers, but that ended by the conflict's middle years. In the end, there may have been difficulties due to officers' or fellow soldiers' personal or race animus, but current research shows that such instances were few and far between.
Fact #7: A Black Regiment.
In 1775, Virginia Governor John Murray, Earl of Dunmore, on his own, formed the Ethiopian Regiment with freed slaves. That unit was disbanded after one year, and in March 1777, British Commander-in-Chief in America, Sir William Howe, directed that "all Negroes, Mollattoes, and other Improper Persons who have been admitted into [Loyalist] Corps be immediately discharged." On the "rebel" side, New Jerseyan Jonathan Dickinson Sergeant suggested raising a regiment of freed slaves, and sent the plan to John Adams in August 1776. Adams replied, "Your Negro Battalion will never do. S. Carolina would run out of their Wits at the hint of such a measure." When South Carolinian and aide to General George Washington, John Laurens, suggested manumitted slaves be used to form a regiment in his home state, his father Henry succeeded in moving the resolution in the Continental Congress, only to have it resoundingly defeated. 
In an army with predominantly integrated units, the segregated 1st Rhode Island Regiment was one of the few exceptions. The 1st Rhode Island began in 1777, as an integrated regiment, having African American and Native Americans in the ranks, alongside white soldiers. Early in 1778, the white Rhode Island private soldiers in both of the state's regiments were transferred to the 2nd Regiment. Additionally, the 1st Regiment command staff was sent to Rhode Island to fill that unit with newly-freed slaves of African and Native American descent. At the same time, a company of veteran Black soldiers was formed back at Valley Forge. Belonging to the 1st Rhode Island, that veteran company formed and fought alongside the 2nd Regiment during the June 1778 Monmouth campaign and battle. The 1st Regiment as a whole saw action at the August 1778 Battle of Rhode Island. The 1st Rhode Island Regiment existed as a segregated regiment (filled with Black and Native American private soldiers, but commanded by white officers, sergeants, and corporals) from February 1778 to July 1780, only two years and five months. Formed into five companies in 1778, in 1779, it was reduced to four companies. Having been severely diminished in manpower, in July 1780, the remaining men were formed into two large companies and attached to a six-month state regiment. During its entire service as a segregated unit, barring one brief foray into Connecticut, the 1st Rhode Island remained in their home state. In January 1781, the remaining two companies marched to New York, where they were combined with the men of the 2nd Regiment to form a single Rhode Island Regiment. That unit contained seven companies manned by white private soldiers, and two large companies manned by Black and Native American soldiers. In September 1781, Black soldiers formed 29 percent of the regiment. The Rhode Island Regiment served at the Yorktown siege, and in 1782, were sent to northern New York. The remnants of the Rhode Island troops, formed into two companies (one all white, the other integrated) were discharged in November 1783.
A third segregated regiment served in the war, the French Chasseurs-Volontaires de Saint-Domingue (1779-1783), which enlisted both free and enslaved Blacks. Their first action was at the Siege of Savannah, in autumn 1779.
Fact #8: Black Continental Soldier Numbers.
Despite the generally accepted estimate that 5,000 Black soldiers and seamen served the cause of Independence, accurate numbers are hard to ascertain. The August 24, 1778, "Return of Negroes in the Army" tallied numbers of Black soldiers in fifteen brigades of General George Washington's main army. The result was 755 African Americans in a force totaling almost 21,000 rank and file (corporals and private soldiers), plus drummers and fifers; Black soldiers comprised 3.63 percent of the whole. While that document did not include regiments from Rhode Island, New Jersey, South Carolina, or Georgia, it does provide us with a snapshot of Black soldier numbers at a specific time and place. We can add the soldiers of African heritage serving in the four New Jersey regiments (about 10), as well as those in the segregated 1st Rhode Island Regiment (188), which brings the August 1778 total to 953 black Continentals.
One much-cited eye-witness actually gives a false impression of black numbers. In July 1781, Baron Ludwig von Closen, aide–de–camp to French General Rochambeau, wrote of the Continental Army near White Plains, New York, "A quarter of [Washington's army] were negroes, merry, confident, and sturdy." Twenty-five percent of the 4,200 troops present (all New England regiments) would mean they included 1,050 Black soldiers. Given a probable increase in Black soldier numbers in the war's later years, but considering the August 1778 proportion of 3.63 percent, it is more likely the July 1781 proportion was closer to 8 to 10 percent. In fact, we do not know if Closen saw the entire American force or just a portion of it, which would have skewed his estimate. Finally, Baron von Closen's observational accuracy is suspect; on July 9, 1781, he remarked that, "Three quarters [75 percent] of the Rhode Island regiment consists of negroes," when, based on unit returns, Black soldiers actually formed 29 percent of that regiment.
Fact #9: Some Slaves Served as Soldiers.
Most states had Continental and militia soldiers serving who were still enslaved or had been freed from slavery in return for military service. The best-known instances of the latter were the enslaved Rhode Island African and Native Americans who received their freedom upon joining the state's 1st Regiment in spring 1778. In Massachusetts, slave-soldiers served from the war's first day, and in that state, as well as Connecticut, many, but not all, enslaved men who enlisted were emancipated by their owners. Historian John Hannigan notes one case, "On June 15, 1776, Pomp Jackson, a slave, owned by prominent Newburyport merchant Jonathan Jackson, enlisted in Colonel Edmund Phinney's Regiment. Four days later, Jonathan manumitted Pomp, offering as his reasons 'the impropriety I feel… in beholding any person in constant bondage—more especially at a time when my country is so warmly contending for the liberty every man ought to enjoy…' Although the manumission document does not make an explicit connection between Pomp Jackson's enlistment and his subsequent freedom, the timing of the two events only four days apart can hardly be coincidental. In November 1776, Pomp Jackson reenlisted for the duration of the war and served as a fifer in Colonel Joseph Vose's Regiment until his discharge in June 1783."
Many states had laws barring slaves from military service, but enslaved men still enlisted, involuntarily or of their own choice. Virginia had such a law, but enslaved men still served, either passing as freedmen, or at their owner's bidding. In one instance, an intoxicated white Virginia farmer, Rolling Jones, was induced to enlist. Regretting his action when sober, he sent his slave Tim in his place. Tim Jones (taking his master's last name) served with the 3rd Virginia Regiment, seeing action at the Battle of Camden and the Yorktown siege, where he "lost his leg by a musket ball." He "was given his freedom by the Country for the faithful discharge of his duty as a soldier."
Virginia slave-soldiers were recognized in October 1783, when the legislature passed "An act directing the emancipation of certain slaves who have served as soldiers in this state." The law attempted to redress slaveowners' wrongs, declaring that "many persons in this state had caused their slaves to enlist in certain … corps … as substitutes for free persons … at the same time representing to … recruiting officers that the slaves so enlisted … were freemen … that on expiration of the term of enlistment of such slaves that the former owners have attempted again to force them to return to a state of servitude, contrary to the principles of justice, and to their own solemn promise." Since those slaves had "contributed towards the establishment of American liberty and independence, [they] should enjoy the blessings of freedom as a reward for their toils and labours." As a result, the men in question were to be "fully and compleatly emancipated, and shall be held and deemed free in as full and ample a manner as if each and every of them were specially named in this act." It is not known how diligent the government was in finding the slaves concerned, nor how many were freed as a result.
Fact #10: In an Army with Many Female Followers, Some Were Women of Color.
To correct a popular belief, no matter their skin color, women with the army were required to be respectable, and to perform useful tasks to earn army rations. Those who did not conform were not long tolerated. Among the many unknown women who served, we know the identities of several. Sarah, a mulatto slave, was, with her six-year-old light-haired son, attached to the 1st Maryland Regiment for several months in 1778. That October, they left the unit to escape being re-enslaved; we only know of them because of a runway advertisement. Hannah Till and her husband Isaac were enslaved members of General George Washington's military household. Hannah, a cook, gave birth to a son at the Valley Forge winter camp, and in late 1778, she purchased her freedom. Her entire term of service lasted from 1776 to at least 1780. Hannah and her family lived in Philadelphia after the war. Judith Lines was a free Black woman. In July 1781, she married John Lines, a soldier in the 5th Connecticut Regiment. In 1782, she joined her husband's regiment in their camp in New York's Hudson Highlands. During her several months stay, she worked as a servant for the unit's commander, but caught the smallpox and spent some weeks recovering from that illness. Having several children from an earlier marriage, back at home, she was sole caretaker of the family and farm. The details of Judith's life are available to us via her husband's nineteenth century pension file, which includes a letter sent her by John in November 1781.     
Further Reading: