Preservation Champion
Vince Dooley
Legendary Football Coach, Author and American Battlefield Trust Board Member
Preservationist and football champion Vince Dooley passed away October 28, 2022.
During a celebrated 25-year career as athletic director for the University of Georgia, Coach Vince Dooley led the UGA football team to a national championship, six SEC titles and 20 bowl games. He is also the only person to ever hold the presidency of both the American Football Coaches Association and the National Association of Collegiate Directors of Athletics. A legendary figure in the history of college football by any measure, Coach Dooley's passions and talents go far beyond the gridiron. He is an accomplished author and avid gardener as well; the Dooley Blue Hydrangea is named after him.
Coach Dooley has long been interested in history; he holds bachelor's and master's degrees in the subject from Auburn University. He sat on the Georgia Historical Society's Board of Curators from 2016-18 and is a member of the American Battlefield Trust's Board of Trustees. In this capacity, he continues to transform his passion for history and preservation into yet another lasting legacy.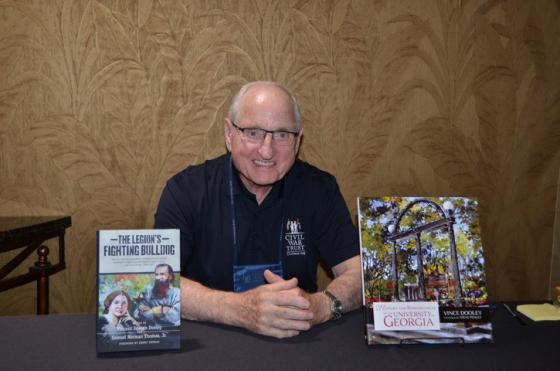 In 2018, the Trust added 180 acres to the Kettle Creek Battlefield Park in Wilkes County, Georgia, tripling the size of this significant Revolutionary War site. Coach Dooley played a hands-on role in this effort, drawing upon both his knowledge of the Battle of Kettle Creek and close connection to the Peach State to assist in the acquisition of this hallowed ground.
Coach Dooley continues to give generously of his own time and treasure to further the mission of the Trust, serving as a particularly effective ambassador for the organization on Capitol Hill.  Legislators and congressional staff are always delighted to meet with "Coach," and his advocacy has aided the protection of thousands of acres of battlefield land all across America.
Coach Dooley believes that preserving land is integral to understanding and appreciating America's history, and his work on behalf of the Trust and its partners is reflective of that belief. The Trust is fortunate to have Coach Dooley as a consistent, outspoken advocate for the preservation of America's hallowed grounds.