News
American Battlefield Trust Mourns Passing of Coach Vince Dooley, Football Legend and Ardent Preservationist
Although best known for his gridiron excellence, Dooley was also a noted horticulturist, author and longtime member of national preservation group's board of trustees
Mary Koik, (202) 367-1861 x7231
(Athens, Ga.) — The American Battlefield Trust joins the outpouring of grief following the passing of Coach Vince Dooley today at age 90. Although best known for his 25-year career as head football coach at the University of Georgia, Dooley was an integral part of the historic preservation community, serving three terms on the organization's Board of Trustees and a term as chairman of the Board of Curators of the Georgia Historical Society.
"Few earn the title of 'Renaissance Man' as fully as Coach Dooley, who was as at home on the football field as he was on the battlefield, never mind the garden," said American Battlefield Trust President David Duncan. "He leaves behind a permanent and tangible legacy in numerous fields, and I count myself lucky to have called him a friend. Our thoughts are with his beloved wife Barbara and the entire Dooley family."
Although he served in many capacities on the Trust's board between 2013 and May 2022, when his final term expired, Dooley was proudest of his time chairing the organization's education committee, through which he saw the organization escalate its online presence providing high quality content to both traditional students and lifelong learners. In a similar vein, in 2018, the Georgia Historical Society established the Vincent J. Dooley Distinguished Fellows Program, recognizing senior scholars in the field of history and mentoring and developing emerging historians
Dooley was also instrumental in the protection of 180 acres associated with the February 14, 1779, Revolutionary War Battle of Kettle Creek in Washington, Ga., which enlarged the existing park by 233 percent. Earlier this month, the enhanced park was named an official Affiliated Site of the National Park System.
Vincent Joseph Dooley was born September 4, 1932, and grew up in Mobile, Ala., as a multi-sport athlete. He played football at Auburn University and served two years in the Marine Corps, rising to the rank of captain, following graduation. He then returned to Auburn where he was an assistant football coach while pursuing a master's degree in history.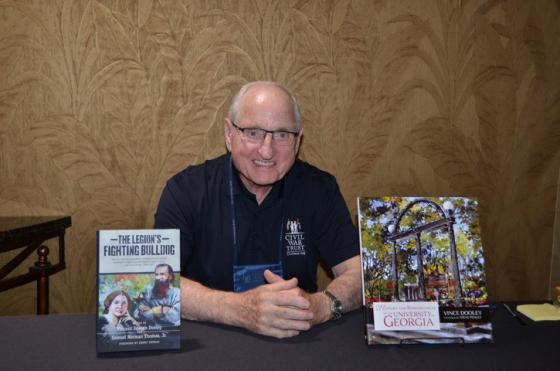 He was hired as head coach at the University of Georgia in 1964, serving in that role until 1988, picking up additional duties as athletic director in 1979. In that time, he amassed a 201–77–10 record, won six Southeastern Conference Championships, made 20 bowl appearances and brought home the National Championship in 1980.
In 2020, Dooley was inducted into the Georgia Military Veterans Hall of Fame for his military service and lifelong dedication to serving others. Additionally, he was elected to the Marine Corps Sports Hall of Fame in 2012 where Dooley was honored for his service in the Marine Corps and his illustrious accomplishments both on and off the athletic playing field. 
Dooley was a prolific writer, penning memoirs of his time coaching the University of Georgia football team, as well reflections on the game, sportsmanship, leadership and other related topics. He also wrote several children's books, in addition to a tome related to another great passion: gardening. The University of Georgia Department of Horticulture named a rose varietal after him, and he bred new strains of hardy hydrangea in his home garden. In 2015 he published The Legion's Fighting Bulldog, which examines the Civil War correspondence between Lt. Col. William Gaston Delony of Howell Cobb's Georgia Legion Cavalry and his beloved wife Rosa. 
The American Battlefield Trust is dedicated to preserving America's hallowed battlegrounds and educating the public about what happened there and why it matters today. The nonprofit, nonpartisan organization has protected more than 55,000 acres associated with the Revolutionary War, War of 1812 and Civil War. Learn more at www.battlefields.org.