Preservation Champion
Jim Lighthizer
President Emeritus, American Battlefield Trust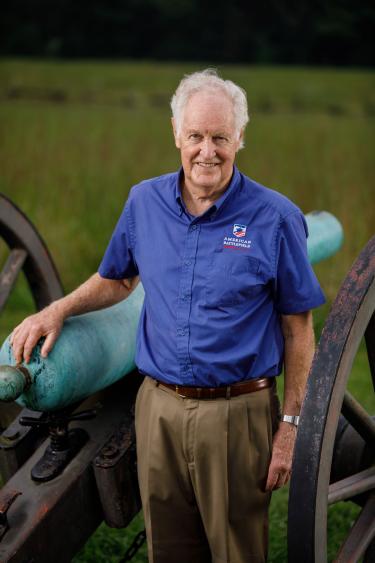 On September 30, 2020, Jim Lighthizer retired after nearly 21 years as president of the American Battlefield Trust, transitioning to a lifetime position on the Board of Trustees as president emeritus. Under his leadership, the Trust grew to become the nation's largest and most successful battlefield land preservation organization, saving more than 53,000 acres of hallowed ground at more than 140 American battlefields in 24 states spanning three conflicts  — the American Revolution, War of 1812 and Civil War. 
Since Lighthizer took the reins at the Trust in December 1999, the organization has raised nearly $235 million in private contributions to match nearly an equal amount in federal, state, local and other grants. Lighthizer was the architect of the rescue of the Slaughter Pen Farm on the Fredericksburg battlefield, saving more than 200 highly developable acres where five Medals of Honor were awarded for valor in combat. He also led the charge to save and restore Robert E. Lee's headquarters and key parts of Seminary Ridge at Gettysburg, and ensured the protection of the battlefield at Princeton where to George Washington personally led a charge that helped turn the tide of the Revolutionary War.
When sacred battlefield land has been targeted by developers, Lighthizer took the Trust to battle time and again. He spearheaded campaigns to block inappropriate projects at Chancellorsville, Gettysburg, Morris Island (made famous in the movie Glory), and the Wilderness. He worked effectively and efficiently, behind the scenes, to save key acreage at Antietam, Shiloh, Vicksburg, Lexington & Concord, Brandywine, Yorktown and scores more sites. His vision led to creation of "The Liberty Trail," a preservation and interpretation effort on a scale that has never been attempted before, to tell Americans a story that most do not know, which is, how the Revolutionary War was decided in South Carolina.
His belief in the ability of history and civics knowledge to strengthen our nation resulted in the Trust becoming an education powerhouse, amassing nearly 100 million views of its digital education and video pages. The innovative Field Trip Fund has sent more than 35,000 students to learn in person at historic sites. With more than 700,000 curriculum downloads and to date, a vast number of American students have benefited from the Trust's free education resources. 
But Lighthizer's commitment to land conservation long predates his tenure at the Trust. In 1979 he was elected to the Maryland State Legislature and, in 1982, to the first of two terms as Anne Arundel county executive. In this role, he established a county farmland protection program, preserving over 2,500 acres and embarked on an aggressive park creation effort that resulted in the purchase of over 900 acres and seven miles of waterfront. In 1991, Lighthizer was appointed as Maryland's Secretary of Transportation and pioneered the use of federal ISTEA (Intermodal Surface Transportation Efficiency Act) funds for land conservation, 4,500 acres of battlefield land in Maryland. And as chairman of the governor's Greenways Committee, he created environmental and recreational open space throughout the Old Line State. 
Born in Ashtabula, Ohio, in 1946, Lighthizer is a graduate of the University of Dayton and Georgetown University Law Center. A father of five, he resides in Eldorado, on Maryland's Eastern Shore, with his wife, Gloria. Their waterfront historic property called Rehobeth was the family home of Maryland's second elected governor, Thomas Sim Lee. 
More about Jim Lighthizer